Fabienne Colas is the mastermind and force behind the Toronto Black Film Festival, which takes over Toronto February 15-19. Colas is considered the most popular actress in Haitian cinema. She's also a filmmaker, speaker, business owner, consultant and creator of seven successful festivals across Montreal, Toronto, Halifax, New York City and Port-au-Prince.
For the 2017 edition of TBFF, Colas has chosen the Sundance 2017 official selection Tell Them We Are Rising, a documentary on the education and empowerment of Black communities in North America – an essential story, especially at this political time.
We caught up with her this week.
SDTC: You are an activist, artist, philanthropist and entrepreneur. How do you fit everything in?
FC: I wish I could take credit for it all but I cannot. I have a very cool, devoted and efficient team working by my side. It comes down to planning, prioritizing and time management.
For me there is no typical day. Some days I'm flying to an international conference as a speaker on how to launch your own business; another day I'm a panelist in a film festival or consulting with clients; there can be a day I welcome Spike Lee at one of our festivals; another day where I spend time with the team trying to figure out how to make our events more inspiring to our festival-goers. Some days, it's just me in front of my computer working or reading a good book.
In order for me to manage it all, I had to create a "Stop Doing List," where I literally wrote down all the things I have to erase from my life temporarily or permanently in order to get more time for people, causes and things I really care about. I had to make tough choices and divorce many friends along the way and keep the ones who want the very best for me and who will lift me up and support me in all the beautiful crazy projects I come up with – and I do the same for them. I constantly update my "Stop Doing List" to keep it relevant and not fall back in my old routine or patterns.
I used to go salsa four nights a week. When I decided to start the Fabienne Colas Foundation, I had to reduce it to once a week…and now I only go once in a while. Success is not a matter of chance; it's a matter of choice – and most of the time, we have to make some tough choices.
What are the biggest challenges you've overcome in your life to get to where you are now?
It took me some time to really understand that I was a Black girl in North America – meaning that some people would treat me differently. When I finally discovered I was an immigrant woman with an accent, with the "wrong" skin shade, and that I will not get a fair shot at acting, I became an activist and started creating platforms for creators who, like me, did not have a voice nor a platform to be heard or seen.
I understood I was going to have to create the world I wanted to live in and the opportunities I dreamed of. I used my frustration to take action and turned all those lemons into lemonade. You see, in all difficulties, there are mountains of opportunities. But you simply need to look behind the challenges. I embraced my beautiful accent and who I was, and I became an expert at seeing though the challenges to look for opportunities.
Today I firmly believe my story would not have been possible if I hadn't been who I am. No matter where you come from or who you are, if your dreams are big enough, facts don't count!
What films are you most excited for at this year's TBFF?
So many of them! Definitely the opening film Tell Them We Are Rising, by Emmy-winner Stanley Nelson on February 15. The closing film is a South-African must see: The Lucky Specials, by Rea Rangaka – February 19.
Besides forty films from twenty countries, we will be welcoming and paying tribute to Legendary Louis Gossett Jr. on February 18 at 9 p.m. at Jackman Hall (AGO). I cannot wait to conduct that intimate discussion with him – what an honour! We will also have free masterclasses and a community program. There is something for everyone. The Toronto Black Film Festival is a great opportunity to celebrate Black History Month through film.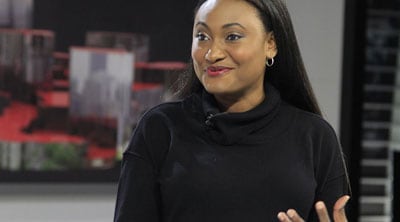 What is your personal mantra these days?
I have a proverb my dad shared with me before I landed in Canada that I still cherish to this day: "The world will always open doors for someone who knows where he wants to go." We have got to keep pushing and never give up; doors will open up and opportunities will come, but we need to be ready to seize them too. That's why it's important to be prepared for them: read, educate yourself, take an online course, get a mentor, work with a coach, attend seminars and conferences on things relevant in your niche. Someone said: Opportunities are like sunrise; if you wait too long, you miss them. Be alert!
What do you want people to know about Black cinema and/or TBFF?
It's music to my ears when I heard Hidden Figures surpassed $100 million at the box office! AMAZING! It proves that Black films go way beyond the Black communities. They are universal stories that entertain, educate, empower and inspire change. Those are films that get us closer together and help us understand one another better.
The Toronto Black Film Festival (#TBFF17) is a necessary festival in the beautiful city of Toronto. It brings together films and guests that you would not have access to otherwise. Films that may not come out in theatres afterwards. Forty films from twenty countries from February 15 to 19: it's your cheapest ticket to tour the world with us!