Keira St. George helps those on the street facing addiction in the shadow of Canada's growing fentanyl crisis. As a Registered Nurse with Vancouver's Primary Outreach Centre, she has witnessed firsthand the devastating effects of this drug. From January to October of this year, there were 622 apparent illicit drug overdose deaths in BC, a number expected to grow as a new class of more profitable and powerful superdrugs – like W18 – become increasingly available. Working with vulnerable populations at the center of this epidemic is not for the faint of heart.
We chatted with St. George this week.
SDTC: When did you decide to become an RN?
KSG: I stumbled upon the idea of being a nurse after talking to a new friend, who was a nurse. I was hired with Vancouver Coastal Health as an LPN in 2006. I completed my Bachelor of Nursing degree in 2014.
Can you walk us through a typical shift?
In my current position as a Clinical Coordinator for Primary Outreach Services with Vancouver Coastal Health, I provide leadership, clinical guidance, and support to a team that includes nurses, social workers, healthcare workers, counselors and physicians. Our team provides primary care and mental health and addictions services in an outreach capacity to some of the most vulnerable and marginalized individuals living in Vancouver's Downtown Eastside – in shelters and Single Room Occupancy hotels – who, due to their addiction, mental health struggles, or traumatic past, have difficulty accessing traditional healthcare services.
Our work is diverse, and every day is different. We provide care for chronic and acute needs (e.g., infections, wounds, sexually transmitted infections) that are sometimes urgent (e.g., sepsis, sexual abuse); chronic disease management support (e.g., HIV, COPD, Diabetes); and psychosocial support and services (e.g., reconnecting with family, accompanying to medical appointments, disability and housing applications).
We go out on foot to shelters and hotels, taking healthcare services to clients. On any given day, the nurses may be providing immunizations, drawing blood, facilitating clients' transfers to/from the hospital, or assessing an infection. The social workers may be helping clients access community resources or working on finding housing. The healthcare workers may be accompanying and supporting clients to specialist appointments, facilitating client connections to other Vancouver Coastal Health teams, or buying a client socks. And now with the fentanyl overdose crisis, any member of the team, at any time, may be responding to/assisting with an overdose.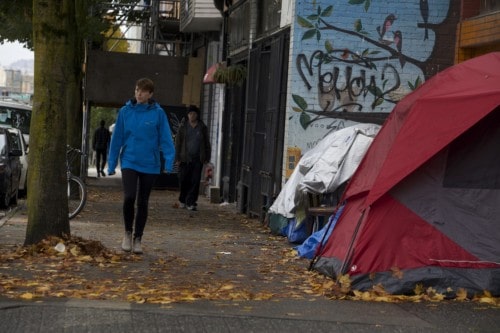 Why were you drawn to working with marginalized people struggling with addiction?
It could easily be me. And if it were me, I would hope my healthcare providers would remember that I was a person, would listen to me, care for me, and help me work with my addiction when I was ready. People forget that those with addiction are people, and I want to be a positive force, like all of my Primary Outreach Services team members. As my manager Patti Zettel says: just because you're poor doesn't mean you have to receive poor healthcare.
What is the most difficult aspect of your job?
The most difficult aspect of my job is not being able to address the burden of need: there are so many people in the beautiful community of the Downtown Eastside who need so much more than the collective system is able to give them. That's hard to see every day. Vancouver Coastal Health is trying to improve this by providing wrap-around services that the community needs, which is a positive step towards addressing this need.
What's the most rewarding aspect of your job?
The most rewarding aspect is being part of the success stories: a healthy baby's birth; a client saying they want to go to a treatment centre; finding housing; getting a client to the dentist; healing a wound. Some of these may sound trivial as a "successes," but given our clients' level of life challenges, it is often the small things that are the magnificently huge successes.
What do you want people to know about what you do?
We truly meet clients where they're at; this may mean they have the opposite view of their needs than what we as their healthcare providers have. We always start by listening to what they want and need, and what they believe their health goals are, and then finding (sometimes very creative) ways to help meet those goals. We recognize that our clients have the right to live at risk in the community, and with the harm reduction approach that Vancouver Coastal Health supports us to take, we can help them live the healthiest version of their life possible – whatever "healthiest" may mean to them.
What skills do you need to do this job well?
Vancouver Coastal Health teams in the Downtown Eastside are made up of people who genuinely love what they do and have a deep caring for the community. We meet people where they are at, wherever that might be – and we are successful with that because we can build trusting relationships. So the best skills/traits you need are your soft skills, where you can talk to people and respect them, human to human. You also have to be incredibly flexible to work with such a resilient and vibrant population, where the people and climate can be ever-changing and unpredictable.
Any advice to other women looking into this field?
Listen to your intuition and stick to your beliefs.
Keira St. George appears in Unstoppable: The Fentanyl Epidemic, which airs on CBC Firsthand December 1.