Nneka Elliot is an actor, blogger, former CP24 reporter/anchor and now co-host of the brand-new Global News Radio 640 show, kultur'D. The show discusses hot topics on everything from film & television to art, music, fashion and beauty, with a lens on diversity of people and perspectives.
We asked Nneka about the show this week.
SDTC: What can listeners expect when they tune in to kultur'D?
NE: Every Saturday at 8 p.m., we look at the hottest pop culture headlines of the week, from the perspective of three women of colour in Toronto. Cultural diversity is important to us, but so is diversity of thought. That's why each week we highlight change-makers and out-of-the-box events that make us think.
You made the leap from TV to focusing more on radio/blogging. Why does radio appeal to you as a medium?
Radio has always had a special place in my heart. I got my start in the broadcast industry at Newstalk 1010 (and Hitz FM in St. Vincent & The Grenadines). It's such an intimate medium: I feel like I'm speaking directly into one person's ear! I also love that it forces me to be more descriptive and colourful in the words that I choose. But regardless of the medium, connection is always big for me. Who can I reach? How can my words give someone a sense of belonging? I focus on that.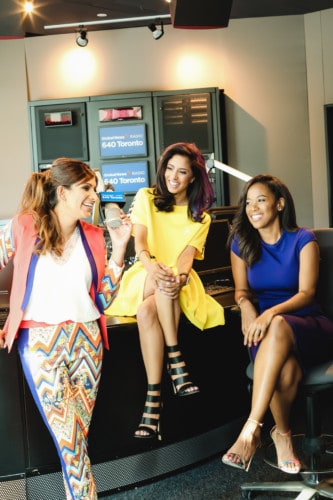 What themes would you like to explore within this new show format?
Oh my goodness, there are so many things. From exploring the lack of diversity on panels to mental health in diverse communities and even inclusion branding–the list is long!
Who are you dying to interview on the show?
I love Tracee Ellis Ross. I would pass out if I got to interview her.
Why do you think Toronto needs a radio show like this? What is the feedback you're getting from listeners?
So many people have said how ground-breaking this show is and that's awesome but really kind of sad to hear. It really shouldn't be such a big deal! This show is producer/co-host Meera Estrada's baby. She reached out to me because she recognized that I was creating content for communities that aren't always represented in mainstream media. In my case, it was the Caribbean community. Similarly, The Sandy Lion was doing the same for hers. We just want to continue on that path, filling a void and giving a voice to people who aren't often heard.
Anything else we should know about the show?
We love suggestions and feedback. If you have a topic or guest suggestion, send it our way. You can message us on social media. @kultur.d on Instagram/FB and Twitter.