Everyone should be able to enjoy Halloween trick-or-treating in their own neighbourhood! Toronto's downtown core is FULL of families living in condos— but not all condos allow trick-or-treating. To make things easy and fun, Hershey's will be creating a huge Halloween experience at Bathurst and Fort York for the night, to give FREE spooktacular fun for kids living in and around Concord CityPlace (but everyone welcome to come!).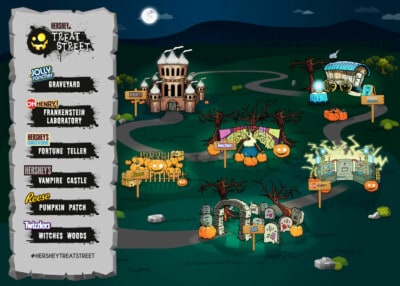 Visit the friendly monsters that live on Treat Street, and enjoy a fun-filled evening of trick-or-treating, creative activities, and (of course), loads of free candy!
Explore the spooky depths of the Jolly Rancher Graveyard

Bring delicious creations to life d at the Oh Henry! Frankenstein Laboratory

Have your fortune told by the Hershey's Cookies n' Crème Fortune Teller

Cross the draw-bridge to Hershey's Vampire Castle

Mage magic happen in the Twizzlers Witches Woods

Strike a pose at the Reese Pumpkin Patch

Take part in being a Halloween Hero at the UNICEF Sticker Wall
This is a totally FREE event. Expect a spooky and colourful choose your own adventure! Wheelchair accessible.
Part of the fun of Halloween is a chance for kids to get to know their neighbourhood—#HersheyTreatStreet will allow them to trick-or-treat close to home.
Facebook:
Hershey's is popping up at Bathurst and Fort York for Halloween! FREE spooktacular fun for families who want to trick-or-treat close to home! More details on the
event page here.