On Saturday, Netflix held their first in-person Tudum: A Global Fan Event in São Paulo, Brazil. Netflix stars including Wonder Woman Gal Gadot, Canadian queen Maitreyi Ramakrishnan, Bridgerton fave Nicola Couglan, Bollywood icon Alia Bhatt, Brazilian fan-favourite actress Maisa Silva, Chris Hemsworth, Henry Cavill and more hit the stage from Ibirapuera Park.
Couglan said it best when she walked onto the stage, "Everyone should come to Brazil to feel like Beyonce." The fandom in Brazil is like no other – they cheered every star as they graced the stage. They even wholeheartedly welcomed the international press by screaming, "Hello Canada," "Hello Indonesia" and more, making us feel like royalty too.
The energy was off the charts! The sold-out event brought 15 000 eager fans to the venue. Yet, they were kind, gracious and well-behaved. Some carried signs of their favourite stars, while others had "te amo" signs. Even after the event concluded, the fans stayed back to dance to the DJ's beats. It truly was a spectacle like no other.
Ramakrishnan joined Silva and Chase Stokes as the trio hosted the 3-hour event. The epic event was live-streamed globally to audiences all over the world.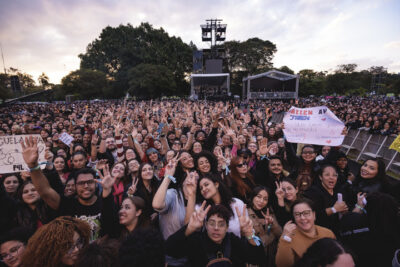 The fans cheered for their favourite shows as trailers and first looks were revealed – swarms of people, in and outside of the venue, were chanting for Bridgerton's Nicola, Queen Charlotte's Corey and India, Heart of Stone's Gal Gadot and The Witcher's Henry Cavill.
Even new and highly anticipated titles like One Piece, Avatar: The Last Airbender and Money Heist Berlin received a lot of love from fans.
Another highlight of the event was when Ramakrishnan tossed her shoes off on stage as her feet hurt — Stokes dared her and she went for it and nothing was more relatable.
Tudum: A Global Fan Event announced new trailers, exclusive first looks and release dates for several Netflix series and films. Check out some of the top moments and announcements from TUDUM!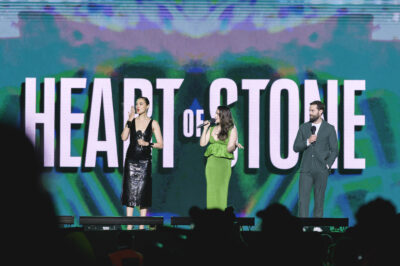 Heart of Stone
Gal Gadot, Jamie Dornan and Alia Bhatt introduce the first trailer for their upcoming summer action blockbuster, Heart of Stone, which will stream on Netflix on Aug. 11. Crowds went wild for their Wonder Woman. When Gal spotted two fans holding up their arms in the character's iconic pose, she happily returned the favour, crossing her own arms and sending the legions of fans into utter chaos. Even Jamie looked struck by the enthusiasm from the Brazil fans. Gal continued, "Heart of Stone has all the right ingredients, the best cast members, so much action, a lot of laughter and a lot of drama. Five locations around the world. Just a lot of fun. I can't wait for all of you to watch it."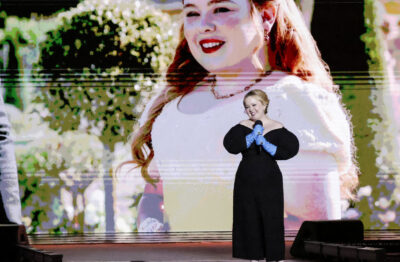 Bridgerton
Writing a poem as Lady Whistledown, Bridgerton star Nicola Coughlan, known as Penelope Featherington, said, "Dearest gentle readers, there's no fan more passionate than the Brazilian." When she took the stage, she joked: "Everyone should come to Brazil to feel like Beyonce." She introduced first look photos for Bridgerton Season 3.
Queen Charlotte
India Amarteifio (Queen Charlotte) and Corey Mylchreest (King George) looked royal as they greeted the crowd from the Tudum stage. The two expressed their excitement to explore Brazil and connect with fans who were eager to see them. They also did a meet and greet with fans during their stop in São Paulo.
The Archies
Famed Bollywood director Zoya Akhtar's The Archies original film is coming to Netflix this year. The cast Mihir Ahuja, Aditi Dot, Khushi Kapoor, Suhana Khan, Yuvraj Menda, Agastya Nanda and Vedang Raina took the stage to perform a first ever performance of their musical number.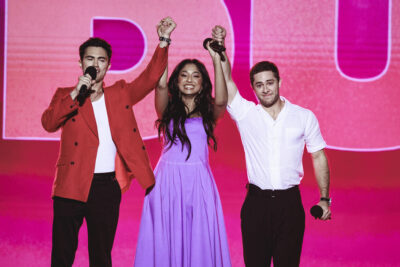 Never Have I Ever
Maitreyi Ramakrishnan, Darren Barnet and Jaren Lewison took the stage one last time for a final goodbye to their characters in Never Have I Ever, after the fourth and final season just dropped earlier this month. Fans started chanting "Devi" to everyone's delight. The highlight was when host Maitreyi took off her shoes on stage at the end of the night – it was another highly relatable moment from the Canadian actor.
Rebel Moon
Zack Snyder's epic space fantasy Rebel Moon is coming to Snyder, producer Deborah Snyder and star Sofia Boutella shared a sneak peek of the film in an action-packed new teaser. Rebel Moon hits Netflix on Dec. 22 — and Part Two will follow soon after.
Extraction 2
Fans cheered on as Chris Hemsworth and director Sam Hargrave opened the show, talking about their latest film Extraction 2, and that they were in talks for Extraction 3.
FUBAR
Arnold Schwarzenegger was overwhelmed by the love from fans in Brazil. He said that he loves Brazil but moreover he loves the Brazilian fans. He took the time to acknowledge how moved he was by their showering of love and support. He talked about his most recent show FUBAR and revealed that it was renewed for season 2.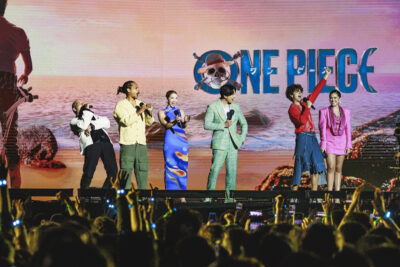 One Piece
One Piece is the series that has most fans excited – the crowd would not stop chanting 'One Piece' as the cast as they took the stage to reveal the first look for the series. It is one of the most popular manga series ever released and was originally created by Eiichiro Oda. It stars Iñaki Godoy as protagonist Monkey D, Japanese actor Mackenyu as Roronoa Zoro, Jacob Gibson plays Usopp, Emily Rudd is Nami and Sanji played by Taz Skylar.
The Witcher
Henry Cavill makes an emotional farewell to his cast of The Witcher, as he leaves the show after the third season, which premieres June 29. He too was showered by love from fans who couldn't stop chanting his name.
After experiencing the first ever in-person TUDUM event in Brazil, it's clear why Netflix chose São Paulo to host their fan event. The crowd really makes everyone feel special – the energy and passion for the content and talent was more than palpable. The event ran smoothly as stars took the stage, made some big announcements and did some press and fan meet & greets. It was truly an experience for the books. Obrigada, Brazil.