Twenty-two-year-old Amreen Kadwa started Hijabi Ballers last year while she was still in school studying economics and international development. The organization provides free programming geared to Muslim women and girls, including drop-in sports sessions, youth engagement workshops, sports festivals and more.
"My passion is really in community development through arts, culture and sports at the smaller-scale neighbourhood level," says Kadwa. "I really didn't think that this project I created was going to be an organization, but it was something that I wanted to be sustainable and to grow and cater to the needs of the community, because there continues to be such a positive response."
We asked Kadwa about why she started Hijabi Ballers and where she sees it heading.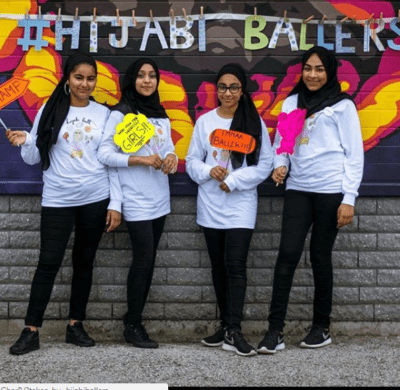 SDTC: How did Hijabi Ballers get started?
AK: A bit of background: I played rugby in high school. It sparked my interest in sports and opened up so many opportunities to me. I didn't have many friends wearing hijab that played rugby or many hijab-wearing athletes in my community. I didn't really have anyone to look up to. Every time I told someone I played rugby, they were really surprised. It made me wonder: How many hijab-wearing athletes are there in Toronto?
I broke my leg a couple of years ago and I couldn't play rugby anymore. I was feeling this void and really wanted to be involved in the sports community. I wanted to create something more than just an Instagram page that disappears after people lose interest. I wanted to make something concrete that really celebrated Muslim women in sport. So I put out a Facebook post asking hijab-wearing athletes to contact me. There was overwhelming interest from the community for what I was trying to create.
I spoke with some mentors and created this mandate: To celebrate hijab-wearing athletes and to increase participation of Muslim women in sport so that it's normal for people to see Muslim women playing sports. If we get past that level of initial shock–and increase that representation–we can start to appreciate their athleticism and talent.
There must be a certain strength in numbers, too.
That's something we celebrate as Hijabi Ballers. It takes courage to be on the field and be the odd one out. Ultimately your hijab is a symbol of your religion and your faith. You're showing that your religion doesn't stop you from playing sports, and vice versa.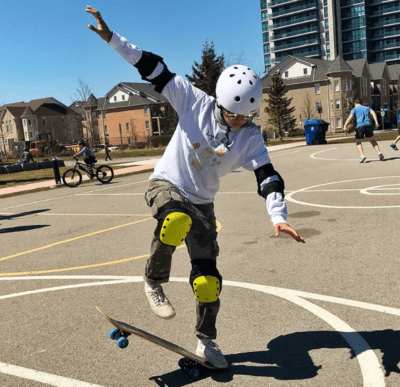 What are the factors holding back young Muslim women from greater participation in sports?
There are a few reasons. Financial barriers: A lot of families are immigrant families, living in densely populated areas with lower income levels. Sports are expensive. Equipment is expensive.
Another factor is cultural barriers and taboos around girls taking part in sports. A lot of immigrant parents, especially, have given up a lot to come here and give their kids a better future. They want their kids to spend their time, money and energy in school–sports takes away from time they could be studying or doing homework. It's also a big time commitment for parents.
Sometimes girls won't pursue sports because they're wearing the hijab, and [some may think] it can get in the way. Or they worry that if they wear pants under their shorts then they will stand out in the field. Personally, I feel like that's something in people's heads. Once you're passionate about a sport, that stuff doesn't even matter.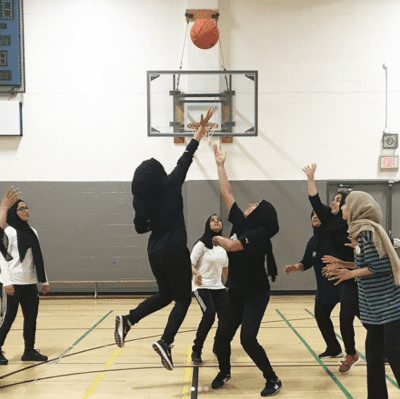 So I guess an aspect of your mandate is providing programs that are financially accessible?
All of our programs are free to access and funded by community members, sponsorships and the City of Toronto. All the events we've had in the past have been free, there's no fee to join. We are trying to drive home the fact that you can play sports anywhere. If it's free, you don't have an excuse to say no.
What has the response been like?
Our sports festival last year saw about two hundred attendees; seventy-five were registered in our all-girl sports tournament. So there is a need for these girls to be a part of public sports in their community.
We had a skateboarding event a couple of weeks ago. You wouldn't just show up at a skatepark if you're not a skateboarder. But because of this event–because Hijabi Ballers brought you there–you're more inclined to go out to that park again, even just to walk around and play basketball or whatever. It brings girls out into the community because it makes community resources (like public park spaces) known and familiar.
More memorable moments?
We put together an advisory board of sports experts from the community who were passionate about Hijabi Ballers. At our first meeting, our board gathered athletes and we asked them to share their stories about how they got involved in sport. These girls had such inspiring and relatable stories. We shared the stories of some of these athletes on our blog last year and plan on releasing more of them.
What's the best part of Hijabi Ballers, for you personally?
I can still be part of the sports community, even without being part of a club or team. It's so rewarding for me to learn about others women's stories and to be in a position to help others find their passion.
My rugby coach was telling me that one of the reasons why girls don't play sports is because no one is telling them to play sports. The need for a community leader to go out and urge girls to play sports is so huge, but people just dismiss it. If you've never played sports, you're never going to try unless someone brings you out. I feel so honoured that I get to be that person to introduce sports to so many people and to give them the opportunity to play.
The Hijabi Ballers Sports Festival is coming up June 24 at Go Green YC (130 Overlea Blvd). They're hosting an all-girls multi-sport tournament that you can register for here. There will also be sports demos, skateboarding demos, games, group fitness classes, food, entertainment and more. All are welcome to attend.
Follow Hijabi Ballers on Instagram.