The Honey Jam is an annual event that has nurtured and celebrated female talent since the nineties. Nelly Furtado, Jully Black, Melanie Fiona, Haviah Mighty all got the start to their award-winning careers on stage at this groundbreaking event. Since its inception, The Honey Jam has weathered numerous major shifts in the industry (with possibly the biggest being right now). Today marks the 25th anniversary since the Honey Jam's legacy began—and what a legacy it is.
In 1995, Ebonnie Rowe was running a mentoring program in Toronto. Many of the young women she worked with were teens who had their radios permanently tuned into CKLM, a college radio station that played a lot of hip hop and rap. Back then, there was no censorship and a lot of the lyrics were violent and degrading towards women. "My female mentees were telling me that their little 5 year olds were calling them the B-word and the H-word," Rowe recalls. So she did something about it. "I approached the biggest hip Hop DJ in Canada, DJ X at CKLM and told him this was an unintended consequence. He invited me on his show to talk about it." While Rowe was on the air, an editor for an entertainment magazine called Mic Check was listening. Moved by her words, he contacted Rowe and invited her to act as a guest editor to do an all-female issue for the magazine. Rowe packed it full of local talent and when the magazine hit stands, she organized a party to celebrate. On Sunday, May 7th 1995, The Honey Jam event was born.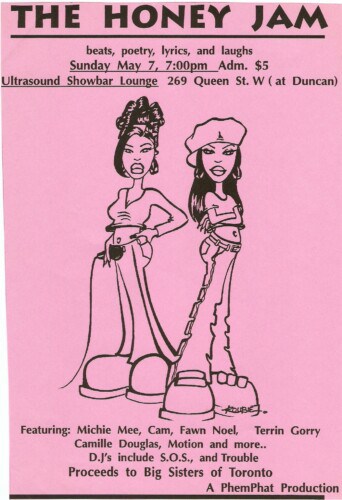 Queen West looked a lot different back then. There was no H&M, Lululemon or MEC. The strip between University and Spadina was grittier, with much less traffic. If you were trying to hook up with friends, you'd often have to wait in line to use a pay phone. The windows at CityTV would steam up on the weekends when twentysomethings crowded the space for Electric Circus. Speaker's Corner was the main attraction downtown, and only a handful of venues that were there at the time still exist. Peter Pan, The Silver Dollar and The Horseshoe Tavern remind us of our past, but long gone are many beloved establishments from the era, from The Big Bop to The Bamboo.
On a Sunday in 1995, Queen West would have been quiet. The skyline looked entirely different from the endless rows of towers we have today. On the night of May 7th, however, there was something very much alive; a groundbreaking movement being born. Where Civello is currently located there used to be a club called Ultrabar Showbar Lounge, owned by comedian Dan Akroyd. "We had female DJs and female rappers, breakdancers, and a lot of people in the crowd had never seen that before because all of the Hip Hop shows were 99.9% male," says Rowe. "Women didn't feel comfortable that they'd be taken seriously or respected. There were a lot of wide eyes at the talent these women had."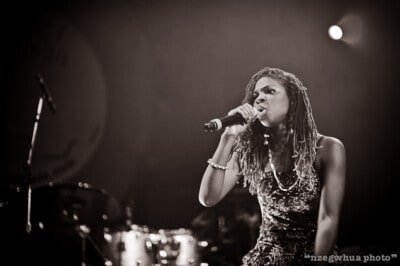 It was obvious then that something special was born. 25 years later, The Honey Jam is still about what it was back then: a platform to promote Canadian female artists that is committed to mentoring emerging talent and offering as many opportunities as possible. "This year we gave an artist an opportunity to go to The Grammy's—that's not something I would have ever thought would be possible to do," says Rowe.
For the first few years, The Honey Jam was predominantly about showcasing women in hip hop, but each year it expanded and new genres were added. "I think Nelly Furtado was one of the first non black artists to perform, and that opened the doors to every genre. It was an evolution that we fully embraced. Now, The Honey Jam celebrates all music, "Pop, rock, jazz, R&B, dancehall, opera, soca…we're really proud that we're able to offer that level of diversity."
The biggest change since those early days in the nineties, however, is technology. "It can't be underestimated how everything just completely transformed with the internet," says Rowe, who remembers clearly how different life was before email and social media. "In 1995, people would bring me their bios handwritten on a piece of paper and their photo would be a Polaroid. In 1995, people were Fedexing me VHS tapes if they were in another province and couldn't make the live audition."
Over the decades, many musicians have risen from the stages at The Honey Jam to become some of Canada's biggest stars, while others have made their mark elsewhere. The jazz talents of Kellylee Evans were noticed abroad, and she got signed to Universal France. Twenty-two year old Saveria auditioned for American Idol and Katy Perry's reaction to her audition caused a worldwide wave of excitement. Stella Meghie moved from music to film and is the director for the upcoming Whitney Houston biopic. The Honey Jam played a significant role in helping all these women find their voice and their confidence.
Although she'd never say it, I believe that beyond influencing lives, The Honey Jam has played a role in helping to transform Hip Hop as a whole. "Now, there's a lot more diversity in the types of Hip Hop. It's not predominantly gangster Hip Hop, that's taken such a backseat to the more popular versions of the genre. And now you also have huge female Hip Hop superstars like Cardi B and Nicki Minaj." While those artists didn't move through The Honey Jam, hundreds of others did, and each of these female artists helped paved the way for change.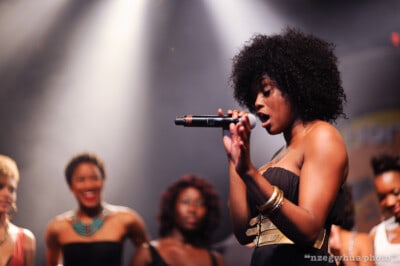 The Honey Jam has a lot to celebrate, but this year it will have to wait, "We had some amazing plans for the year. I can't imagine doing the concert on Zoom—that's not what we're about. The concert piece is such an important piece, not just for income but also for the experience. Right now I'm wishful-thinking, magical thinking, that we are going to be able to salvage part of the year."
Until they sort out what's next for The Honey Jam Rowe is focusing on trying to get information out to the artists about different financial supports. "Don't do this profession unless you can't not do it. There are a lot of valleys – peaks too, but a lot of valleys. This is a passion project for me, and I'm driven to do it." Helping others is what she loves to do best, so while no one knows what the future of concerts will be, Rowe will do what she's always done—persevere.