One of the city's most beloved arts festivals is making a triumphant return this summer. From June 9th to 19th, Luminato Festival will be illuminating the streets of Toronto with eye-catching displays and dynamic performances.
"At Luminato we're just really excited about helping to reignite the city, bring a spark back and get people back out on the streets and back together again," says Celia Smith, CEO of Luminato Festival.
Luminato hosted the festival virtually for the past two years, drawing in audiences from all over the world. But the in-person experience is incomparable — the vibrance and energy the festival brings to the city is very much needed right now, and Smith hopes Luminato's attendees feel the same. "We are counting on Toronto whirring back to life."
Many of the headlining events of the festival are free to attend, and several will be taking place outdoors in easily accessible public spaces, like Yonge Dundas Square, Woodbine Park, and even on GO trains! Smith says the aim is for the festival to be as open and accessible as possible. "Everywhere we're going to be there's lots of space, so people don't have to feel crowded."
There are a range of events that'll pique your interest— Luminato highlights various art mediums and all kinds of artists, from photographers to dancers to writers and more. "Really engaging with our local artists and arts community — that is what we need to help bring the whole city back to life again," says Smith.
Additionally, Smith notes that much of Luminato's programming is rooted in social commentary. "We're listening to what the artists of today want to talk about and they want to talk about the big issues of our time, whether it's climate change or anti-Black racism or reconciliation or inequity."
Here are our top picks for experiences you can enjoy at Luminato this year.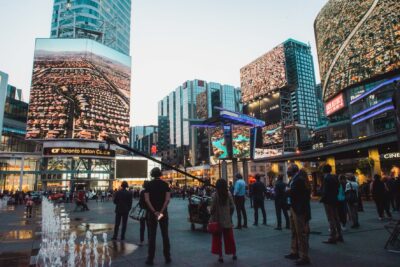 A Breathtaking Photography Premiere at Yonge Dundas Square
Iconic Canadian photographer Edward Burtynksy will have the world premiere of his latest project, In the Wake of Progess. This blend of film, photography, and a powerful musical score is a call to action for the climate crisis — documenting the impact humans have on the Earth.
"It's a 22-minute film that chronicles his 40 year career — incredible photographs which are at one devastating and gorgeous, chronicling what we have done to the Earth," says Smith.
This display will be projected on the 22 huge video screens in Yonge Dundas Square, making it not only free and accessible, but difficult to miss even if you're just walking by. "To have it installed at such a scale will be, I think, overwhelming and transformative." Catch the premiere on June 11th and 12th.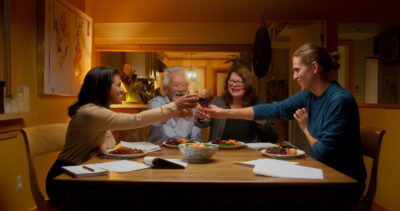 An Intimate Theatre Experience ft. David Suzuki
Award-winning environmentalist David Suzuki and his partner Tara Cullis are presenting an intimate theatre experience that will raise questions about how we can take action to save the planet. "It's a play about love, and if we loved the planet as much as we love other people, what could we do with that?" describes Smith.
What You Won't Do For Love will feature eye-opening stories about the state of our planet and honest dialogue between David, Tara, and another couple. The world premiere of this powerful play will be happening June 9-12 and 17-19, and it will be ticketed.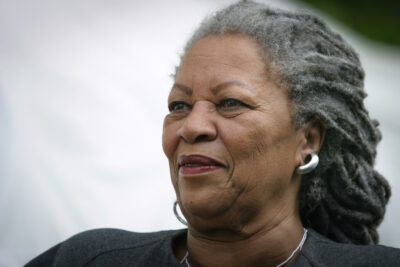 A Celebration of Black Women Writers
Toni Morrison's legacy continues to shape the work of writers today, including many Black women. This event, taking place June 17th and 18th at the Winter Garden Theatre, will bring together renowned authors from around the world in conversation with Canadian curator and literary critic Donna Bailey Nurse, to reflect on the impact of Morrison's work.
"We're just delighted to be working with Donna to be able to highlight these current writers and really talk about the influence of Morrison on a whole generation of artists," says Smith.
There are tons more events happening at Luminato that the whole family can enjoy, including an Eco-Fair on June 11th and 12th featuring local climate-conscious entrepreneurs, and the festival at Woodbine Park on June 18th and 19th featuring a range of performances from artists all over the world.
Learn more about Luminato's lineup of events.