Hot Docs, The Canadian International Documentary Festival, runs April 28-May 8. In our new series, we talk to the directors of the films you won't want to miss. 
In Cheer Up, the coach of Finland's worst cheerleading team is sick of losing and is inspired to push her team to victory after visiting the world champions in Texas. She soon discovers that adolescence has more pressing priorities for her troubled students. We spoke with Cheer Up director, Christy Garland.
SDTC: Why were you personally drawn to this subject?
CG: It was a combination of things. It started when I discovered this very melancholy team of cheerleaders who were apparently the worst competitive team in Finland, but who were really struggling to get better, and they lived right on the Arctic Circle in Lapland. I'd heard about them from Mandy May Cheetham, a former Canadian cheerleader who worked as a consultant, travelling around the world assisting teams with their routines. She'd worked with them and remarked that one of her biggest challenges was getting them to smile, which of course you're expected to do when you're a cheerleader.
And that connected with a desire I had to make a documentary about young women. There seems to be no shortage of reductive characterizations of catty, petty, narcissistic women in reality TV, so I wanted to make something about young women that took them seriously and explored their lives, relationships and inner conflicts with greater sensitivity and respect. I wanted to make a film that wasn't mean-spirited.
I immediately loved Miia, the coach of the team, for her resilience and determination and her love of coaching, despite her feeling of not being taken seriously. There were also two girls on the team, Aino and Patricia, who seemed to be going through difficult times outside of cheerleading. When I learned more about them all, I realized that I strongly identified with the three of them, and I knew their issues would resonate with people of all ages: the pressure to succeed, the pain of failure, the loss of a parent and the loneliness of not belonging.
And Finnish culture is not where you'd expect to find cheerleaders. I don't think I'll offend anyone by saying, generally, Finns aren't known for being overly effusive. Most of them seem very reserved and smile only when they have a good reason to smile. But for me, their restraint makes them more fascinating as we get to know them in the film and discover what makes these women tick.
Finally, the setting was so unexpected; the icy Arctic Circle, with reindeer wandering around the highways, the midnight sun and very long, dark winters. So seeing such an American sport filtered through Finnish culture and all those unexpected elements just seemed like a film I hadn't seen before.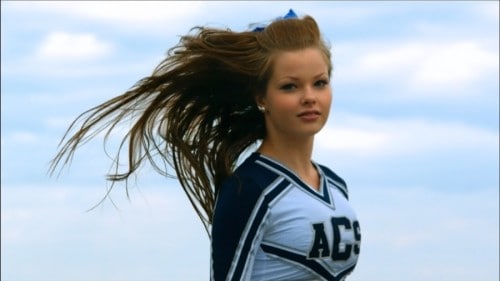 What surprised you most about the sport of cheerleading over the course of making this film?
Cheerleading, initially, didn't interest me at all and I started with the same wrong negative stereotype in my head that many people have: hot girls in short skirts, big smiles and shaking pom-poms. Cheerleaders are expected to be bouncy and smiley and these Finnish cheerleaders were not. I just thought it would be an interesting metaphor, if I could get close enough to the right characters.
But when I saw how incredibly challenging and impressive the sport was, it became another element of the film that would meaningfully upset expectations. Competitive cheerleading requires a ton of hard work and a disciplined, focused mindset. And most importantly, for the film's examination of loneliness vs. family, there needs to be tremendous trust in cheerleading among fellow team mates. The "flyers" get tossed very high up into the air, where they perform complicated flips and manoeuvers, and they've got to trust that they'll be caught when they come down. The stamina and strength I witnessed in these competitions was incredibly inspiring. They're training as hard as Olympic athletes.
What did you learn about adolescent girls over the course of making this film?
The two teenage characters, Aino and Patricia, were very reflective and wise beyond their years, once they started opening up. Considering their shyness, I was surprised with their willingness to let us into very painful, even humiliating moments in their lives.
What surprised me was the difference, particularly in the darker moments, between how they acted towards their parents vs. how sensitive and empathetic they were about their parents, but how little of that they showed to them. I don't have kids but it opened my eyes to the chasm that can happen for parents raising teenagers. Patricia's father Keijo was allowed to see so little of what Patricia was going through, and visa versa.
There was also something very refreshing to me in the course of making a film about adolescent girls from a different culture, speaking in a different language. Finnish culture, like I said, can be very reserved – not a loud, jokey "look at me, look at me" kind of culture. In North America we hear patterns of speech and colloquialisms among women – I'm guilty of it too sometimes – ironically dumbing down and baby talking, up-talking and vocal frying, where everyone sounds the same, and in my opinion, a little bit less like who they really are.
But when these young women spoke, it was always authentic, directly articulate, and heartfelt with little irony or sarcasm. It resulted in quieter scenes, with a lot of gravity, and the things they talked about moved me very deeply: honest and compassionate reflections about the conflicts and issues they were dealing with in their lives.
What do you want people to take away from this film?
We've been surprised at how many adult viewers, men included, remark on how closely they identified with the stories of Aino, Miia and Patricia.
A lot of my peers are approaching the (middle) age where you start taking inventory and wondering what you've actually accomplished in your life. I hope that it prompts a similar effect that making the film has had in me, which is a reflection on the difference between what I'm still chasing and what I already have, and how much of the value of my life can be found in the friends and family who I love and who support me, and the ones that are easy to forget about when you're still going after what you think is going to be "making it."
Catch Cheer Up at Hot Docs:
Sunday May 1 – 7:00pm Scotiabank Theatre 3
Thursday May 5 – 7:00pm TIFF Bell Lightbox 3
Saturday May 7 – 6:30pm TIFF Bell Lightbox 2