When I think back to the start of 2016, life was SO easy. My husband and I had two well-behaved adult dogs, a full PVR schedule and a whole lotta downtime. Then one fine day, I decided to start a side business, and it took off! Before I knew it, I was spending every evening and weekend in my home studio stripping gigantic leather hides, punching holes and fulfilling orders. Before long, our apartment was covered in leather scraps and glitter.
Then we added another dog to the pack. Since our first two are such happy-go-lucky, chill little guys, we assumed the third would be the same. Unfortunately, baby Apollo didn't get the memo. Nicknamed "The Shredder," Apollo wasn't happy until he gathered, shredded and then displayed all of his treasures.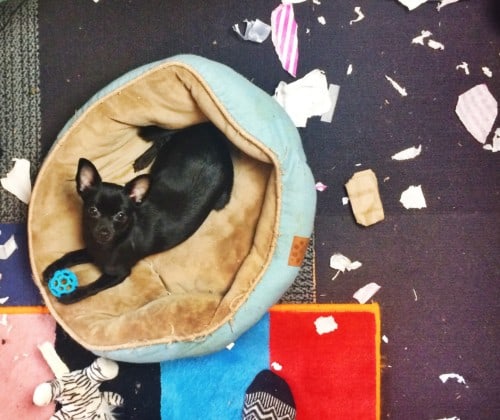 He went through our trash, squirmed his way into the bathroom for toilet paper rolls, stole business cards from my wallet and decorated our couch with torn up panty liners he found in my bag. He also destroyed his brothers' toys, like Junior's beloved donut. Apollo wasn't messing around.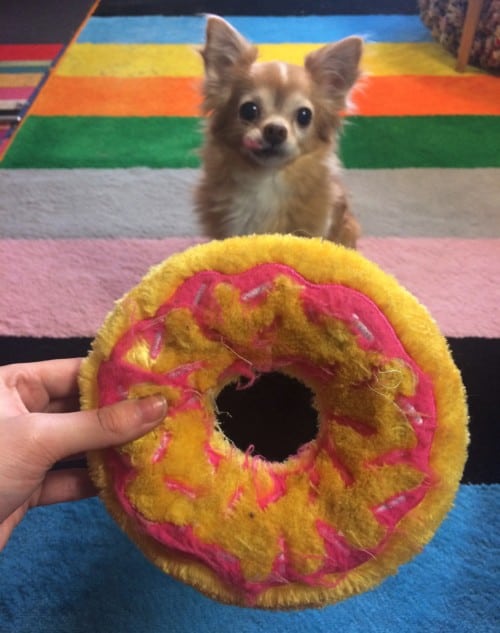 Then there was the issue of shedding, and our vacuum became like almost everything else in our home – clogged and upset. It was time for an upgrade.
Since it's something we had to use daily, we decided to reach for the stars and invest in the Dyson V8 Absolute. We can finally see our carpet, and it's like we're seeing it for the first time. We love that the Dyson is cord-free and lightweight, making it super easy to maneuver around the furniture, packaging, dress forms and product samples, which fill our apartment. It sucks HARD (in the best possible way) and once it's charged, we can vacuum the entire place in one go. No more endless passes and petty fights.
Life has been invariably smoother over the last few weeks we've had the Dyson; it was one of the best decisions we ever made. The best part? Since getting this top-of-the-line vacuum, I've only fantasized about leaving Apollo in our lobby with a "For Sale" sign twice.
While my circumstances are quite specific with a home business and three dogs, I think a lot of us have way too much on our plates, and having to tidy up after a long day at the office or watching littles can be downright draining. And although a Dyson vacuum isn't going to magically absolve us of our responsibilities, it will make cleaning up quicker and easier, maybe even freeing up a little pocket of me-time, which we can all use more of, amiright?