Michelle Buteau didn't need any convincing when her agent told her about a script called Untitled Ali Wong x Randall Park Project. "I was like 'YES, sign me up! I don't care what it is, just tell me what I need to do.'"
The trio first met in their twenties, fresh on the San Francisco stand-up comedy scene. "The thing about Ali and Randall is that they've been doing television and writing stand-up for so long that they have a huge well of comedians, actors, and funny people to choose from," explains Buteau. "So yeah, I was blessed to be in the mix."
Even though Buteau was prepared to dive right in, reading the script for Always Be My Maybe is what got her truly excited. "It was hilarious, it had heart, it had scenes jumping off the page. I'm such a rom-com junkie, and to have a rom-com with a twist, whether it's the diversity, the woman on top, the arrested development, I was like, 'THIS IS AWESOME.'" (We can attest, it truly is).
Buteau nails the role of Veronica, childhood best friend to Sasha (Wong) and later, her all-things-in-life assistant, from helping her run her restaurant empire to quietly shifting puzzle pieces in Sasha's love life so that "destiny" can take shape.
Beyond being whip-smart funny, Always Be My Maybe is touching and relatable. As a young girl with hard-working immigrant parents, Sasha was often left alone. One night, she's invited to join classmate and neighbour Marcus (Park) and his family for dinner. A fast friendship is formed with Marcus, and Sasha finds a mother-like figure in his mom, Judy, who lovingly teaches her all the tricks to delicious homemade Korean cooking, which later becomes the inspiration that would drive Sasha's career.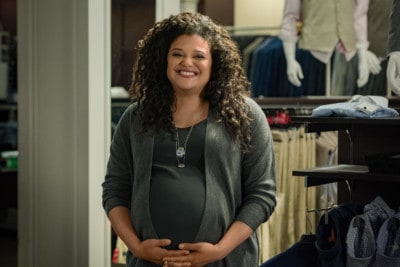 It's easy to identify with these characters; whether you're still pining for your childhood crush, you're a mom who has treated another's child as your own, or you're feeling lost and yearning for your roots. The story delivers all the right laugh-out-loud comedy beats while grappling with complex themes.
"No matter how many walks of life there are, or where you're from, people really relate to it," says Buteau, who describes working on Always Be My Maybe as "the dream scenario." It was also a very unique one: Buteau, who is pregnant in the film, was at the time waiting for her own babies to develop in the womb of a surrogate mother. "It was wild. I'll forever be in a film as a pregnant person, and that's something unique to see and share." She was grateful to receive motherhood lessons from Wong herself. "She's also a mom who found—in her own right—stardom from being a mom, and being inspired by her children and family life and just holding it down."
The other memorable piece for Buteau will be the food. "OMG, I'm surprised I don't have gout!" she says, listing off all the restaurants she and her fellow cast and crew tried while shooting in Vancouver for three months. (Guu and House Special were the local favourites where Buteau, Wong, and Park would often find themselves at the end of the day.)
When I ask Buteau what she loved most, she is overwhelmed: "That's like asking someone what their favourite Prince song is. Nahn [Khan]! What an amazing director! I'd say she's part director and part therapist, because she knows exactly how to communicate, not only to the talent but to everybody on set. And [there was] so much Asian diversity, in front of and behind the camera. Fierce-ass females making decisions, but I think my favourite part of this film—water gun to my head—is just being part of your friend's passion project. They really want to bring out the best in everybody, and that makes me want to do my best. This is diversity: the lead character is a strong independent woman who is not going to apologize for being successful. I was like, 'WHAT IS LIFE???!!!' There are going to be people reciting lines from this [film]. It's a cultural phenomenon, or I think so." We do too.
Watch Always Be My Maybe on Netflix now!