Amika Cooper (a.k.a. blackpowerbarbie) is a multimedia artist living and working in Toronto. Her work is at turns whimsical and introspective, drawing on pop culture tropes and re-imagining them to encompass a fuller narrative. Her first solo show, If 1 More Person Calls Me Strong Im Going 2 Cry, opens at Likely General (389 Roncesvalles) next week.
We chatted with her about her life, her art and the advice that's served her well.
SDTC: When and where do you feel most content/at ease?
AC: I feel most content and at ease in my home. I work from home, and I'm a huge homebody anyway, so I spend a lot of time cultivating an energy in my space that relaxes and centres me.
Who has had the greatest influence on your artistic practice?
I don't think that any particular person has influenced the kind of art that I make. Black women as a whole inspire me to create work that reflects us. I look at my art as the best offering I have to give to my community, who I love and respect. In an even broader sense the act of processing emotions and experiences motivates my work.
What food/dish always satisfies you?
Pasta! I'm always in the mood for a plate of pasta.
What film/show has recently wowed you?
Random Acts of Flyness by Terence Nance on HBO floored me. If I were to make a show, I would aim for it to be like this one. It's wildly creative, cerebral, and playful. It's like mental candy that's good for you.
What's on your current reading list?
For the sixth time I'm reading If Beale Street Could Talk by James Baldwin. There is no single piece of art that has measured up to the way this book makes me feel.
What Toronto spaces/places do you truly love?
Literally any green space in summer. One of my favourite experiences though is riding my bike down Davenport on a balmy summer evening. I love the trees and the elevated houses, there's a magic about it that's balanced with city traffic. It always makes me feel very content and happy to live in Toronto.
What exhibit/museum are you dying to see?
I still have not been to MOCA, and I'm dying to see the Mickalene Thomas exhibition at the AGO.
Your go-to coping mechanism/self-care?
Other than naps and bubble baths and making art, I love the process of washing and doing my hair. I look forward to spending hours detangling, deep conditioning and styling my hair when it's natural. I don't know exactly why, but that act of love towards myself just soothes me.
What five things would you want if you were deserted on an island?
My music library, my pet cat Mittens, a lifetime supply of pasta (butter, cheese), art materials, and *sigh*… my phone.
What's a childhood memory that always brings a smile to your face?
A childhood memory that always brings a smile to my face is when TVO Kids did an outdoor festival and my mom took me for my fifth birthday. I got to "meet" the Bananas in Pyjamas, Dudley the Dragon, and host a mock talk show. I was so happy and surprised that day.
What life philosophy is currently helping to guide your journey?
Bruce Lee's philosophy of being like water. It's about being malleable and adapting to your circumstances. I'm an earth sign, so I love being grounded, planning and a sense of order, but life's journeys are seldom linear. I've had a few major curveballs thrown my way and I've had to learn to meet the tension between expectation and reality with an open and adaptive spirit.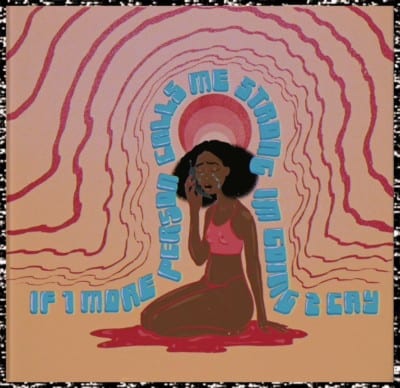 One skill you'd love to learn/nurture/improve this year?
I want to be a more active listener and continue to nurture my empathy. I believe in taking care of each other and the power of community, and I want to be a more active member of mine.
What's a piece of career advice that has served you well?
Listen to yourself and do what you love. I think that at a certain level you can make yourself "work a job", but you really reach your full potential and bring your best self to a career that aligns with your spirit.
What outfit makes you feel the most you?
I love a crop top or turtleneck and a high-waisted trouser with a pair of Vans and Chucks. Also if I'm being totally honest, I love a big cozy hoodie.
What toy/book have you held onto since you were small?
I personally haven't held on to anything. I don't carry a lot of emotional attachment to objects, but my mom does and has kept everything!
What's a subject that is currently holding your attention? An issue that you're focused on?
I'm really interested in the way we speak about and experience pain in marginalized communities. I think we take for granted that part of the machine of oppression is inflicting pain without acknowledging its effects. There is so much work to be done in allowing the full humanity of the marginalized to be seen by dominant culture in order to achieve meaningful healing.
When you compare yourself now to where you were at ten years ago, what's a major change you can identify / feel proud of?
Ten years ago I was sixteen, and I thought I was going to be a theatre actress and I didn't spend much time thinking about anything else. My whole sense of self-worth was predicated on my talent. I'm not as stubborn as I used to be, and I've learned to take pressure off of myself. I've learned you can be incredibly passionate about your art and feel fully realized without banking on one dream. I'm proud of my ability to re-centre and find joy and meaning in places I hadn't imagined.
Goal(s) for 2019?
My goal for 2019 is to bring my animation work into music video production and to write and produce another animated short film.