There are few activities kids (and grown-ups) love more than smashing shit. And when you reward this activity with an explosion of candy, well, you've got yourself a party!
Michelle Laratta was on track to becoming a lawyer when she found herself drawn to the world of event planning. After she became a mom, she found herself crafting (as you do) a 36″ wrecking-ball-shaped piñata attached to a metal chain for her son's second birthday party. He was thrilled (of course) & the rest is history—Big Ass Piñata was born.
We found out all about Michelle's fave projects, tips that have helped her, and what it's like to create custom piñatas for a living.
What did you do for a living prior to starting Big Ass Piñata?
I'm a 1970s baby and first-gen Canadian so I was raised to believe there were only a few career paths: doctor, lawyer, accountant, teacher, labourer. I chose lawyer and ended up moving from Toronto to Montreal to attend McGill where I picked up a few degrees but mostly learned that my education and my personality were like oil and water. I was bubbly, entertaining and fun in a field that was dismal, daunting and full of struggle.
By some stroke of luck, I decided to listen to my heart and pursue other options where I fell into leadership and student government roles, sports, human resources, interior decorating and later conference and event management where I really came into my own.
I was always a lover of all things party and being able to build events from the ground up (and eat all the food I chose) was a dream come true. Meet and greet 1000 people? Raise money and awareness? Take guests out on the town on the company dime? Ya…I had that big time lol.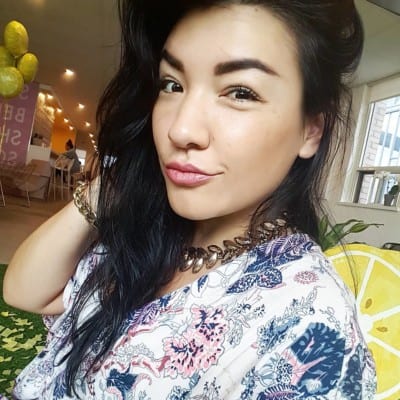 What went through your mind when you decided to turn your idea into a business?
Big Ass Piñata wasn't my idea. It was, but it wasn't. Most people know the story: I made a piñata for my son's second birthday and knew there was nothing like what I did or could do on the market. But it was my friend who said, "You should open a business" amidst the chaos of eighteen children fighting for candy and whistles.
I ran with it.
I'm thankful to have the solid education I do, but it turned me into an overly analytical pessimist who could run down a laundry list about risk, viability and forecasting that would make your head spin.
But when I heard my friend's voice telling me I could make piñatas for a living…it all seemed perfectly clear. I could. And there was nothing stopping me. I thought I lived in the perfect area: party mom central, Toronto North. I'd always been artistically inclined and was sure that I could get my pieces out to kids parties and they'd flip. But after making a few piñatas, I discovered that this wasn't the direction to take as an artist. I had no interest in making licensed characters, my work was underpriced and undervalued, and I only let a few orders go by before I revamped everything and went big. I changed my name, my style, my demographic and set my sights on Toronto. Now it was time to really party.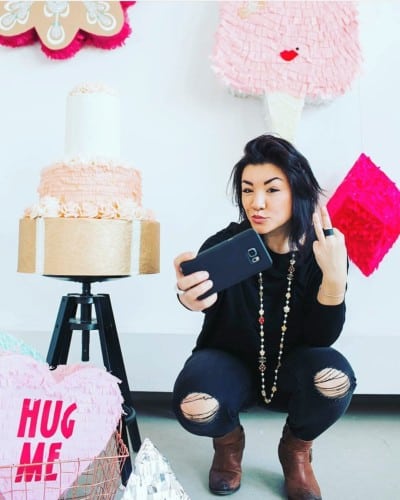 Can you walk us through a typical day in your life?
My son wakes me up at 6:15 a.m. every day in mid=ramble about transformers or superheroes or science and then I have to bribe him to get ready for school.
As we make our way downstairs, him brushed and dressed, me with yesterday's eyebrows and never socks, he eats breakfast while I make the perfect lunch. He gets up from the table fourteen times during cereal telling stories and acting out missions, but I manage to wrangle him to take his medication (he has Benign Rolandic Epilepsy).
We drive to school where I remind him to listen to the teacher, ask for help if anyone is messing with him and stay out of trouble.
The moment I go home, it's on.
I check on pieces that have been drying over night and add finishing touches to others that were done in the dark. You can't glitter in the dark…you just can't. I furiously start cutting and ripping cardboard, setting up glues and crepe paper piles and detail pieces for the next job, all because I only have about an hour before I have to go teach Zumba class.
I literally expend 97.8% of my energy yelling and jumping up and down in front of eighty gym-goers then hit the weights for *my* workout. I was a varsity wrestler and just don't feel right when things start to get too fluffy.
Spent, I get all my energy back by overeating and showering, sometimes simultaneously, and head back into my basement or garage to work. Sprinkle, paint, splash, glue, burn, twist and it's time to get my son from school, which means work is back on hold until he's done all his homework, eaten either spaghetti, vindaloo, dumplings, Chinese noodle, burgers or steak, (those are literally the only choices every day of life), and then we go all out in video game wars before bed. Oh, ya. I play video games.
It's time to work again while Bob's Burgers or the Unbreakable Kimmy Schmidt plays on repeat for the millionth time, and all the pieces start coming together for pick-up or delivery the next day. If I'm not teaching, I'm getting ready to run all over the city, buy supplies, return stuff, and blast some music while I jiggle and drive thinking about my moves in class. Totally safe.
After washing all the paint off my skin I climb into bed answering emails, posting, messaging dudes (…what?), lining up gigs and generally unwinding till my eyes burn enough to go to sleep.
What were some challenges you've overcome in starting and running your own biz?
I think every business owner knows that breaking into the downtown scene is a big deal when you're a single mom in Richmond Hill making papier-mâché in your basement! If it weren't for Instagram, no one would know I was down here. Instagram catapulted my business making it relevant, current and fun. I was able to showcase my work (and myself!) in a way that got people talking, stirred up interest in my work and got those big collabs in the books. I've been ridiculously fortunate to work with some of the biggest planners, girl bosses and party goers in the city (while raising a seven-year-old boy who loves to smash things). Talk about challenges: I balance making sure my son doesn't break anything while I run an empire based on destruction and mess!
What tips have been particularly helpful?
I recently read a post that said, "I work for me, so if you see me talking to myself, just consider it a staff meeting." It's easy to get lost in the shuffle, especially when you don't fall into the grind like everyone else; there's no commute, you're not in meetings or bumping into friends over lunch, you have to work at being present physically and the best thing going for me was a load of girl bosses I could shoot it with over lunch, drinks, errands or just on the phone. Staying connected to business owners and being eager to make connections is gold in this journey. There is so much to learn and we live in an amazing city that gets smaller and smaller when we simply reach out and support each other.
What is your fave project that you've worked on?
There are so many. A dozen pigs? A ride inside fire truck? A goblin that had grown men screaming? A 30-inch penis?
Here's two: One of my faves was the hardest job I've done to date. 200 x 25 inch Black cylinders/hockey pucks for a massive nationwide ad agency. Before I took that job, I'd only done one-offs; I went from one, to three, to twelve, to 200. It was a wild task with four weeks to staff, source, produce and deliver and took everything I had. I enlisted twelve helpers, my house was a bus station, there's still confetti in all my clothes, but damn did we ever execute the sh*t outta that job. *pats self and everyone on back*
My other fave was a red dog. Ya. Y'all think I'm about to tell you I made a Clifford piñata and a little kid broke it blah blah. I told my client we weren't beating up a dog. That a piñata is merely a container that is broken. So I put big ol' Clifford in his big ol' dog house with a big blue bowl and *hello* a big ol' bag of dog food (candy) that little Chalen could crack open and pour out. Well, that was all fine and good, but when I delivered that piece, I'll never forget watching little Chalen walk towards me. He was small. He couldn't yet walk full on his own or at least at the speed he wanted to when he saw Clifford. I watched him step carefully and wobble and hold chairs and make his way over to me to see his face light up as he recognized this was all for him. I'm not crying. You're crying!
How has running your own business shaped how you've grown as a person?
I've gained an enormous amount of strength, confidence and power from being my own boss. I've always been courageous, outgoing and a little wild, but being able to harness my ridiculousness and monetize my strengths using my experience and resourcefulness, with the support and backing of some amazing friends and business owners in this city…wow.
I learned quickly that I was solely responsible for how this was going to go and that every move I made had to bring results. As cool as that sounds, this life isn't for everybody. Absolutely nothing is guaranteed. I'm a procrastinator and moody AF, flippant and spontaneous. But to succeed, I've had to envision, plan, measure twice, and cut once, work through pain, exhaustion, sickness and hangovers, and pretty much do whatever it takes to get sh*t done. And it's pretty awesome.
What is the best part about being an entrepreneur?
Omg not driving 2.5 hours a day is money. How does anyone commute? Howwwww?
That and knowing I am my business and my business is me. Representing myself and my brand is cool. Constantly working on ideas and being able to act on opportunity without red tape and bureaucracy is fantastic. Working at home, in my car, at 4 a.m., in my underwear are all things that would have me turn down a corner office and elevator chat in a heartbeat. But having something that is truly mine and shaping it at every turn with effective decisions and creative license is better than anything.