Ariane LaezzaAriane LaezzaThere is no shortage of mommy bloggers out there who come off as holier than thou, equipped with colour-coded schedules and 16,000 Pinterest crafts at the ready. In equal measure are the influencer moms who seem to capitalize off the real-life struggles faced in motherhood, often turning themes like the lack of self care, or unnoticed emotional labour, into a big joke (enter the "hot mess" mom — she's overwhelmed, unkempt, and desperate for wine o'clock).
Rebel Mama doesn't play to either of these tropes. It would appear that founders Aleksandra Jassem and Nikita Stanley decided a long time ago that having kids wouldn't rob them of their identity. They acknowledge the challenges, but stay true to themselves, riding the waves of motherhood with a kind of grace and style rarely shown. Because of this, they've grown a large following of moms who value their vibe and authenticity (likely their fashion sense too).
Earlier this month, their Handbook For (Cool) Moms hit shelves. Launching a book in a pandemic isn't the best timing, but like their approach to most things, Aleks and Nikita are rolling with it. It was obvious that the big party they had planned was a no-go, so instead the duo rallied their community in a different way, raising over 10K for The Diaper Bank through their #CoolToBeKind campaign. "In the first two weeks post-launch, they received an influx of donations that allowed them to purchase and distribute over 30,000 diapers to Toronto moms in need so far," says Jassem. "It's been a beautiful thing to be a part of."
We connected with the Rebel Mama founders to discuss how they first hooked up, what inspired them to write a book, and how parenting under lockdown is going.
How did Rebel Mama begin? Were there sparks the first time you two met, and that was that?
Nikita: The Rebel Mama began as my writing portfolio. I was trying to segue out of a career in fashion retail, knew I wanted to be a writer, but also knew I was never going to get writing jobs without a body of work, so I started a blog.
Aleks: When Nikita began to write about her early motherhood experiences in a real way, I was her number one fan. I eventually came on board to put my eye for visuals and background in social media marketing to work with her writing. I knew with both components we could create something really cool – a brand that could go far beyond the "blog" category. In terms of our "relationship" – we were just acquaintances (aka party friends) for years, but then we got pregnant within weeks of each other and we went from "hi babe" to mom besties overnight. No one else in our circle was popping out kids yet, so we kind of only had each other!
What was it that you think made the community really take off?
Nikita: I think we were able to articulate a lot about the experience of modern motherhood in a new and authentic way, and in doing so, we gave a voice to a subsector of parents who had never been represented in the "mommy" space before – the community kind of formed itself around the content.
Aleks: When people really identify with what you're saying (in our case, a witty take on the cold hard truth), they send it to their friends, share it on socials, and the growth happens organically – and that kind of community is priceless. The best part is the genuine friendships that have come out of our community. We set out to give people a modern village and it really feels like that's what we've done.
What inspired you to write The Rebel Mama's Handbook for (Cool) Moms? Which chapter was the most fun?
Aleks: Writing a book was originally Nikita's idea but I love books (and basically hoard them), so it wasn't hard for her to get me on board. The most fun chapter was putting the Rebel Mama Resumé together and thinking up creative ways to showcase all the skills and special talents moms acquire on the job (like answering 150 unrelated questions about life in under a minute).
Nikita: I can be really practical sometimes – I ask myself questions like "what happens if the internet suddenly goes away?" The answer: Diversify. Write a book – then the material survives no matter what. IMO the chapter that was the most fun was "How to Get Five Goddamn Minutes to Yourself" – we had a good laugh dreaming up ways to get your family to leave you alone for a hot minute. There are some true gems in there.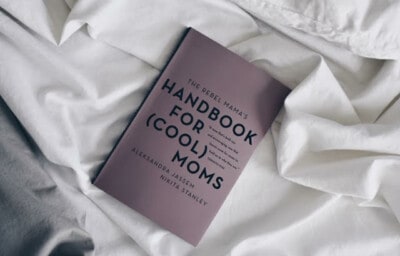 What a fucked up time for a book launch! How are you both coping, day to day? What's your best advice for moms living #quarantinelife with kids?
Nikita: It's funny because everything we've done has come with a set of bizarre circumstances that have challenged us but in the end only made us stronger. We wrote a book with 3 kids under 3 between us (and used crowdfunding to raise money to pay for childcare to allow us the time to do it). We went to LA to test the U.S. market with a series of events (and flew in the day the California wildfires started which kiboshed everything). My son was hospitalized for croup the day before we flew to Chicago for a series of events too…this just seems like it's par for the course. We're taking it in stride and just doing our best – what else can you do?
Aleks: What she said. Navigating through shitstorms is our specialty so we are just doing what we can. Our go-to therapy tools include dark humour, good literature, and timeless music. (Ok, and cannabis – let's be real). Our best #quarantinelife (with kids) advice is: Don't try to do it all at once. When you think about all the moving parts simultaneously, it's easy to get overwhelmed and anxious. One thing at a time. One day at a time. Stop, drop your shoulders, breathe.
What have you been thinking a lot about, since #COVID19 outbreak hit Toronto? Has it shifted any perspectives when it comes to motherhood / family life?
Nikita: It's definitely brought about a lot of change, which can be unnerving (especially for a couple control freaks like us #virgolife). I've had to let go of a lot – plans, expectations, hopes. But it's shown me how much I have to be grateful for that I had been taking for granted before – food, shelter, health, friends, family, a supportive partner. Not much else really matters right now. It's been a welcome change in perspective.
Aleks: Letting go of control was definitely the hardest for me as well. We both hold ourselves to very high standards and are ambitious about what we want to achieve, but circumstances like this really highlight the bare essentials and what really matters. Everything else is just stuff. Your family and their health is all you really have.
Tell us about your decision to launch the #CoolToBeKindTO fundraiser for The Diaper Bank, and what you've discovered since launching it?
Nikita: We launched the fundraiser the day we were supposed to launch the book. When we knew everything we'd planned was going to be cancelled (about 2 weeks before launch day), we started to feel a bit down about everything so we came up with the idea of dedicating that day instead to helping as many people as we could.
Aleks: We went through a bunch of ideas – we knew we had a voice and a community to leverage but finding the right cause was tricky due to all the new red tape that COVID19 created. When we reached out to the Diaper Bank and asked what they needed, they basically told us they needed to spread the word that physical diaper donations are no longer being accepted (due to an abundance of safety precautions) and that instead, they needed monetary donations to buy diapers directly from their suppliers and have them shipped straight to agencies and shelters in need. We realized it was the perfect fit so we designed a campaign that would allow us to rally the community and raise awareness.
What's something that you've been doing with your family since social distancing began, that you're enjoying?
Nikita: For the first time ever, my partner has taken a leave from work to be the primary caregiver for our kids (6 & 4) and watching that happen (while I work from our bedroom upstairs) has been the most amazing thing. I'm also loving the Facetime calls with long-distance friends and family… But I'm a natural hugger… so the physical distancing thing does feel very weird still. Glad I have a house full of dudes (including a male dog) who like to snuggle.
Aleks: My son and I have always been tied at the hip, but my husband worked and travelled a lot. Although we're both working at home now and that can sometimes be tricky, I love watching them finally have their bonding time together. It's time they never would have otherwise had, and I think down the line it will be so memorable for them both. * sobs internally *
What are you most looking forward to doing when this ends?
Nikita: Kissing my grandma… and seeing my parents reunite with my kids.
Aleks: Throwing a proper house party.
We think
The Handbook For (Cool) Moms
makes a pretty awesome gift for your friend who's expecting. Get it on the Rebel Mama site now, or wherever books are sold.