We teamed up with How She Hustles to create a one-stop resource to help you find an International Women's Day event that speaks to you.
If you're like us, you might feel a weird sense of pressure to be extra womanly on this day—whatever nonsense that means—or hit up as many happenings as possible, but there is no right way to celebrate International Women's Day. There are, however, plenty of options to choose from, and many of them are free.
Whether you're looking to join a thought-provoking conversation about inequity or prefer to mark the occasion by taking a quiet evening for yourself to stretch out on a yoga mat and peace out, we wish you a very happy IWD!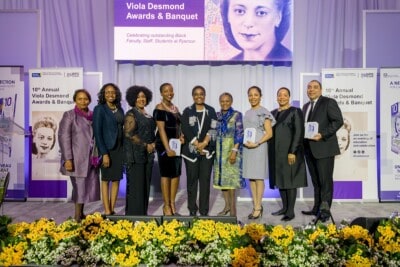 12th Annual Viola Desmond Awards at Ryerson University
This event recognizes the contributions of outstanding Black Canadian Women to the Ryerson campus and in the community. Named after Ms. Viola Desmond, this event honours the catalyzing efforts she made towards achieving human rights for Black people in Canada. Celebrate the awards and bursary recipients while raising awareness of the diverse and little-known stories and contributions of past and present Women of African descent in Canada. FREE.
Monday, March 2, 5pm-9pm at Ryerson University. This event is free, but make sure to register.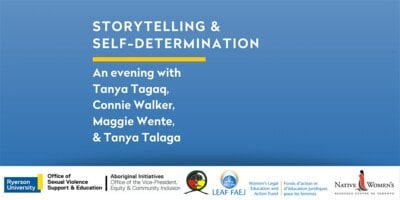 Storytelling & Self-determination: A Celebration of Indigenous Women.
A powerful panel moderated by Tanya Talaga, Ojibwe journalist, author and truth-teller, with international celebrated artist Tanya Tagaq, award-winning Cree journalist Connie Walker, and Maggie Wente, partner at Olthuis Kleer Townshend LLP and member of Serpent River First Nation. Proceeds will support Native Women's Resource Centre of Toronto and the Women's Legal Education and Action Fund.
Tuesday, March 3, 6 pm at Hot Docs Ted Rogers Cinema. Tickets are $20-45. More info here.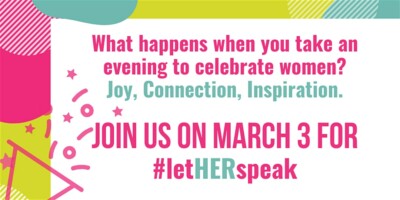 Tamil Women Rising hosts #letHERspeak
An evening of celebration where five phenomenal women share their big ideas. Speakers include Maitreyi Ramakrishnan, lead actress in Mindy Kaling's new Netflix series, Alwar Pillai, CEO of Fable Tech Labs and a Forbes 30 under 30 recipient, and many more! Tamil Women Rising is a volunteer-run non-profit that empowers Tamil women and their allies to seek success and advance their careers.
Tuesday, March 3, 6:15 pm @ Spaces Queen West. Tickets are $40, get more info here.
Honour the Feminine: Celebrate Your Divine Femininity at a Restorative Yoga Class at YYOGA
Savour 90 minutes of relaxation, and gentle Hatha bliss as Jayla Pearce guides you through a thoughtful evening that will restore your feminine divine and awaken the deepest, most passionate parts of yourself. Practice in a space surrounded by fresh flower petals with hands on adjustments/gentle touches by Tori Lovegrove.
Following, enjoy a yummy chia pudding snack, courtesy of Garden Gangsters.
Thursday, March 5th, 7:15-8:45Pm / YYOGA at 333 Queen Street West / $10—reserve your spot now.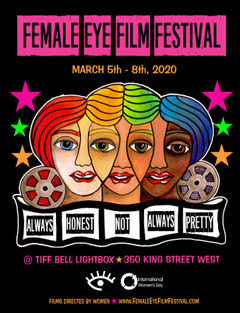 Female Eye Film Festival at TIFF
The 18th annual Female Eye Film Festival (FeFF) presents a special line-up of films in recognition of International Women's Day (IWD).
FeFF will present 56 films directed by women, from across North America and the world including films from Australia, China, France, Germany, Greece, India, Iran, Italy, Lebanon, Pakistan, Turkey, United Kingdom, and The Netherlands. There is a director Q&A following each screening. Festival Passes and individual tickets are available here.
"This is a pivotal year for advancing gender equality worldwide, and our festival offers the perfect platform to further embrace this theme," says FeFF Founder, Executive and Artistic Director, Leslie Ann Coles. Films have the power to change the world.
March 5-March 8 at TIFF Bell Lightbox. Check full schedule and ticket info here.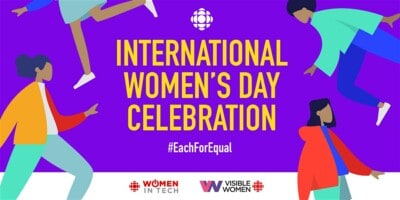 International Women's Day @ CBC
This year's International Women's Day theme is #EachForEqual and two CBC Employee Resource Groups, Women in Tech and Visible Women, have come together to organize, celebrate and advocate for and spread awareness about creating equality in the workspace for women working across industries. Hosted by CBC's Mary Ito with moderator Manjula Selvarajah, this event will include a keynote address by Sarah Kaplan, a distinguished Professor, Director, Institute for Gender and the Economy, and Professor of Strategic Management at the Rotman School of Management at the University of Toronto Speakers, as well as a panel discussion. It's a tremendous lineup—get to know the other panelists here.

Thursday, March 5 at 11 am in the CBC Atrium—FREE! More info here.
The Women in Business and Leadership Forum
An event dedicated to learning about Canada's trade and economic landscape from inspiring women who have made advances in those spheres. Hear best practices and lessons learned about how to cultivate new partners and new markets for business growth. Speakers include The Honourable Mary Ng, Minister for Small Business & Export Promotion. Presented by Casa Foundation with Organization of Women in International Trade (OWIT) Toronto, World Trade Centre Toronto and Toronto Region Board of Trade.
Thursday, March 5, 8:30am-1pm at the Toronto Board of Trade. Tickets are $55—more info here.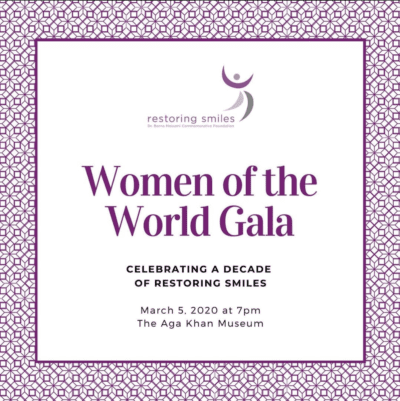 Women of the World Gala at the Aga Khan Museum presented by Restoring Smiles
In honour of International Women's Day (IWD), the city's dental and medical community will come together at the Women of the World Gala to celebrate ten years of Restoring Smiles, and the transformation of over 100 patients through 1 million dollars of donated treatment.
The Restoring Smiles program, run by the Dr. Borna Meisami Commemorative Foundation, was founded by Dr. Tina Meisami in 2010. It is the only foundation of its kind, battling Gender-Based Violence (GBV) by providing free dental treatment to women impacted by abuse. The foundation's goal is to eliminate pain, restore function and proper speech, and to some degree, alleviate the emotional trauma that arises as a result of domestic violence. When a woman experiences ongoing dental pain as a result of abuse, struggles to chew, speak or sleep due to jaw pain, or avoids social interaction because of missing teeth, the cycle of trauma is perpetuated.
Guests will be treated to culinary delights and cFultural entertainment, including cocktails and canapes, live latino jazz and a luxury silent auction.
Thursday, March 5th, 2020 @ 7 PM / Aga Khan Museum / Gala tickets are $300—more info here.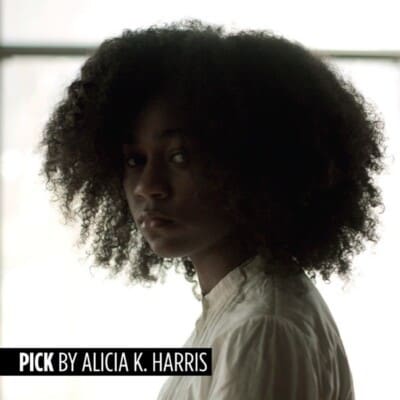 FAC's (Feminst Art Collective) Film Night, in partnership with Black Women Film
All weekend long FAC will be hosting their Feminist Art Festival at OCAD and on Friday evening they've partnered with Black Women Film to screen three short films from exhibiting artists at this year's festival. Following, the artists will engage in a talkback about their work. Black Women Film! will screen PICK by Alicia K Harris, The Haircut by Maya Annik Bedward and Geni by Jackie Batsinduka. This will be followed by a talkback with Venessa Harris and Jackie Batsinduka moderated by Black Women Film! founder Ella Cooper.
Friday, March 6, 7-9:30pm at OCAD University / 100 McCaul Street. PWYC, more info here.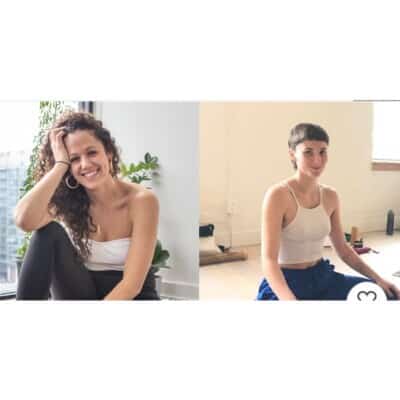 Conscious Touch & Sound Bath
The Dandelion Initiative is hosting several amazing #IWD events, and this one still has a few spots open! During this workshop participants are invited to explore what it means to have a practice that nourishes them. Through restorative movement, conscious touch, deep breathing, and guided mediation. Nikki Guaci (she/her) and Mary-Dora (they/them) will take you on a journey inward. You will then be lulled and soothed by the enchanting sounds of crystal and Tibetan singing bowls, koshi chimes and spirit drums.
Friday, March 6, 7:45-9:30 PM at Good Space Toronto, 360 Dufferin St. This is a PWYC class, with suggested price of $20 per person. More info here.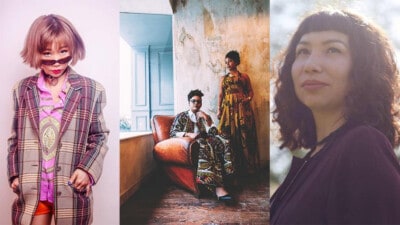 ROM After Dark: Sisterhood
Hit the Royal Ontario Museum for a night of celebration! Sage Paul, Artistic Director of Indigenous Fashion Week Toronto, will be spotlighting Indigenous designers, DJ Ariel will get the dance floor going, Lisa Odjig—the first woman in history to win the title of World Champion Hoop Dancer—will surely mesmerize the crowd with her talents. If you need a laugh, comedy troupe Manifest Destiny's Child will be there, a collective of Indigenous women sharing their humble and humorous perspectives of getting by in a colonial world. Botanist and exhibition curator Deb Metsger will also be in attendance to discuss the ROM's Florals: Desire and Design exhibit—and so much more! A night of fabulous female leaders coming together to connect, share, and inspire.
Friday, March 6, 7-11:30PM. Tickets : $30 adults*, $24 students*, $27 members* More info here.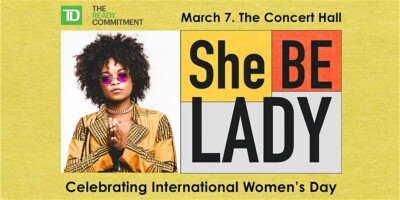 She Be Lady at The Concert Hall & Other Venues
Supafrik, DJ Revy B and the Afrotropolis Arts Collective are proud to present She Be Lady celebrating International Women's Day with a 3-day event including live music concert, wellness workshop and a roundtable discussion in honour of African women.

Day 1: Friday March 6: Wellness and Self-Care Workshop
Day 2: Saturday March 7: She Be Lady Concert with the Queen of Afro-House, South Africa's own Bucie, Nigerian-American R&B duo VanJess, and one of the new powerful voices of Jamaica, Lila Iké.
Day 3: Sunday March 8: Community Roundtable w/ Evelyn from the Internets and more.
March 6 – 8, tickets from $20-100. More info here.
IWD Solidarity Concert for Wet'suwet'en at Paradise Cinema
A group of powerhouse musicians and bands are coming together to raise money for the Wet'suwet'en legal defence fund and Climate Justice Toronto with a special International Women's Day Concert at the Paradise Theatre. Performers include Stones, Lavender Bruisers, Mimi O'Bonsawin, Caroline Brooks (Good Lovelies), Skye Wallace, Tange and Moscow Apartment.
Saturday, March 7 at Paradise Cinema. Doors at 1pm, show at 1:30pm. All ages. Get your tickets here.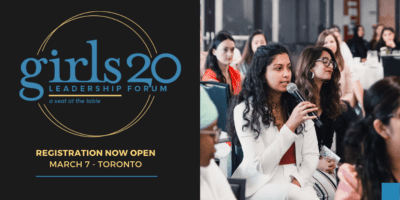 3rd Annual G(irls)20 Leadership Forum
Ready to shatter the glass ceiling? The G(irls)20 Leadership Forum is designed to help place young women where decisions are being made and to ensure they have the skills, networks and mentors to succeed. The forum's theme is A Seat at the Table, with fireside chats, workshops and networking sessions on tackling the old boys club, burnout, allyship, fundraising and more. Kick-offs with Refinery 29's Kathleen Newman-Bremang and Nadia Theodore, Consul General of Canada in Atlanta – one of the only Black Canadian women to head up a diplomatic office abroad. All welcome.
Saturday, March 7 at Bram & Bluma Appel Salon, Toronto Reference Library. This is a full-day event that begins at 9am and runs until 5:45pm. Tix are $30-50. Info and registration here.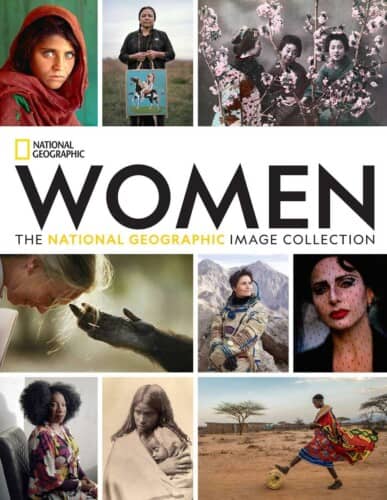 World-Changing Women with National Geographic Editor-in-Chief Susan Goldberg
As part of the Curious Minds Festival at Hot Docs Ted Rogers Cinema, National Geographic Editor-in-Chief Susan Goldberg will sit down with Toronto Life Editor-in-Chief Sarah Fulford to have a conversation that will explore the past, present and future of women's lives and stories as documented in the magazine's ground-breaking new image collection, celebrating the 100th anniversary of women's suffrage in the United States.
Saturday, March 7th, 4pm. Tickets are $23.01—get yours now.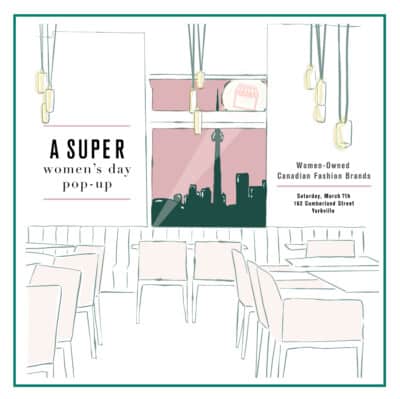 Women-Owned Fashion Pop-Up Shop in Yorkville
Hit Yorkville for a special Pop-Up Shop at Salon Alo featuring five Canadian women-owned fashion labels we adore.
Saturday, March 7th at Salon Alo, 162 Cumberland Street / 11am-4pm / FREE entry.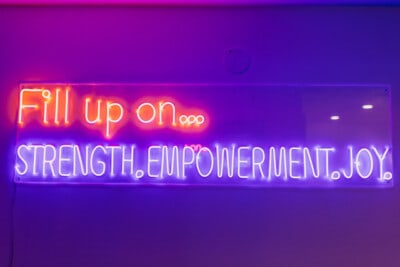 Soul Fuel Fitness Stretch Class in Support of Sistering
The Soul Fuel stretch class combines the best of yoga, eccentrics, and traditional sports stretching to lengthen muscles, fascia, and connective tissues. Stretches will be thoroughly explained, modifications given, and assistance offered. Side effects of this class include improved fitness performance, rehabilitated soreness and injuries, better posture and alignment, released toxins, feeling more open and happy, and chilling.you.out. The class will be taught by Soul Fuel owner, MJ Shaw.
Free with PWYC Donation, all donations going to
Sistering.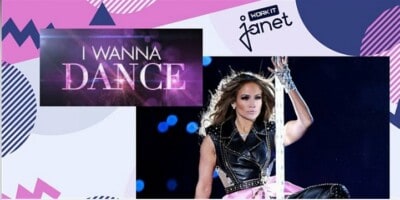 Jennifer Lopez Dance Class
Join dance coach and WORK IT! TV Host Janet Castillo as she guides you through a hype class that will leave you feeling energized, empowered and full of LIFE! The class will include a group warm up, light stretch, and JLO-inspired moves ending in a short choreographed routine. Janet will break down the moves in a clear and simple, step-by-step process.
We adore Janet Castillo's energy, and know this will be a fun, feel-good dance class. Created for beginners, but all levels welcome.
Sunday, March 8, 12pm-1pm. Tickets are $20—more info here.
Plan or Platitude – Hot Docs Curious Minds Festival
As we approach the fifth anniversary of the Truth and Reconciliation report, get a clear-eyed look at "reconciliation" with Indigenous peoples, what it actually means, and what progress—if any—has been made in bringing it about.
This timely and urgent panel, moderated and guest curated by award-winning Anishinaabe journalist and author Tanya Talaga, will tackle these questions head on. With the rich and varied perspectives of Métis-Salish poet and novelist Lee Maracle, Cree Youth Leader and Activist Max FineDay—as well as food from Indigenous chefs and a ceremonial performance by the celebrated All Nations Juniors drum circle —this will be a lively celebration of Indigenous culture and a clear-eyed look at what Canadians of all backgrounds must do to make "reconciliation" more than a platitude.
Sunday, March 8 at 3:30p.m. at Hot Docs Ted Rogers Cinema. Tickets are $16.81—get 'em.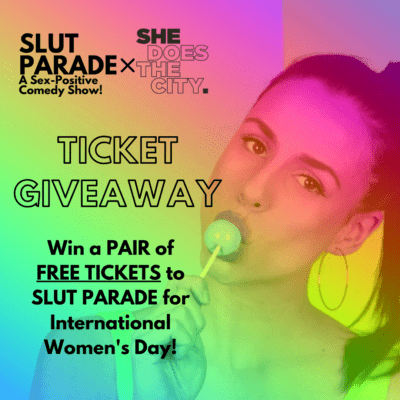 Slut Parade at The Royal Cinema
Hosted by comedian Allie Pearse, Slut Parade is a sex-positive comedy show that will feature an all-star lineup of Toronto's most talented women in comedy. Lineup includes Sandra Battaglini, Carol Zoccoli, Jackie Pirico, Nour Hadidi, Tamara Shevon, Natalie Norman, Olivia Stadler & Rebecca Reeds. Laugh until it hurts at this uproarious IWD celebration.
Sunday, March 8 at 8pm. Tickets are $21. 59 and can be purchased here. (Stay tuned for a contest launching later this week!

Lady Sunrise at Factory Theatre
Asian-Canadian women take centre stage in Lady Sunrise written by Marjorie Chan (Artistic Director of Theatre Passe Muraille) with director Nina Lee Aquino (founding Artistic Director of fu-GEN Asian Canadian theatre company). Inspired by the modern classic, Sunrise by Cao Yu, this exquisite World Premiere features a cast of six powerful Asian Canadian women, and examines the damning effect of today's hyper-consumerist society. "The play is about women, Asian women yes, but really all kinds of women. Women who are rich, women who are poor, women trying to make their way. This play is also about things that could happen to anyone, the good, the sad, and the bad," Chan writes. $25-50.
Show runs until Sunday, March 8. For exact showtimes and ticket info, visit the Factory Theatre site.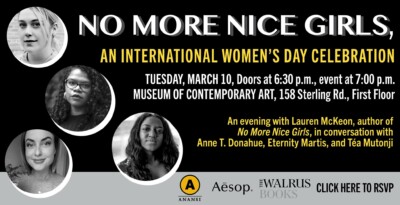 No More Nice Girls at MOCA
House of Anansi Press, The Walrus, MOCA, and Aesop Skincare present an evening with Lauren McKeon, author of No More Nice Girls, in conversation with Anne T. Donahue, Eternity Martis, and Téa Mutonji.
In the age of girl bosses, Beyoncé, and Black Widow, we like to tell our little girls they can be anything they want when they grow up, except they'll have to work twice as hard, be told to "play nice," and face countless double standards that curb their personal, political, and economic power. Today, long after the rise of girl power in the 90s, the failed promise of a female president, and the ubiquity of feminist-branded everything, women are still a surprisingly, depressingly long way from gender and racial equality. It's worth asking: Why do we keep trying to win a game we were never meant to play in the first place?
No More Nice Girls charts a hopeful and potent path forward for how to disrupt the standard (very male) vision of power, ditch convention, and build a more equitable world for everyone.
Tuesday, March 10. Doors at 6:30 p.m., event at 7:00 p.m. at MOCA. This is a FREE event, reserve your spot here.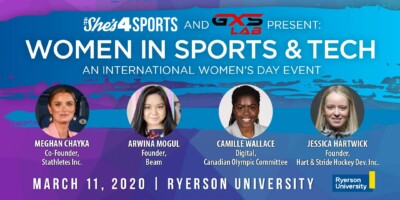 This Women in Sports and Tech event is co-presented by She's4Sports and Ryerson University – The Global Experiential Sport Lab (GXS Lab). Hear the journeys of four innovative women who are using technology to transform the sports industry. Speakers include Arwina Mogul (Beam), Camille Wallace (Canadian Olympic Committee), Meghan Chayka (Stathletes) and Jessica Hartwick (Hart & Stride Hockey Development).
Wednesday, March 11 – 6 pm, The Creative Innovation Studio, Ryerson University. Tickets are $35—secure yours now.
Women's Words, Women's Work: A Creative Writing Showcase by Sister Writes
All are welcome to attend this free event that celebrates International Women's Day with live readings from their latest magazine: The Work Issue. Sister Writes is a creative writing and literacy program dedicated to honouring the wisdom and experiences of women in downtown Toronto. Founded by writer Lauren Kirshner in 2010, with the support of Sistering, a drop-in centre empowering ordinary women in extraordinary situations.

Friday, March 13 – 6:30 pm @ Bloor/Gladstone Library, FREE.
VOTE for a woman you admire—all month long!

It's time to celebrate your favourite sheRO! Nominate a game-changing woman for the Government of Canada's Women of Impact website or for Women's Executive Network Canada's Most Powerful Women: Top 100 Awards. Also this month, lookout for announcements from Top 25 Women of Influence and YWCA Toronto's Women of Distinction Awards.