We're in a moment of time where the future of media is yet to be determined, where the definition of what constitutes media is ever-changing. The Hustlers #SheInspiresMe event, held this past Saturday at Assembly Chef's Hall during TIFF, provided an opportunity for Toronto's social influencers to get up close with Jennifer Lopez, Constance Wu, Keke Palmer, and Lili Reinhart, the big-name stars behind Lorene Scafaria's hotly anticipated film, Hustlers. Hosted by Twitter Canada, there was a ton of smart strategy behind this gorgeously branded event.
As I stood there, squished, waiting (and waiting) for the panel discussion to begin, I thought about a conversation I'd had a few days prior with a prominent Canadian journalist: "They all want pictures and captions," she lamented, referring to the way publicists are steering talent towards photo opps and social blitzes, versus booking 30-minute sit-down interviews with writers who've earned that privilege. The decline of traditional journalism is upsetting—no question—but it's hard to compete with the energy and hype of social media.
Before the talent even arrived, I had blasted four Instagram stories (to an audience of 26K) and three tweets to an audience of 31K. In one of my tweets, I posted a photo of a full-seated audience and a stage with six empty chairs. The caption read: "@HustlersMovie panel running 45 mins late. We're all waiting patiently, including Heather Graham #SheInspiresMe." Earlier, I'd caught a picture of Heather (who's in town for the premiere of The Rest of Us) turned the opposite direction from row upon row of the fashionable, glossy-haired crowd. Seconds after I posted it, it began getting attention as people liked it, re-tweeted it, and commented on it. Forty-eight hours later, that tweet (and a few others sent within the same hour) have received over 260,000 impressions.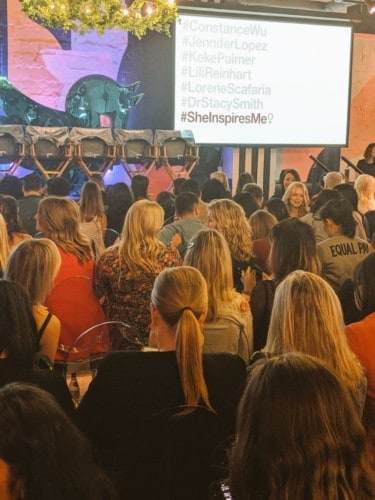 As the clock continued to tick, guests began to wonder the reason for the delay (the most interesting theory I heard was that there was a secret tunnel underneath Assembly Chef's Hall, and the ex-military guards hired to protect Jennifer Lopez weren't happy about it).
Standing by my side was artist Kyra Kendall, so I began to chat with her, asking her what brought her to the #SheInspiresMe event. "Lili Reinhart is a fan of my work," said Kyra, who counts Riverdale's Betty Cooper as one of her 92K followers. (With 19 million followers on Instagram, Lili is a good fan to have!)
Before she ate breakfast that morning, Kyra did a water-colour painting of Lili, posted it on Instagram, and tagged it with both @Hustlersmovie and #SheInspiresMe. It's whimsical, beautiful and has since received 1965 likes with comments such as "My favourite one so far!" and "OMG!!! I don't know what to say because I love everything about this painting!!!"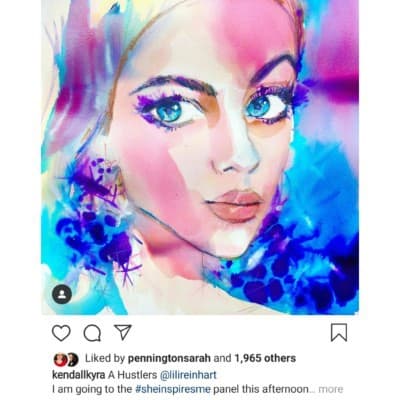 Kyra's work shows how so much of the buzz for an event happens before it even starts through a variety of creative ways. Of course, when you actually enter the event there are pretty signs, screens, decorated stairwells, and photo booths that remind guests (in this case, approximately 250 with social media clout) to create their own stories and share from their own perspective.
When the Hustlers talent finally walked in, with big smiles and outfits that popped perfectly off one another, they apologized for the lag, and the room erupted into cheers. We instantly forgot about being dehydrated and hot; the positive energy was palpable.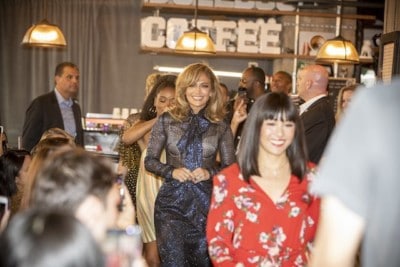 During the panel, the stars talked about how they got their start, how their moms encouraged them, and what it was like to work on a set predominantly run by women. "Women get shit done! Fast!" said Lopez, and the crowd cheered. I recorded her take on Hollywood's old boys' club on my phone and posted it on all three of Shedoesthecity's social platforms, sharing it with 70,000+ of our followers.
You didn't have to be at the event on Saturday to participate; you could weigh in from your bed by tagging #SheInspiresMe on your own post, be it a quote from the panel discussion or a personal anecdote about your own role model, your own hustle. Or, you could have watched the live stream, which is still available and has since been viewed by 6.3 million and counting.
I'm not saying that this era of media is better or worse; a strong argument can be made for either case, but it's undeniable that it's interesting, it's dynamic, and for the most part, it's democratic, since everyone is invited to be part of the conversation.