How To Plan An Orgy In A Small Town is perhaps the only Canadian film I've watched in the past decade that tackles topics like "queefing" and "vaginal moistness." It appealed to my juvenile sense of humour and inner pervert. (Think vulgarity of American Pie, but weirder.) Set in a fictional town called Beaver's Ridge (Beaverton, Ontario? Something like it), Jeremy LaLonde's How To Plan An Orgy In A Small Town is not about horny adolescents dipping their dicks into pie, but about very average grown adults experimenting with sex in the most unsexy way imaginable.
The story unfolds when town-slut-turned-sex-columnist Cassie Cranston (Jewel Staite) returns home after her mother has passed. Following a few run-ins with old high school classmates, she is pulled into a plot to organize an orgy. After covering the couch in plastic, the group of neighbours gets down to business. The film is as awkward and hilarious as it sounds.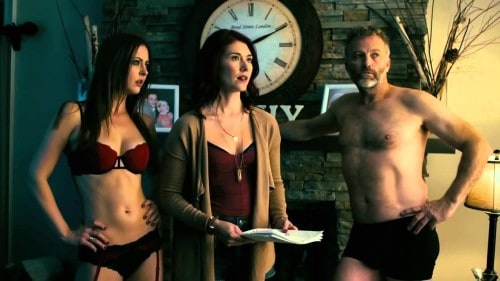 I got on the phone with Jewel to find out why the BC actress (who's gained a huge following for her roles in sci-fi fantasy Firefly and more recently in AMC's crime-drama, The Killing) decided to star in this home-grown indie flick. Obviously, I also wanted to know just how crazy it was to film those orgy scenes.
What hooked you?
The writing. Within five pages, I was in. Almost everyone did this for free because the writing was so good. I think that's a real testament to Jeremy's talent.
Is this the dirtiest Canadian flick ever made?
I don't know! That would be interesting territory to pioneer. There's raunchy dialogue, and it's so ridiculous, but I don't find it that dirty. It's sweet. I describe it as a romantic comedy. For me, it didn't cross the line. We hovered on the line as much as we could.
What was your favourite part to film?
Any of the orgy stuff. We were free to improv as much as we wanted to and when you say that to an actor, it's trouble. We're going to go off the rails. Total pandemonium.
I found the sex scenes to be refreshing. They showed the very matter-of-fact side to fucking and the logistics that can get in the way of sexiness.
I think the way that sex is usually portrayed in film is not correct. It's not as glamorous as it's depicted to be. Sometimes sex is gross. Sometimes it doesn't work out, and it's awkward. That's what I love about this writing: it shows those really awkward moments not just between couples but people.
Deliciously awkward and wonderfully weird, How To Plan An Orgy In A Small Town is now playing. Go, you will LAUGH.
Watch the trailer now!