Beautifully written and with a powerful message that is more important than ever, Simone Da Costa's latest book, I am Beautiful: When I Look at Me, I See…, is receiving tremendous success.
A freelance magazine writer who has written for many North American publications, Simone was also the Editor-in-Chief of It's Your Destiny eMagazine, an online Christian magazine.
Her latest book intends to empower young Black girls through self-acceptance and challenge today's unattainable societal standards of beauty. The success of Simone's book even launched the "I am Beautiful" beautymoji collection that is available for download.
We caught up with Simone this week.
Please share with us how your book came to be.

SD: I wrote I am Beautiful: When I Look at Me, I See… because we (African-Canadians) see many misrepresentations in the media of what beauty is supposed to look like. It's this make-believe perception of what we are taught to believe, and that a certain type of beauty (Western) is the "ideal beauty," which unfortunately is preyed upon young Black girls today.
In writing I am Beautiful: When I Look at Me, I See… I hope to encourage, inspire, and uplift young Black girls by telling them they are beautiful and there is absolutely nothing wrong with their beauty (thick lips, dark or light skin, kinky hair). Being comfortable and happy enough should bring them self-gratification, rather than no gratification, lacking self-worth, or suffering from low self-esteem.
Was there a particular moment that sparked the idea to build the "I am Beautiful" beautymoji app?
The reception of the book had been astounding, and I felt it was a good idea to design emojis.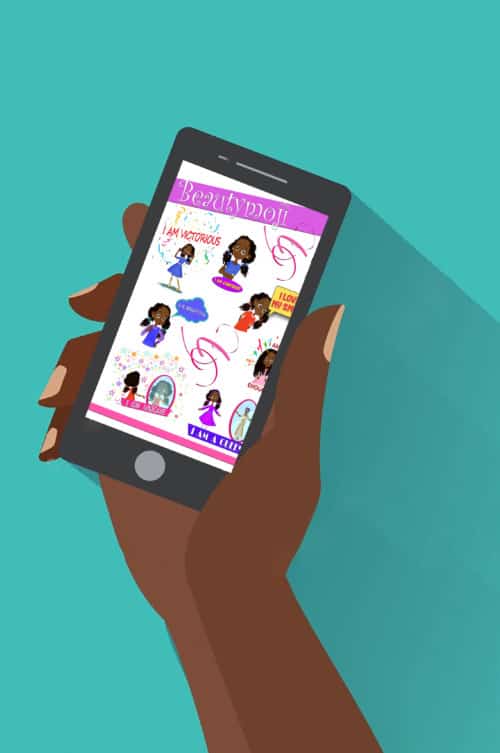 In your opinion, what are the biggest challenges that Black women face in society today?
Some of the biggest challenges that Black women face today are self-love, self-esteem and health (body type/image).
As an author, educator, and entrepreneur, what are some of your goals for 2017?
Writing/authoring more books, freelance writing and partnering w/ Trust 15, a non-profit organization based in the Rexdale area. Trust 15 has a weekly program for young girls that encourages and promotes literacy.
I operate a blog called "Simone's Blog – Depicting the Writer In You"and plan to support Trust 15's literacy program by posting one young girl's journal entry a week. The idea is to encourage these young girls to continue reading and writing.
With a Trump presidency on the horizon, how are you feeling? How has this impacted the approach you take in your professional life?
I am feeling great. It has not impacted the approach I take in my professional life at all.
What are some of the reactions from young girls to your book or app that you hold dear to your heart?
I received an e-mail from a mother stating that her daughter reads my book every night before going to bed. She also sent me a picture of her daughter smiling and hugging my book.
Regarding the "I am Beautiful" emojis, several supporters of the app have been tweeting about it and have expressed that they love the concept and that it is a "brilliant idea."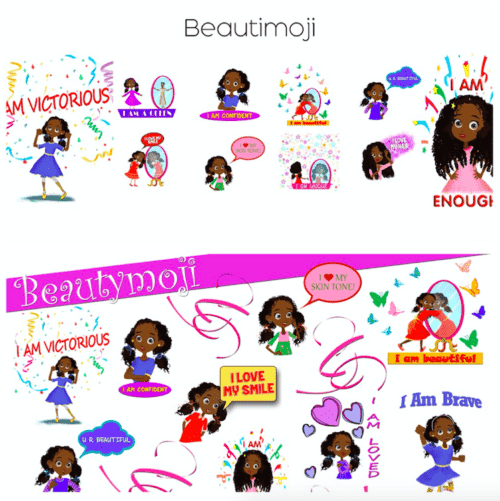 What do you do to get into a creative space?
I enjoy going by the lake for some peace and quiet and quality time.
What's your advice to young women hoping to make their entrepreneurial dreams a reality?
You have to believe in yourself/your craft and/or your vision first before anyone else will.
It is the dawn of a new year. How are you feeling about yourself? What personal goals or resolutions do you have?
I am feeling optimistic and I am pumped to take on new and explosive ventures. I will keep the personal goals a secret and I do not practice New Year's resolutions.
What always puts a smile on your face?

Chocolate 🙂