I Beat Up My Rapist, the compelling new short film, is making its Canadian premiere on Saturday, March 23rd at the 2019 Canadian Film Festival.
Directed by Katrina Saville and produced by Gurjeet Kaur Bassi, I Beat Up My Rapist is based on the riveting true story of a young woman who decided to beat up her friend once she came to terms with the fact that he raped her after a night out of partying.
The story is based on Leif LaVen's (formerly Emily Eveland) viral article in xojane, "My Friends and I Beat Up My Rapist, and I Will Never Apologize for Getting Revenge."
We caught up with Katrina and Gurjeet this week to find out more about the film and what they hope it sparks in viewers.
SDTC: Why/how did you decide to get involved with this film? Can you briefly explain what the process was like?
Katrina: I read the memoir essay online when it went viral three years ago. Leif's (the author) writing is so vivid and compelling, I immediately began imagining it on the screen. It's almost like I could see certain scenes pop off the page right away. I sent the essay to Gurjeet (my good friend and producing partner) and asked her what she thought. She replied pretty quickly, saying, "We have to make this."
I contacted Leif personally and asked her if we could option her essay to adapt it into a short film. Thankfully, she was open to working with us and trusted us to tell her story. We applied for a few grants that we never ended up getting, so things weren't looking promising, but through some self-funding, lots of favours, donations, and lucking out with a cheap location, we managed to shoot it over one weekend. Actually, that's a lie. We shot a quick party scene a few weekends before the official shoot. Our actors (some of whom hadn't met one another at this point) all showed up at Gurjeet's cousin's birthday bash (thanks Preety!) and party-drunk-acted in front of people they had never met while I shot it all on my iPhone. It was a super bizarre evening, and in retrospect, kind of amazing.
Gurjeet: We started working on this in 2016, a few months after the Brock Turner case (a criminal case filed in a Californian Superior Court, which convicted Brock Turner of three counts of felony sexual assault) was all over the news. We followed that case closely because we knew how hard it was/is for our culture to accept that a good person/student/son/friend/guy/swimmer was capable of rape. I Beat Up My Rapist was exactly this as well. More so, I wanted to tell this story because I appreciated the alternative ending it had. I liked that Leif decided to seek justice, in her own way. I wanted to show that.
What did you learn after making this film?
Gurjeet: That Katrina and I have a lot more gumption and boldness than we even realized. I think we knew after making this short film–a sexual assault movie with a lot of glitter and sparkles in it–that we wanted to continue to take creative risks with all our projects.
In your opinion, how has the film industry shifted most in the past five years, specifically regarding #MeToo and the types of stories being told?
Gurjeet: There's been an improvement with the amount of space that's being held for female/diverse stories, sure, but there's still ways to go.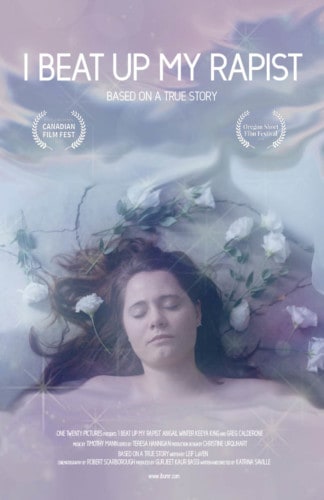 What do you hope audiences will take away from I Beat Up My Rapist?
Katrina: I hope that anyone who has ever felt unable to speak up after they've been violated in any way watches this short film and feels heard, and likewise, I hope that anyone who has never been violated watches this film and is able to empathize. I definitely made this film in honour of survivors of sexual assault, like Leif, who wrote the memoir that it was based on, but once the film was finished, I realized that the film was made for them, the ones who have walked around their entire lives without fearing for the safety of their bodies. I made this for them so they can empathize with the people who move through life constantly having to consider if their bodies (and therefore their minds and their souls) will be safe. I hope to be able to make people feel things, rather than just think about this idea.
Gurjeet: I hope that after audiences watch this they will not only feel empathy for survivors but feel empowered to share their own stories of survival as well.
Any advice for aspiring female directors/producers in Toronto looking to get their foot in the door?
Katrina: Cross-network. Figure out who's at your level, hustling and trying to make a go at it too, and make your own stuff. Level one another up. This obviously won't happen overnight, so figure out how to support yourself financially outside of that, ideally in the industry. I started off PA-ing on music videos with some of my film school pals and then eventually landed assistant gigs on bigger movies and films. That's how I met Gurjeet, actually. We were both assistants ten years ago and ended up working on the pilot of Blue Bloods together, our desks side-by-side in the production office.
If you want to direct and/or produce, you will figure out the best way for you to nuzzle your way into this circus. You have to trust that you will. Every director and producer friend I have, they each have such unique paths of how they ended up where they are. I know it's scary, not having one specific way to break in that's a sure shot, but put yourself out there with as much honesty, openness, and humour as possible, and you will inevitably find yourself sleep-deprived and stressed over one project while anxious and procrastinating on another.
Gurjeet: Work with your friends! It's so tough to make movies, so it truly needs to be a labour of love (so cliché, but true). Katrina and I assisted a lot a few years ago and it was the best experience. I was able to observe productions from top down and really see how it all worked. I would say try and work in as many roles as you can so you can familiarize yourself with the process. Every little bit will make you a stronger storyteller.
I Beat Up My Rapist premieres Saturday, March 23 at the 2019 Canadian Film Festival. The film is part of the Homegrown Shorts Program #1, which begins at 12:00 p.m. and runs till 2:00 p.m. The screening will take place at the Scotiabank Theatre (259 Richmond Street West).