As a young girl, Seyran Ates used to draw lines on her wall to mark the passing of time, like a prison scene in a film. She describes the first five years of her life as happy, but as she grew older, she noticed that—in her strict Muslim family—her brothers were given freedoms that she wasn't. If she didn't obey her parents strict rules, she was beaten and punished. "I had to start to fight for my life," she tells me from her apartment in Berlin.
It was 1969 when her family fled Istanbul to live in West Berlin. Life changed overnight. Seyran shares with me that she was always a child looking around, watching people, absorbing her surroundings. The sexual revolution was taking off, and as Seyran grew up, she watched people in the streets gain freedoms that she was denied.
Feeling suffocated, and desperate to explore the world on her own terms, Seyran made the tough decision to walk away from her family when she was 18, "I didn't know if my family would ever accept me again." But it was a risk she needed to take.
While she left her home, she didn't abandon Islam. The easier choice would have been to walk away from her religious roots all together, but Seyran wanted to keep practicing Islam; she also wanted to revolutionize it.
"Islam needs a sexual revolution. I'm not fighting against Islam, I'm fighting against patriarchy." She knew, even at a young age, that in order to help lead that change, she'd have to fight it from within. "It's not enough to criticize. You can't just sit on the couch and shout at the screen, or shout on the internet. You have to go out and fight for it! I felt responsible for going into the religion to make change," she says, adding that this is the most basic step of political activity.
The best way for Seyran to do this was to become an Imam and create her own mosque, so she did just that, but her gutsy actions have come with a serious cost.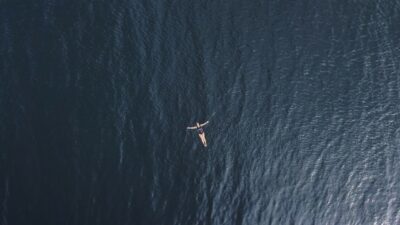 "YOU FAITHLESS WHORE!", "YOU BASTARD OF A WHORE", "FUCK YOU, YOU OLD BITCH", are examples of the violent messages Seyran receives regularly. She has also received over 100 death threats, been shot at, and now lives with around-the-clock police protection.
Pushback doesn't just come from fellow Muslims; some of Seyran's most vocal critics are left-leaning feminists, who think her ideas feed the far-right's desire to abolish Islam, and disapprove of her outspoken feelings about hijabs (Seyran views them as oppressive). The doc raises a lot of complex and volatile issues, but the themes at the core of Seyran's work are love and freedom.
Ibn Rushd-Goethe mosque, which she founded, and which is widely referred to as Berlin's modern mosque, welcomes all sexualities, and Seyran is herself bisexual. Women, men, and transgender/non-binary people all pray in the same room at her mosque.
"Freedom is very difficult. Even when we say we are modern or liberal, it's not so easy to be free. I had to learn to be free." It's a subject she continues to explore and fight for with fierce determination.
Seyran Ates: Sex, Revolution and Islam is now playing at Hot Docs.