If there's one undeniable way to heat up winter, it's Come As You Are's annual Erotic Arts and Crafts Fair happening this Saturday, February 2 at the Gladstone Hotel. We've been attending this kinky affair for several years, and it always fills us with inspiration to explore new things, while also filling us with positive vibes when it comes to our bodies, our sexuality, our desires.
In anticipation, we've connected with a couple of the vendors at this year's fair, and today we want to introduce you to Monika Cibulskis, owner of the fierce AF S&M fashion label Rapture & Repent.
SDTC: What made you start your company?
MC: I knew from a young age I wanted to pursue fashion design. I used to sketch designs, even bra and panty combos. As I grew older, I thought for a while I wanted to make couture gowns but soon realized that amount of sewing wasn't for me. Doing lingerie gave me the perfect balance of being able to create something intricate and high fashion on a smaller garment. I was always interested in the fetish scene and was a lover of all things black and goth, so fetish wear called to me.
I went to school for fashion design at Ryerson University, which helped me hone my skills. I started the company during my time there, with a vision that I wanted to be my own boss. I didn't want to fall into a cookie-cutter job in the fashion industry where I made someone else's dreams and designs come true. I continue to run my company part-time while working another visual merchandising job. I hope to one day have enough success to make my passion my full-time career.
What have been the biggest discoveries you've had since you first launched?
The biggest discovery I have made is that it is very difficult to turn a self-starter company into a full-time business. You will have to work very hard at your dreams. But I've also come to find that there is no feeling more rewarding than seeing the finals of a photoshoot you worked on, or getting an amazing customer review on Etsy, or having a blogger post about your products on Instagram. I don't think that wonderful feeling will ever fade.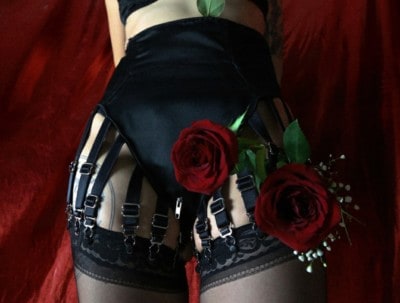 What's your top seller? Got a hunch why?
The Sisera Garter Panty, hands-down. Also one of my personal favourites and the design I am most proud of. The panty features twenty-eight garter straps, steel boning to accentuate the waist and a strategically placed zipper for the ultimate access. It's a pin-up dream.
What's your idea of a really amazing date?
My idea of the dream date is being with somebody that makes you feel like you're on the dream date, no matter what you are doing. I'm not the kind of girl who needs something elaborate, expensive and over the top, as long as thoughtfulness is put into it.
One of my best dates was go-karting and getting a heart-shaped pizza. I'm happy to say I have that feeling in my life at the moment.
How do you think one gains confidence with their sexuality?
I believe one gains confidence with their sexuality by gaining confidence in themselves, feeling beautiful and sexy and confident in their own skin. I believe everyone achieves this in their own forms of self-love. For me, wearing lingerie makes me feel unstoppable. A garter strap and a hidden pair of stockings under my clothes makes me feel confident as ever.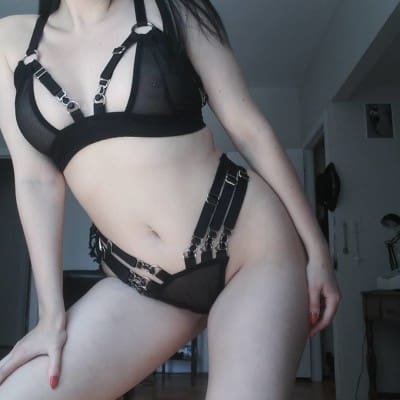 What's a Toronto space/place that holds great meaning for you? And why?
When I'm feeling frisky, my favourite place to be is a Toronto fetish event. Impulse, Subspace and Northbound Leather all have great events. Being able to dress up in my fetish gear makes me feel so happy. I feel that I can be myself there, be accepted and let my freak flag fly. On the other hand, when I'm feeling laid-back, there is no place I'd rather be than Hanlan's Point on the Toronto Islands. Something about dipping into the water naked makes me feel completely at ease.
What are you looking forward to most about the Erotic Arts & Crafts Fair this year?
This will be the first market Rapture and Repent has ever taken part in! Up until this point, our sales have been only online on Etsy. I am so excited to take this step! I am also thrilled to see all the other amazing artists and designers taking part and feel the awesome energy there!
Anything else you'd like to share?
I will be bringing a selection of items and sizes, but if there is something you don't see, all items are available to order
online
. We can also offer local Toronto pickup to forego shipping cost.
Go say hi to Monika next Saturday, and meet a dozen or so other amazing local vendors. Whether you're feeling artsy, mischievous, horny or curious, there's lots to explore at this unique Toronto event (now in its twelfth year!), run by our favourite ethical feminist sex co-op at a very cozy and cool west-end hotel. So many reasons to visit!