I got to chat with independent filmmaker, Mafalda Gugliuzzi about her career, latest short film, Getting Ready For A Lunch Date, and her time at the Cannes Film Festival.
The film is a six-minute short (a blend of rom-com & horror) that brings about a unique conflict for the heroine to overcome while getting ready for a lunch date. Lunch Date follows on the heels of the duo's last short film Aidon, written by Tye Evans, which focused on a failing marriage that ultimately acts as catalyst to the death of the couple's young son, Aidon.
Shannon Currie: You have so many jobs as an independent filmmaker, what is your official title?
Mafalda Gugliuzzi: For our first short film, Aidon, I was actually producer, executive producer, and production manager. I'm independent so I'm not working with huge budgets, that's why I have a bunch of roles.
How did you get into the film industry, especially producing?
I started off in high school acting and then decided that sports were more my thing. But in my early twenties, I missed being creative. I met this acting coach and said to her I wanted to get back into it. I started doing commercials and some short films and just ended up on the production side and started liking it. I threw myself in and just watched what other people were doing.
How did you and Patrick [boyfriend & creative partner Patrick Hodgson] form your company together?
Well, it's sort of funny. I met Patrick because I was acting in this little short film and he was behind the camera, the DP (Director of Photography). The director was also acting in the film so Patrick was kind of an assistant to the director. At the time, I was looking for a director for Aidon. It had to be a very specific kind of person because the script was so emotional. I needed someone who was going to be able to touch those emotions but also someone calm and cool on set. It was funny but that's how we started working together.
Do you and Patrick always work together?
He's freelance and so am I. We don't automatically come on-board each other's work. But, obviously, we try to bring each other onto projects because we want to build this company together.
Do you ever have disagreements about casting?
For Aidon, we all decided on the young boy, Caiden Rouse. We haven't had this problem yet but if we were to disagree it would go to the director. But if it's someone I really wanted then I'd probably fight really hard.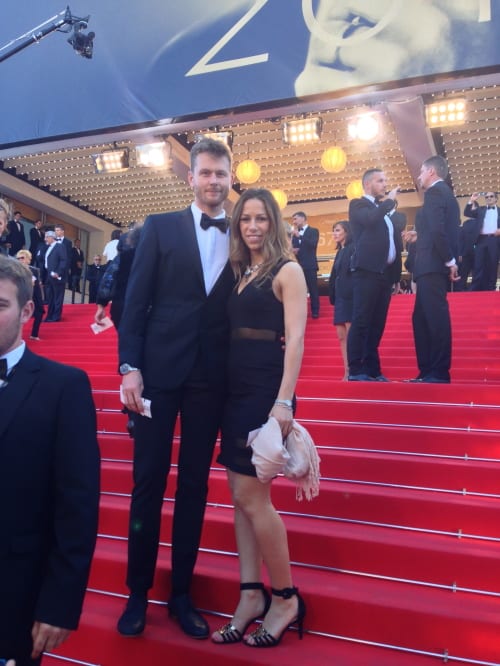 When an actor comes in to audition for you, how do you know that they're right for the job?
It has to be someone that I'm going to enjoy working with. When someone walks into the room you can feel that right away. But then when they get into the audition, into their character, it's ultimately about their performance.
What makes you nervous?
The first day of shooting. Usually I can't sleep the night before. Stanley Kubrick said, "The hardest part about making a movie is getting out of the car." It's so true. The night before, you think everything's good and then something goes wrong: someone is sick or you can't get into the location. There's always something.
Once the filming is done, what is the next stage?
The editing process. For Aidon, it took a while. It was originally ten minutes but for the sake of story and also festival submission criteria it was just too long. Our Director of Photography, Dylan Macleod, is award winning and we had beautiful shots. But I've learned in this process that the hardest part is letting go of footage that you love but ultimately doesn't serve the story.
As an independent filmmaker how do you get your work seen?
Submitting to festivals. You want to get your work out there. When you make a short film there's no money in it so it's really just your calling card to show people what you can do.
Tell me about going to Cannes Film Festival last year.
Oh that was amazing! We did the Short Film Corner, a networking event for independent filmmakers. Your short film is accessible the whole time of the festival, and you promote it by giving out business cards etc. That was our way of getting a festival pass. With a festival pass we could get into the Marche du Film, which hosts booths for every single distribution company. Anyone who can get a film made is there! You walk into booths, talk to each company and try to get people to buy your film. We just walked from booth to booth and talked to everyone.
What did you learn from your experience at Cannes?
I learnt that it is really scary to go up to people and tell them your idea. It's like being an actor going into the audition, being vulnerable and giving over. At Cannes, you could literally walk into Paramount films and pitch them your script.
How did it feel standing on the red carpet?
Oh my god, it's magical! There are thousands of people all around you and all these lights plus it's the most beautiful carpet you've ever seen!
How did you feel meeting other filmmakers at the festival?
It's very motivating. You see what's attainable. That's why I think the Short Film Corner at the festival is really good because it gets independent filmmakers like me into a place that I normally wouldn't be able to go. An artist from Australia said, "put yourself in the most uncomfortable position you can be in." So that's why we went up to everyone with our film.
And now you're back in the process again with your latest film, Getting Ready For A Lunch Date?
Yes, we'll be back at the Short Film Corner at Cannes. We did that super fast. We put together the short: writing, pre-production, post in like a month! Pre-production alone is finding all the crew, getting the locations, finding the actors, etc. We worked with an incredible Emmy-winning composer, Ali Helnwein and Daniel McCormick, and when we said, "We have four days, can you make this happen?!", they said "No problem." Patrick wrote and directed it, plus did the edits, sound design – so ya, it was insane!
What are your hopes for Getting Ready For A Lunch Date?
Lunch Date is a six-minute short but it's being pitched as a feature. We learned from Cannes last year and now we know how we can show up with a pitch. But Lunch Date will get its first festival showing in Philadelphia's A Night Of Short Films on April 26th.
Who do you model yourself after?
My brother and my mom. I look at how hard they work. My mom works day and night at her own business; she never gives up. And I know how much my brother sacrifices time with family and friends to work in the film industry. I see their determination and their sacrifice.
What would an ideal day look like for you five years from now?
An ideal day would still be working. Having my own production company would be amazing. And having my key people that I work with. Much of the same as right now but maybe more people helping. And ultimately working on feature films. That would be perfect.