Aren't we all looking for a good time? Join us on August 29th for a special advance screening of For A Good Time, Call and laugh 'till it hurts.
Raunchy, funny and smart: It's our new favourite frenemy phone sex flick! We think it's pretty $*#!*$% hilarious….and oddly relatable. (No, we don't moonlight as phone sex operators, but in desperate times, we have taken on somewhat ridiculous/embarrassing side jobs.) Join us for a night of laughter and dirty-dirty dialogue! Seats are limited, so this is a first come first serve situation.
For a chance to win a double pass, send an email to contests@shedoesthecity.com with subject line LOOKING FOR A GOOD TIME.
When life gets expensive, be creative.
In order to afford life in Manhattan, Katie (Ari Graynor) and Lauren (Lauren Miller), once college enemies, are reintroduced by guy friend Jesse (Justin Long) and decide to take a risk and shack up together as roomies. Conservative Lauren is easily appalled by Katie's, um, relaxed, habits. Likewise, Katie finds Lauren's uptight personality irritating. Beyond lewd manners, Lauren discovers that the loud moaning and shrieks of ecstasy overheard from Katie's bedroom are not in fact the sounds of pleasureful orgasms from a wild lover but rather improv dialogue from Katie's phone sex side biz. Despite being initially disturbed, Lauren sees a business opportunity and the two hatch a plan to profit big off a little dirty talk.
We adore actors Ari Graynor and Lauren Miller and we know you'll love this fun flick as much as we do! Watch the trailer now.
For a chance to win a double pass, send an email to contests@shedoesthecity.com with subject line Looking for a Good Time.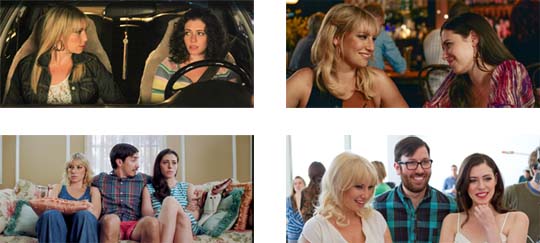 BONUS*BONUS*BONUS
Everyone who enters to win a pass to advance screening will automatically be entered to win an AWESOME For a Good Time, Call prize pack that includes:
– A pink cell phone handset. How much do you want this?
– A nail polish set from Ginger & Liz
– A FOR A GOOD TIME, CALL t-shirt
For A Good Time, Call special advance screening takes place Aug 29th, 7pm at Varsity Cinemas. Winners will be notified by Aug 27th at 4pm EST.
Opens in theatres Aug 31st.
facebook.com/alliancefilms