This month, award-winning alternative-electronic artist iskwē will celebrate the release of her latest album, acākosīk, with a Massey Hall Presents show on January 17th at the Mod Club.
The album is a collection of seven sonic explorations that not only blur lines between sources and styles, but also between the actual and the ideal, the real and imagined. But by extension, it's also the star around which immersive worlds of live performance, video, and visual art revolve. That includes the album's stunning cover art by Sarah Legault, loaded with cultural allusions and featuring an individual star for each of Canada's missing and murdered Indigenous women and girls (MMIWG) to date.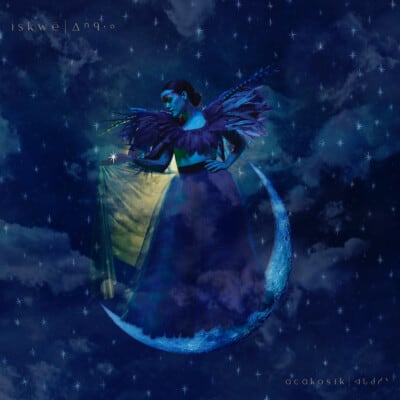 "I've never felt better about a piece of work than I do about this record," iskwē asserts. "I'm not a knowledge keeper, but I'm somebody in a position to share these stories and bring people
into our conversation, and I'm proud of how we've done that."
acākosīk also features a track, Night Danger, which was co-produced with gggarth (Garth Richardson of Rage Against The Machine and Red Hot Chili Peppers fame).
We caught up with her this week.
SDTC: What was it like working with gggarth? How did the album production unfold?
iskwē: Garth was so wonderful to work with! He really encouraged me to play with sounds and ideas, and shared the role of producer with me quite equally – it was a nice change from many other producers I've worked with. From the moment we met, we clicked and created a piece I'm really proud of!
What are your intentions/goals for 2020?
iskwē: I'm entering back into a creative period, working on some new projects in addition to expanding a piece I've been building over the past year. I'm looking forward to really delving in and focusing on art – it's been too long since I've been able to do that.
What is your fave track from the album, and why?
iskwē: Each one is super special to me! This album feels like one big piece, one story line, that doesn't really exist without the song before and/or after. When I was writing this record, it didn't feel right until the whole thing was done and presented in a package…only at that point could I listen to it and say "ah ha! Now THAT is acākosīk!
What do you hope people take away from this new album?
iskwē: I want people to join me on the journey. I hope that they find whatever it is that this piece brings to them, but at the end of it all, I hope we are able to find connection through art.