Mumbi Tindyebwa Otu was appointed Artistic Director of Obsidian Theatre—a company passionately dedicated to the exploration, development, and production of the Black voice—in January 2020, with her new role set to begin in July. In the six months that followed, the pandemic upended the world, hitting the performing arts like a wrecking ball, and Black Lives Matter became a global movement. To say that the set of circumstances that lay before her were overwhelming and unparalleled would be a gross understatement. But in a year where staging a production seems almost impossible, Mumbi's 21 BLACK FUTURES is arguably the theatre company's most ambitious project to date.
"No one really knows what it's like to do a project with 63 people, in the middle of a pandemic, until they do it," says Mumbi. "It feels like an urgent and visceral call to do this."
In partnership with CBC Gem, 21 BLACK FUTURES is an anthology of 21 filmed monodramas, commissioned from 21 multigenerational Black playwrights across the country, directed by 21 Black directors and performed by 21 Black actors. Premiering digitally, 21 BLACK FUTURES will respond to the question, "What is the future of Blackness?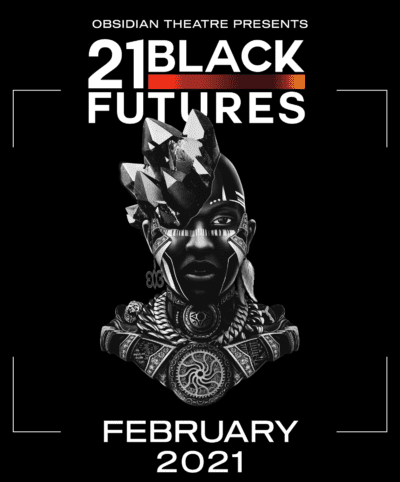 Mumbi shares that the original concept was born in a place of grief, "I moved into this place of isolation, along with everybody else, and was grieving with my community about the continuous murders of Black people at the hands of police. I started to think about the future and what the Black future would look like, in the intensity of the moment we were in. It was a way for me to feel and start to imagine—what is a Black future?"
It was a question she grappled with throughout the summer months as millions took to the streets to protest. When she began imagining how to respond to the moment through art, her vision was: go deep, and go big. "It needed to be a radical gesture. It needed to be something that was communal, that was multigenerational, that was really bringing together different theatre makers across the country to wrestle with this question of what is the future of Blackness. That was the birth of it, and wanting something really unapologetic that we could do as a Black organization, where the Black gaze would really be at the centre, and everything was coming from Black artists."
The word "multigenerational" was stressed in Obsidian's press release, and Mumbi also referenced it in our chat. From the get-go she knew that if she was asking artists to answer the question: what is the future of Blackness? She needed to include responses from both veteran artists, in the latter half of their lives, as well as young twenty-somethings, just embarking on their careers. Likewise it was important to share voices from all over the country.
How does playwright Miali-Elise Coley-Sudlovenick, located in Iqaluit see the future of Blackness, as compared to Amanda Parris in Toronto? Or K.P. Dennis in Victoria, Cheryl Fogo in Calgary, Shauntay Grant in Halifax, Lawrence Hill in Hamilton, Kaie Kellough in Montreal, and the 13 other formidable playwrights in 21 BLACK FUTURES. "We wanted to show the diversity of perspectives in the community. We are not a monolith. There are many different lenses into the Black experience."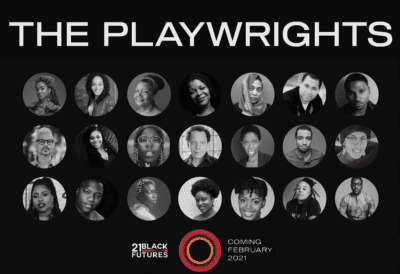 Having never worked with film, or put on a production virtually, the task of producing 21 BLACK FUTURES was daunting. Mumbi knew that a partnership with CBC was integral to its success. "We wanted to create something that was not only excellent in both content and form," she says—and it worked. The result of the partnership has allowed Mumbi's vision to translate into exquisitely shot theatre that still gives audiences the provocative and intimate experience that they're used to seeing on stage, but with the added capability of reaching millions of Canadians.
"The accessibility that those stories will have is something we've never been able to do before, as a Toronto-based company. We hope that it will create opportunities for Black communities all across the country, to see these stories reflected back to them, especially at this time when we are all living isolated lives. To have this kind of reach is an incredible opportunity in a very challenging moment."
21 BLACK FUTURES will premiere exclusively on the free CBC Gem streaming service in three parts (3×70 minutes) on Friday, February 12, Friday February 19 and Friday, February 26.