If you're seeking something to pull you from the monotony and stress of the pandemic, and lift you to a state of beauty and awe, The Musical Stage's 'UnCovered: Notes From The Heart' concert is primed to be just the thing to take you there.
For 2020, they've created a stunning virtual event with a phenomenal lineup of Canada's top vocalists who've all selected songs of change, hope, reflection and inspiration by artists like Bob Marley, Carole King, Bob Dylan, Billie Holiday and Elton John.
We've already chatted with Juno-Award winning soul singer Divine Brown, and now we're getting personal with the legendary Jackie Richardson, who has been wowing audiences with her resounding voice since the 1960s. We're honoured she could share some of her wisdom and insight with us.
'Uncovered: Notes from the Heart' – when you hear that title, what does it mean to you?
The meeting of a group of performers coming together to express their feelings of this unprecedented time! We have been living on the edge since March 2020, facing life and/or death daily in this new world with its new sensibility. The result of these reflections express the abundance of Hope and Love!!!
This is the first year in our lifetimes where singing has been a forbidden act at school (due to COVID), how does that make you feel?
Oh boy! Well, I am sad about it because singing is the last vantage of music left in the majority of public schools. Over the last 15-20 years we've seen the dwindling down of music education in the schools to the point that performers started to go into the schools on their own time to teach music – the schools don't have the funding for it. It is such a crime! Creativity is being stifled and to survive in this world in a positive healthy way we have to nurture creativity. Kids need a balance of creativity and expression as well as the math and science. Where is that reset for the soul to prepare for the next geography lesson or science lesson?
How has music helped you during the pandemic? How does it play a role in your home?
Music has been my foundation since before I could walk and I am listening to music every day. Through this isolation period I have also been delving into podcasts about artists, about music history, I have been reading books about Aretha Franklin and Dionne Warwick. It has been fascinating and rewarding to dig deeper into the stories behind some of my favourite music. I would love to start working on a new CD so I am also using this time to explore that. I've always wanted to do a big band album and there are very few things that I've done with guitar as the main instrument and we have so many amazing guitarists here – this all keeps me interested and motivated.
The winter ahead is making people anxious, how are you currently preparing for this time?
I'm not ready for the snow yet – I don't even want to think about it! The thing about the pandemic – this year has been a surprise everyday – so I have chosen to just take it one day at a time and if I am planning anything it is not further than a week away.
How has moving to online performances made you feel?
It's interesting. It is a challenge! When you perform on stage you are playing to the audience and responding to their energy. When you are in the recording studio you and your fellow musicians are concentrating solely on creating the music together without any thought of external approval. Then, comes the third dimension of performing for camera (again without audience) which has its own procedures and depth of creation. Now comes the pandemic and you are left more times than not on achieving these elements on your own (techie and non-techie alike)that will go online to be there forever. CHALLENGE! We miss our audience, our people!!! Having said that, what Musical Stage Company has achieved with UnCovered is well above and beyond a concert put online – it is a cinematic, musical, emotional journey and I am so proud to be a part of it!
Why did you choose to perform New York State of Mind?
Let me start by saying, I love Toronto! The greater Toronto area is the home of the majority of my family and where I was raised since 7.
New York City though is my She-roe He-roe City. The place that is of upmost importance to Black people. The place, Harlem in particular, that holds historical relevance to the advancement in all areas of our growth and embattlements. It is also noted for its profound contribution to the arts.
Then there's Broadway, which is the dream of all artists with theatrical ambitions. As a symbol, not only the city but the country is shaken by the closing of Broadway as the result of the pandemic.
On a more personal note, I had the pleasure to perform on 42nd Street, as part of the Soulpepper Company, for the full month of July 2017 representing Canada. I am so grateful for that experience!
It is also a time that will remain dearest to my heart, for my beloved sister, Judy, spent the latter part of that time joyfully exploring the city with me. She has since gone on to glory but New York remains in my heart, Our City!!!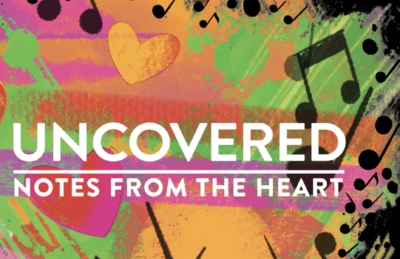 Uncovered: Notes From The Heart is going to be an incredibly moving and heartwarming event; performances begin November 11. To learn more, take a peak a this beautiful behind-the-scenes video, and reserve your tickets today.