Every colour in Jacquie Comrie's massive new three-storey installation in Toronto's Distillery District is intentional and meant to help people reflect on their feelings. Her exquisite mural Heal was commissioned by HSBC as part of their Business Plan for the Planet, and uses LumActiv® technology to break down pollutants and improve air quality, as well as colour therapy to support mental health.
"Colour is a science and a language. It is the language and science of human emotions," says Jacquie, who grew up in Panama surrounded by colour. Ever since she moved to Toronto, the artist has made it her mission to brighten spaces in the city with vibrant art. "Colour has been such a powerful part of my life ever since I was a kid. When I came to Canada, it was about trying to bring that colour back … that feeling of vibrancy and energy," she says, adding that it's especially important to bring colour to the streets during winter.
If you live downtown, you've likely seen Jacquie's work. Entire streetcars have been transformed by her, and seeing them mid-January can have a powerful effect on one's mood. I can recall the first time I spotted one of her moving art pieces, and it hit me the same way that drinking a freshly blended juice packed with a rainbow of fruits and veggies does—an injection of vitamins and nutrients. But her work is not simply throwing different paints at a wall, but carefully using the psychology of colour to create impact.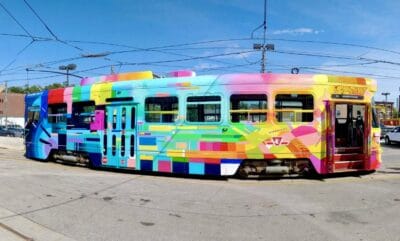 "It's not all about happiness. It's not just about good vibes, it's about confronting your own emotions," she shares, explaining that it was during a bout of depression when she began to understand the power of colour. "I went to OCAD University and I was in a class called The Psychology of Colour and the Impact on the Human Body. I wasn't okay mentally at that moment I was trying to find my way, and my purpose. I knew I wanted to have my work have a social impact of some sort, but I wasn't sure what that looked like," she tells me, explaining that she had an epiphany while in that class one day. "I started learning about the psychology of colour and how it can be so beneficial to the body and for mental health. I started using it as a tool for my own healing."
Jackie applies all that she has learned to create pieces that everyone can access, which is why she loves public art. She wants people to be surprised when they turn a corner; to have a moment to feel emotions, especially for those who have a difficult time talking about their feelings, or who perhaps were taught to repress them. "With colour, you are encouraged to ask yourself: what am I feeling right now when I'm looking at this colour?" says Jackie, sharing how different colours affect us. She explains how green is a colour associated with healing and balance and harmony, whereas red is about passion and alertness. Red can be an aggressive colour that can trigger people in a negative way. "I suffer from anxiety and therefore I don't use it often in my work, or minimally."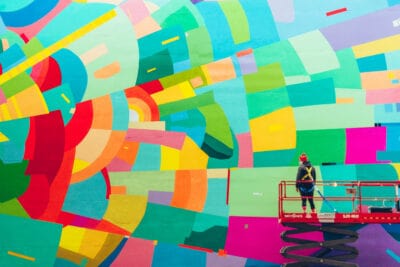 When HSBC pitched the idea to Jacquie, she had never heard of LumActiv® and enjoyed learning about how the material supported the environment by breaking down VOCs, NOx, and other airborne pollutants. "I am trying to be more conscious and eco-friendly. There's a lot of waste with mural art and public art, and when I got offered this project I loved the fact that it was all about finding new ways to be sustainable."
Recovery is something that can be applied to every area of life. Jacquie's art piece addresses environmental recovery as well as mental health, which in turn affects physical health. "This project is about healing everything. The pandemic, racial inequality… there are so many things that have affected us. I just want people to feel better. After such a difficult year, it's all about healing."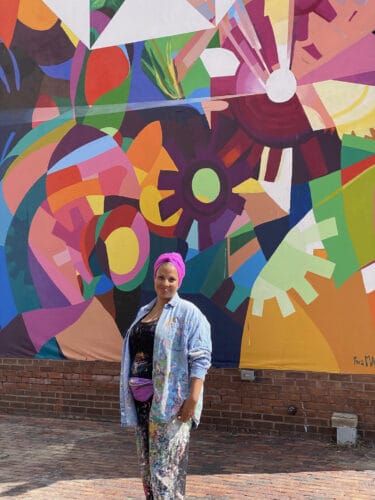 Heal is now open to the public. Take a walk to the Distillery District and let it open you up and feel things.