Summer Qamp is an absolute delight. This heartfelt documentary from Jen Markowitz takes us into the vibrant world of Camp fYrefly, a summer camp in rural Alberta where queer teens find community and let their true selves shine.
In a supportive environment, away from the bigotry and judgment they face in the outside world, the campers create meaningful bonds with each other and face their fears. One camper comes out to his mom over text, others make queer friends for the first time.
In a compelling scene towards the end of the documentary, a group of older queer people meet with some of the campers. As they share experiences and find common ground across generations, it's hopeful and tear-jerking all at once. Summer Qamp was the most wholesome and uplifting 80 minutes we experienced at TIFF so far this year, and we were thrilled to speak to Markowitz about their joy of a film.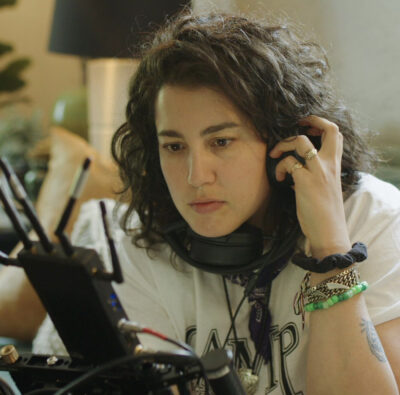 "I want as many young queer people as possible to see Summer Qamp. My entire goal with this project is to make this younger generation of queer and trans kids feel affirmed and seen," Markowitz told us.
One of the film's biggest takeaways was summed up beautifully by Isaiah Hurlbut, a camper featured in the documentary who also attended the Trans Filmmaker Summit at TIFF with Markowitz on Sunday. "It's not impossible to find places like this," said Hurlbut.
Even in the heart of rural Alberta, with transphobic and homophobic rhetoric on the rise, safe spaces still exist. And when you find them, it's a beautiful thing worth celebrating, whether it's with a glow-stick dance party, laughing with your friends under the stars, or bright pink hair dye.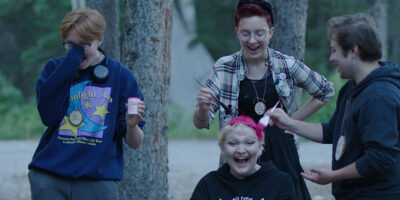 Why were you driven to make Summer Qamp? Why was this an important story for you to tell?
It's easy to miss a lot of formative teen experiences when you grow up queer. The fear of encountering opposition quiets a lot of young people from being their authentic selves. I was one of those kids, and I have a lot of memories of feeling this way over the couple of summers I spent at overnight camp. Getting an opportunity to witness for myself these campers letting go in their authenticity, and having a chance to show young queer viewers that a place like this exists was a huge reason I took on this project.
How would you describe the experience of getting to know the campers in the film?
Getting to know the campers in the film was a slow and steady process. They didn't have any reason to trust me, so I really worked to meet the energy they brought to our initial chats, and tried not to overwhelm them as that trust built. I made it clear from the start that this was going to be a collaborative process, and that they were in charge of how much or little they wanted to participate, and I let them ask me whatever questions were on their minds. By the time we started rolling, we all knew and trusted each other. It was a really beautiful process that needed the time it took to unfold.
Can you tell us about a memory you made while making your film? Something that will stick with you for years to come?
There are so many good memories from filming, but the one that sticks in my mind the most is the dance scene. It was beyond magical to watch these campers let loose and lose all their inhibitions. For many of them, this was the first queer dance they'd attended, and I could see in their faces how overjoyed they were to know they could just be themselves.
Which part of the filmmaking process was the most creatively fulfilling for you?
Working with the campers was the most creatively fulfilling part of the process for me. Letting them tell me as much or little as they wanted to about themselves, and sharing with them the ways I saw their stories playing out on screen, I learned you can create lightning in a bottle by just letting go and wholly trusting your subjects.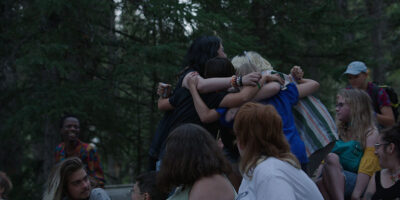 This can be a scary time in the world to be a young queer person. How did you find a balance between acknowledging that, but still focusing on the joy and community the teens found at camp?
This is a great question. When I went into this project I was intent on veering away from any mention of the hardships some of these campers face out in the world. But once we started shooting, I realized we needed some of that darkness to emphasize the light and the magic of their camp experiences. The mentions of hardships you see in the film are limited enough to add context to their stories, and I really tried to steer away from them as soon as that context was established.
What does authentically portraying queer communities look like for you?
In this case, it looks like showing up to set with a film crew that the subjects see themselves reflected in. In general, authentic portrayal of queer communities is done by queer storytellers, but the more we can populate entire film crews with all types of creatives from these communities, the safer and more open and comfortable the subjects are liable to feel.
What is a piece of advice you would give to aspiring 2SLGBTQIA+ filmmakers?
I'd tell 2SLGBTQIA+ filmmakers to just keep making content. The more we flood the market with our stories, the more our communities will see themselves reflected, and the better we'll be able to leave rich and detailed accounts of our lives that we'll be able to pass down to future generations.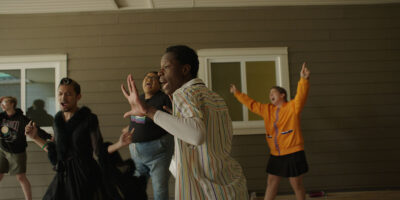 This is another big year for Canadian film at TIFF! What are you seeing in the Canadian film industry right now that makes you feel hopeful, or stands out as a step in the right direction?
I'm seeing a lot more representation in Canadian programming these days. More intersections of queerness in front of and behind the cameras. And a lot more depictions of long, queer lives rich with levity and joy.
What conversations do you hope the film will inspire?
I hope viewers will see that this generation of queer and trans youth want to experience the same things as anyone. They want safety and affirmation, and to live long joyful lives where they can express themselves freely. I'd also hope the film inspires some intergenerational conversations within various queer communities. So much of our history has been lost via generations of secrecy and silence, and it's vital to our historical longevity to pass down as much of our culture as we can now that we are taking the space to be loud about our lives.
What does having Summer Qamp premiere at TIFF mean to you?
I still remember the first TIFF film I went to when I was a teenager. This is my hometown, I've grown up going to this festival, so having my first film premiere here is really exciting.