Since day one, Shedoesthecity has been a site with the modus operandi to help lift up other women, be that giving writers a platform to speak from, shining a light on community members doing cool things, sharing our personal stories to help others learn from our mistakes, or gaining wisdom from entrepreneurs and industry leaders.
On January 21st, many of us participated in the Women's March (some in Toronto, others in Washington). This worldwide protest was over three million strong and signified the beginning of a revitalized feminist movement, one that is more inclusive, intersectional and undivided, where we come together to be heard and truly listen to one another.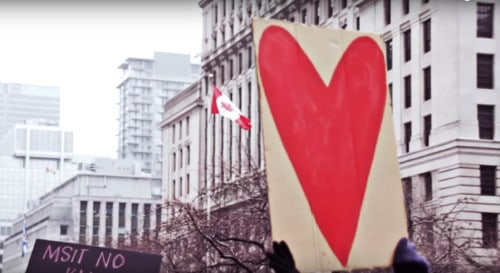 If January was about finding our footing and learning to march in sync, then perhaps February will be about collaborating and gaining strength from one another to move forward. (Oh, you can't hear us? THEN WE'LL SHOUT A LITTLE LOUDER!)
So, when we're not rallying in the streets or firing off letters to our MPs, what does this movement look like? Hint: It looks like this. A busy beehive of ambitious workers who never stop moving. It may not be political in appearance, but the process and goals are the same: women helping women to build a brighter future where equality – in every sense of the meaning – isn't a dream, but a reality.
So take a big bite from a giant V-Day chocolate heart, share the love, and keep moving.
Below Her Mouth: A Cinematic Voice To The Female Orgasm
We're kicking off February by promoting Below Her Mouth. Produced by Melissa Coghlan, written by Stephanie Fabrizi, directed by April Mullen, shot by Maya Bankovic, edited by Michelle Szemberg: it's the first Canadian feature film to boast an entirely female crew. (That's not why we love it, but it's a very nice bonus.)
During TIFF, I praised the film as being "a cinematic voice for the female orgasm." What does that mean? Well, it may very well be the first time fucking and orgasms on the big screen are presented entirely through a female gaze. Whether you're queer as fuck or totally hetero doesn't matter; this is a fresh and beautiful perspective on female sexuality. Visually stunning and with an enrapturing love story, Below Her Mouth is essential viewing for women. (The guys may also learn a thing or two.)
In anticipation of the film's release on February 10th, we will be sharing a photo essay shot by Kate Killet that features several Toronto women who identify as queer, and explore how they discovered their sexuality, how it has helped them grow, and how finding their true selves altered their journeys, be it through self-confidence or an exciting love life.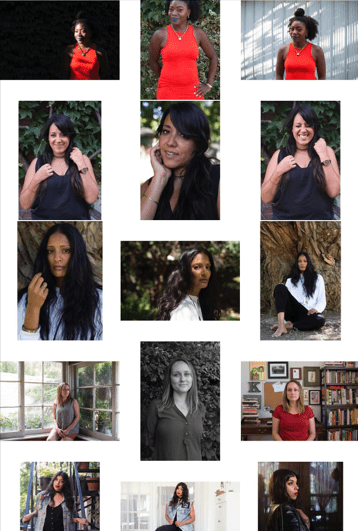 This Woman I Know: Community Leaders Making An Impact
We've been watching local photographer Jessica Laforet for over a year and simply love her work. On her site This Woman I Know, Jess shares intimate portraits of Toronto women, alongside insight into their personal and professional lives. The combination of whom she chooses to shoot along with the relaxed way these women are profiled offers both inspiration and comfort to followers.
A huge fan, I've asked Jessica to collaborate with Shedoesthecity. Starting in a couple weeks, and continuing monthly, we will be expanding on Jess's work to include a bigger feature that focuses on true leaders in Toronto. First up, Bee Quammie, an inspirational force in a variety of female empowerment initiatives, especially when it comes to diversity in media, and inspiring young girls, our future leaders, and women of colour.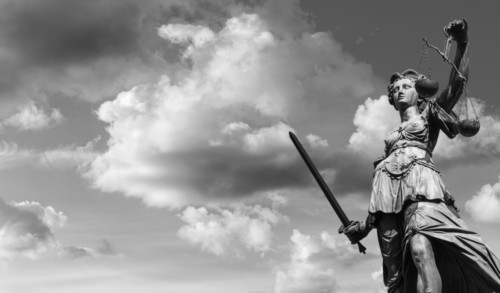 Congress of Black Women of Canada
All throughout February, we will be sharing cultural events you can attend to celebrate Black History Month (head to Toronto Reference Library tonight or the ROM this Friday), but one initiative to honour this month that we're especially excited about is working with photojournalist Solana Cain to present a special feature on the Congress of Black Women of Canada. Established in 1973, this non-profit organization provides a forum for Black Women to identify and address issues that affect them, their families and their community, thereby enabling them to improve their lives. Not only will we be sharing who some of these women are and the important work that they do, but we'll also dig a bit deeper to find out their personal views on the year ahead, and reflections in terms of the experiences of Black Women in Toronto.

Pioneering Women: Stand Up: The Art of Presenting Yourself & Negotiating Your Way To The Top
Near the end of the month, Shedoesthecity is proud to once again be joining forces with Pioneering Women: an organization dedicated to advancing the careers of women in the Canadian Film Industry. They offer annual career development events that welcome all. On February 23rd, I'm honoured to host Stand Up: The Art of Presenting Yourself & Negotiating Your Way To The Top with guest speakers Anne Fitzgerald: Chief Legal Officer at Cineplex and Teri Hart, Reporter & Senior Producer at Rogers. Please join us.
While not every day may be about chanting for liberties outside the White House, there is not one day that goes by where we aren't working together and rising up. Feminist action is not something that needs to be penned into your calendar; it's simply how you live and breathe. February, we're fired up and ready to go – in our hearts, in our minds, in our loins.