Buddies In Bad Times is the oldest queer theatre company in Canada, and one of the most welcoming spaces in Toronto. For Pride 2021, they are holding a special Queer Pride festival filled with exciting and engaging activities and shows to help you, your friends and your family (chosen or otherwise) celebrate Pride!
Here are some of our top picks for this year's festival as well as some other ways to celebrate Pride at Buddies. Happy Pride!
Drag King Bedtime Stories with Titus Androgynous
Drag king Titus Androgynous hosts two separate bedtime story sets for your streaming pleasure – a sweet and song-filled queery tale for the kids; and a sultry, original queer erotica reading for the 18+ crowd. Book a ticket to one of the premiere readings on June 18, or watch whenever you'd like between June 19 and 27.
Pingting Church Street In Lavender by Lavender and Goblin Cat Zines
Lavender celebrates their third anniversary with a retrospective zine highlighting community memories of their monthly events. The digital launch features spoken word performances from contributors and a virtual dance party. June 21 at 7 PM
Keep updated with @lavendar_to on Instagram and the Buddies in Bad Times website to hear booking information.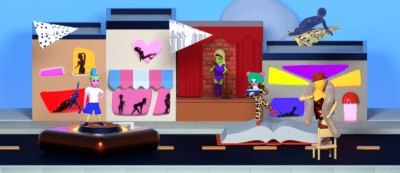 The Most Magnificent Mini Pride Parade by The Grand Salto Theatre
Deck out your strollers, scooters, or trikes to show your Pride this June! The Grand Salto Theatre offers two online crafting sessions, complete with songs, a story, and parade practice. Families with children aged 0-5 can sign up by June 8 to receive a decorating kit. June 18 at 2 PM and June 19 at 3 PM. Sign up here!
#CLOWNSKILLEMPIRES Present High (F)art
Toronto's non-binary clown collective presents an art-house themed variety show celebrating local queer artists, including Gay Jesus, Sita Moon, Buster Hymen, Dolly Berlin, and Kaspar the Queer Ghost. Stick around for a digital dance party after the show. Register here! June 24 at 9 PM.
27 Club with emerging artist Ajahnis Charley
The year is 2046, and folks hitting the age of 27 have to prove their worth… or die. Combining sketch with playwriting, this dark comedy, speculative fiction piece digs into the pressures of youth, and the value of comedy. June 19th and 20th Register for your free ticket here!
2-Spirit Cabaret
Back for its fifth year, the 2-Spirit Cabaret is a celebration of the strength, beauty, and talent of queer and 2-Spirit Indigenous people. This year, after a series of workshops with guest artists and mentors, nine artists take the digital stage as the cabaret makes its Queer Pride festival debut. Hosted by Mx Wolverine, with performances by Nina Boujee, Ronald R. Braman, Sophie Dow, Rebecca Hope, Seán Carson Kinsella, Roger Kuhn, Denise B. Mcleod, Raylah, Aqua Nibii Waawaaskone, and Weird Alice, plus a set by Deejay Jams. June 24 at 8 PM. Get your tickets now!
This is just a taste of the magnificence they have planned. Check out Buddies in Bad Times Theatre for full schedule and more information.