This weekend at Fort York there is a huge celebration in honour of National Indigenous Peoples Month. Everyone is welcome at the Indigenous Arts Festival, a free two-day event, to enjoy contemporary and traditional Indigenous art, music, dance and cuisine.
"I look forward to this opportunity for everyone to celebrate the rich artistic heritage and current contemporary expressions of First Nations, Inuit and Métis," said Selina Young, Director at the Indigenous Affairs Office.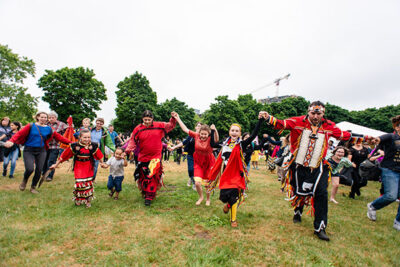 Gimaa (Chief) R. Stacey Laforme of Mississaugas of the Credit First Nation added: "The arts are not only beautiful and entertaining, but they are the ultimate in communication and provide a unique learning opportunity for all."
The annual Na-Me-Res Pow Wow will kick off the festivities on Saturday afternoon with a grand entrance parade followed by vibrant performances from drummers and dancers. There will be an outdoor vendor market with Indigenous artisans, as well as a curated selection of Indigenous and Indigenous-fusion food vendors. The traditional Pow Wow celebration is returning after a two-year hiatus, and has attracted thousands of visitors in past years.
The festival continues on Sunday with live music performances by Indigenous artists, centred around the theme of "Community and Celebration." JUNO nominated artists Beny Esguerra and New Tradition Music and Manitou Mkwa Singers will be taking the main stage.
You can also grab a nutritious meal at Sunday's Indigenous Food Market! Launched by Indigenous food sovereignty collective Dashmaawaan Bemaadzinjin (They Feed the People), this market features vendors that provide healthy and traditional Indigenous food for the public. If you can't make it this time, the food market will be hosted at Fort York on Wednesdays this summer starting July 13.
This sounds like an incredible way to experience and learn more about Indigenous cultures. Find more information about the Indigenous Arts Festival and view the full schedule here.