Since the beginning of COVID, we've been exploring all sorts of ways that we can stay connected to one another, safely. We've also been experimenting with different creative outlets to help calm our anxious minds. Pioneering Women's Paint Night event, happening on the evening of Wednesday December 9th, marries both of these themes for their Virtual Paint Night.
Teaming up with Fresh Paint Studio & Café, the virtual paint night costs $60 and will include a creative kit delivered to your door, and an instructor from Fresh Paint Studio will help lead you through a painting workshop, ideal for those of us who haven't dabbled in this medium since grade school.
We're excited to join them as a media partner, and hope you can come too!
Here's what you can expect to receive:
11×14 canvas
Paint Palette
Assorted Brushes
Assorted Paints
Feature Image
Disposable Smock
Wine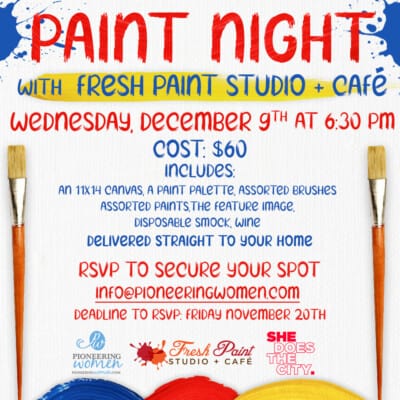 Fun, right? We think so. With not much on the calendar these days, it's nice to have something to look forward to. If you're interested in joining, please email info@pioneeringwomen.com.
Pioneering Women is a network that was established in 2010 to support women working in Canada's Motion Picture Industry. This event, however, is open to all self-identifying women who'd like to join. Shedoesthecity has partnered with Pioneering Women several times over the past decade; we're huge fans of the community they've grown that has helped so many women nurture their professional development. Read more about the work they do here.