Filmmaker Ella Morton uses experimental analogue processes to capture the sublime and fragile qualities of remote landscapes. Her mesmerizing short Kajanaqtuq was shot on 8mm film in Iqaluit and Pangnirtung, and features moving narration by Inuk elder Naulaq LeDrew set against artfully edited images of majestic Arctic landscapes.
Running just over 10 minutes, the short, which is part of the Future of Film Showcase, covers a lot of ground. Kajanaqtuq confronts the devastating effects of colonialism, from the slaughtering of Huskies as a means to cut off access to food and transportation, to the forced relocation of Inuit people. The film also shows off the breathtaking beauty, power, and uniqueness of the land—even in its artistically manipulated format.
"Once you have been up north in a very quiet mass of land, you would think you'd gone deaf, but for me I know I'm not deaf because I can hear my footprints on the snow," says narrator LeDrew, commenting on the remoteness, tough elements, and resilience of Inuit people.
Morton has built a reputation as a documentarian dedicated to vast and impressive landscapes. The compelling story shared in Kajanaqtuq is one that sticks.
What compelled you to make this film?
I think all my work is driven by the desire to articulate the depth of our connection with the land. I have been particularly captivated by the Arctic landscape for a long time. In 2016, I did an artist residency in Svalbard, Norway. That journey deepened my appreciation of the Arctic, and compelled me to see the Arctic in my own country.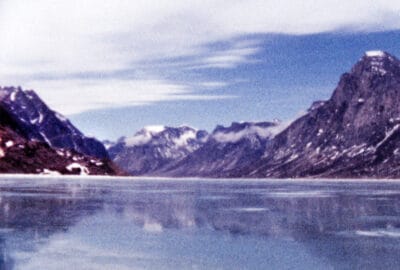 What artists have had a major impact on you in the past couple of years?
There are a few artists whose work inspired me to get into this type of experimental filmmaking. I love the film Quiet Zone by Karl Lemieux and David Bryant, which uses analogue film distortion to evoke the experiences of people with electromagnetic hypersensitivity. Danish filmmaker Tinne Zenner's film Nutsigassat/Translations examines what's lost in translation between Greenlandic Inuit and Danish colonizers. And Stephen Broomer's film Tondal's Vision uses analogue manipulation of archival footage in stunning ways. I've also enjoyed watching films by Inuit filmmakers like Alethea Arnaquq-Baril and Zacharias Kunuk, who have helped me learn more about the history and present-day issues of the North.
What piece of advice has helped steer your journey?
When I was 23, my close childhood friend, Rachel, passed away from brain cancer. Shortly before she died, her family asked her if she had any final things to say. She had very little ability to speak, due to the position of the tumour in her brain, but she simply said, "Follow your heart." I know it's a phrase that we've all heard before and it can sometimes be perceived as cliché, but it took on a deeper seriousness and urgency for me when I heard it from my 23-year-old friend who was dying. It made it clear to me how important it was to do the work I love as an artist, and how that is a way of honouring Rachel and others I know who have passed.
Watch Kajanaqtuq at the 8th annual Future of Film Showcase will be available to stream for free across Canada on the CBC Gem streaming service from July 9 to 22, 2021. Visit www.FOFS.ca for the full short film lineup.