Kat Sandler is obsessed with the female anti-hero. There are so many stories about men with complicated motives who live in moral grey areas—Dexter, Hannibal, The Sopranos, Game of Thrones. But where are the stories about morally questionable women?
"That's something I really started to double down on," writer and director Kat Sandler tells me. "Can we watch bad women and love them as much as we love the bad men that permeate our pop culture?"
Sandler's newest production, WILDWOMAN, shines a light on the women in the shadows, and is full of layered female characters and explorations of gender, class and power.
The play is based on the true story that inspired the tale of Beauty and the Beast, long before musical numbers and magical candlesticks were added into the mix. In 16th Century France, under the reign of King Henry II, a man named Petrus Gonsalvus was brought into the court as a "caged oddity". He had an excessive amount of hair on his body—a condition we know today as hypertrichosis. The king and queen then decided to marry him off to their most beautiful lady-in-waiting. In WILDWOMAN, Petrus is named Pete, but the show also shines a spotlight on the three women in his life.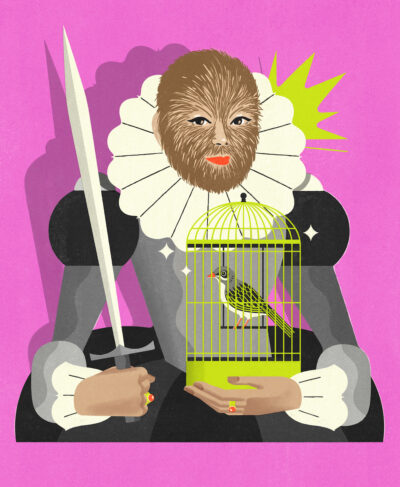 "I got obsessed with these three women…Catherine de'Medici, this queen who's known for being evil and poisoning and being responsible for killing a ton of Protestants in 1672. Diane de Poitiers, who was the king's much older mistress. And the courtier who ended up marrying Pete, who we've named Kitty in this play," says Sandler. "These women, they are so fascinating, because all of them were wild for the time."
WILDWOMAN is one of three productions on stage this fall as part of Soulpepper Theatre's Her Words Festival, a showcase of women playwrights and performers, along with Sandra Caldwell's The Guide to Being Fabulous and Raha Javanfar's Sympathy for the Devil.
"It's amazing to be creating alongside these other brilliant, powerful women," says Sandler. "And it's so telling that so many of us chose to explore stories that are circling these big themes of power, sex, status, identity, and womanhood—because it's just so top of mind."
The events of WILDWOMAN take place over 500 years ago, but so many of the dilemmas faced by the female characters remain relevant today.
"These are women who want to work and they don't want motherhood to be the thing that defines them necessarily," says Sandler. "They're qualified to do more than what they're doing, more than what society has decided is the role of a woman. And I think that applies to women today."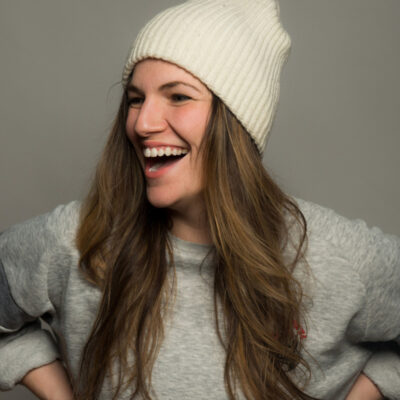 In the original story and in Beauty and the Beast, the "beast" is the man or creature who is rejected by society because of his appearance. But in focusing on the women in the story, Sandler shines a light on the beast within—all of the attributes, desires and dreams that make women unpalatable to the world.
"The thing that makes you beastly to society, whether that's wanting to work a 60-hour workweek, or wanting to have a lot of children—when the thing that most scares society (i.e. men)—what happens when we let that out? What can come of that?"
Even in today's classical theatre, there are certain topics that aren't discussed and certain characters that don't get the spotlight. Sandler aims to challenge that with WILDWOMAN, and was excited to write about these underrepresented ideas and perspectives. "Getting to talk about birth and periods and infertility… having a really epic fight between two female characters on stage…It's always the big boy fights. This is kind of like an epic girl fight both with each other and also with society."
Sandler is also passionate about WILDWOMAN centring an older woman—the character of Diane de Poitiers. "I'm really beating the drum of like, can we present women on stage who are not 19-year-old Juliet? What happens after the fairy tale, and what happens after happily ever after? That's just life, and there's so much more of it after you're an ingenue."
WILDWOMAN will leave audiences with lots to reflect on. Sandler sums up her show as an experience, one that she wants audience members to actively play a role in.
"It should challenge you, you have to fight to keep up. You shouldn't be able to pick a side easily because everybody is light and everybody is dark. You should think about what power we have now as women and what we have yet to gain," Sandler says. "I want it to be reflective but also triumphant."
WILDWOMAN is on stage at Soulpepper Theatre from October 5-29 as part of the Her Words Festival. Tickets are available here.