This painting by Hayley Axelrad of a woman slumped in bed with her laptop triggered a wave of mixed feelings. It's depressing, sad, familiar and comforting all at once. She's definitely captured life in 2020/21 with a kind of accuracy that stings. It hits hard, as good art should.
The piece is one of many that will be on display in Sweetpea Gallery's upcoming Keep It Alive: a celebration of all the ways we use, move, and experience our bodies group exhibition, opening Set 1. Art will explore a variety of ways that we survive, and how our bodies impact the world around us.
The exhibition, which you can check out both in the gallery and online, will include works from artists all around the country including Montreal, Hamilton, Vancouver, and Victoria. Expect a bold mix of mediums including photography, textiles, and sculpture as well as works on paper and canvas.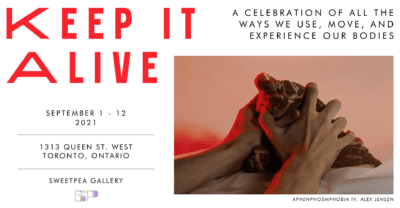 Featured artists include Al Hanyok , Adam Palmer , Alex Jensen , Alison Klymchuk, Cassia Powell, Chantel Clausen , Esther Imm, Georgia Tooke, Hayley Axelrad, Jade Mikell, Kathryn Greenwood, Maya Skarzenski, Natalie Wesselius, and Rudra Manani.
Judging by Axelrad's painting and the poster art showing Alex Jansen's photo of hands clutching raw meat, the Keep It Alive exhibit is going to rock us.
Keep It Alive runs from Sept 1 – Sept 12 at Sweetpea Gallery, 1313 Queen Street West. The exhibit will be available to see in person, as well as online. More info here.