Writer, artist, producer, and filmmaker Keesha Chung has never seen her version of Toronto reflected on screen, which is what drove her to make grey area.
The moving short had its Ontario premiere at the Reelworld Film Festival this week, with a special screening at the Paradise On Bloor. Beautifully edited by Jordan Hayles, and with outstanding performances by Golden and Neké Andeh, grey area is a powerful portrait of Dre Nassir, a twenty-something model trying to find her place in the world. Like so many creatives, especially BIPOC creatives, Dre is frustrated with the lack of opportunity, and impacted by the pressures of the industry. She's left feeling lost, defeated, and uncertain of how to move forward.
We connected with Keesha to find out the backstory behind her stunning short film.
What compelled you to make this film?
I wanted to create a film that showcased Toronto in a way that I hadn't seen on screen before. So it was important for this project to feel authentic. I wanted it to look, sound, and feel like a version of Toronto I could relate to – everything was intentional, from the brands featured to the music and talent both in front and behind the camera. I remember watching Lena Dunham's Girls for the first time and being like, "huh, imagine if someone did something like that with Black women," and then Insecure came out, and I was like, "huh, imagine if someone did something like that but in Toronto." And then it kind of hit me that maybe I could do it. Obviously, this is a short film and not a series (yet), but seeing those two shows, particularly Insecure, inspired me to fill that gap I didn't see on screen.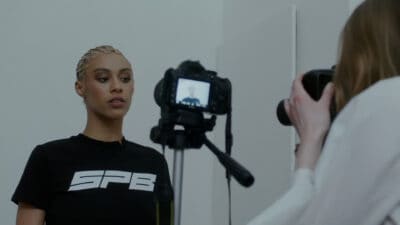 What does 'grey area' mean to you?
This film was a milestone for me. I have been working in media for over 10 years, and I've tried many different jobs and roles – at one point, I wanted to become a professional colour grader, haha. However, finding my footing as a director, writer, and producer allowed me to express different elements of my creativity. As a writer, I inserted parts of myself into each of these characters. As a producer, I brought together a strong team of creatives I am inspired by and admire. And as a director, I was able to develop my leadership skills to bring a vision to life in a way I had never done before.
Aside from creating a story very close to my heart, this project has a lot of me in it, and it feels good to release these parts of myself to the world.
What did you want to say about the fashion industry? Or what conversations do you hope your film will spark about it?
I modelled for many years; it's actually how I got my start in media. During that time, I learned a lot about myself, built a strong network, and gained foundational skills that have gotten me to where I am today. But if I'm honest, it came at a high price.
The second scene in the film is inspired by something that I witnessed not experienced firsthand. I watched a designer humiliate this younger girl right in front of me. It wasn't the first time something like that happened either. I chose to put this scene in my film because it was one of the experiences that made me question my place in the industry.
Through the pressures of my job, I developed an unhealthy relationship with food, my body, and it affected my personal relationships in many ways. Not every person who suffers from disordered eating ends up in a facility like we see on tv and in the movies. I wanted grey area to touch on this reality in some way. This time around, I didn't harp too much on the theme, but I plan to write more stories that speak to my experience in the modelling world. And again, they weren't all bad, and I know the industry is changing. But, I also know my experiences in this context are not unique to me.
I'm not sure what conversions I want my film to spark, but I know many people (even those outside of the modelling world) suffer from the issues Dre is going through in this film. So I hope it can make them feel a little less alone.
What was the biggest lesson you learned while making grey area?
You can't do anything alone. As a leader, it is crucial to create spaces where people feel seen and appreciated. I was very intentional about who I included in this film for a reason. I say this a lot, but it's something that took me a long time to learn and has become a foundational ethos of my creative practice: once you put your art into the world, it is no longer yours; as a creative, what you have is the process, and it is so important to enjoy it. That's why it is essential to build a team based on respect and admiration because if you don't like the people you're working with, it will make the process a lot less enjoyable. It is easy to get caught up in the final product. But, if you are too fixated on what the outcome will be, you aren't able to live in the present moment and can lose sight of why you're doing what you're doing in the first place. The process of creating this film was incredible. And that was because of the people I brought on board to work on it.
I love working in film because of how inherently collaborative it is. You get to work with actors, costume designers, DOPs, make-up artists, editors, musicians; so many different creative minds have to come together to make a film what it is. grey area affirmed how much I enjoy the collaboration and creative energy involved in filmmaking. This project confirmed that storytelling is something I want to do for the rest of my life.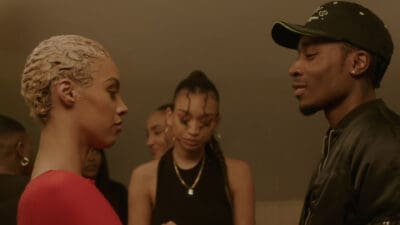 What creatives have really helped you on your journey as a writer and filmmaker?
My parents are my rock and have given me the skills to understand that nothing worth having comes easily. They gave me room to find my voice as a person, which translated into finding a way to express it creatively. I am grateful for that. Outside of them, it's hard to pinpoint one person in particular because there have been a lot throughout my career. But what I can say is that when you find good people in this industry, stick to them. Unfortunately, there are people in this business for the wrong reasons, and it took me a while to see the value in the negative experiences that came with those encounters. My Mom always says to me, "It's just as important to know what you don't want as it is to know what you do." Knowing how to navigate different personality types and difficult people is a skill that I am still learning, but developing this skill has become a valuable asset. It also affirmed the importance of having a solid community of family, friends, and collaborators that you can lean on and feel safe around. Again, I'm grateful for mine and would not be where I am without them.
What does it mean to you to have your film screen at Reelworld?
Having my film screen at Reelworld, Montreal International Black Film Festival, and CineFAM has been an incredible honour. These festivals are all spaces that celebrate BIPOC talent, and I am genuinely grateful for the opportunity to be included alongside such talented filmmakers.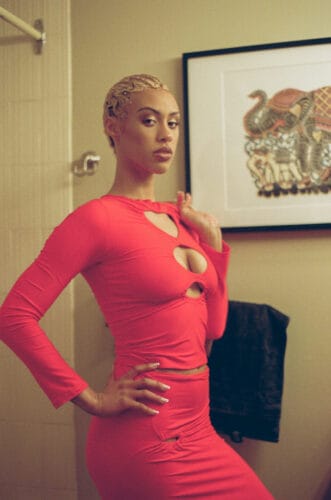 Anything else you want to share?
We have so much talent in this city (and country), and I'm happy to have had the opportunity to showcase it through this film. I am excited to keep telling stories that resonate with people. Having festivals like Reelworld, CineFAM, and the Montreal International Black Film festival is vital to developing the Canadian media industry. As a Black woman, knowing that my work can live somewhere and be celebrated by the community I create for is a huge motivator. The industry is changing, but we need to continue to create space for women of colour to tell their stories on their own terms.
Keesha's natural talents as a director and producer shine through in grey area; we can't wait to see how her film career evolves. Follow Keesha on Instagram at @KeeshaChung.