Elle-Máijá Tailfeathers' Kímmapiiyipitssini: The Meaning of Empathy is an intimate and in-depth look at the addiction and overdose crisis in Kainai First Nation. The powerful documentary explores how intergenerational trauma leads to substance-use disorder, and how racism and health barriers often prevent Indigenous Peoples from accessing the support they need. The heartbreaking but hopeful documentary makes a strong case for harm reduction as a pathway to recovery.
Overdose rates in Kainai First Nation have been on the rise since 2014, or when fentanyl flooded the drug trade. In recent years, the community will sometimes see 20-30 overdoses in a day. "We've lost a good generation of people, most of the people we've lost are in their 20s and 30s and so many children now are growing up without parents, and some are completely orphaned and are being raised in foster care systems, which are very much like residential schools in some places," Elle-Máijá narrates, in her gentle and loving voice. Everyone has lost someone.
Elle-Máijá's mother, Dr. Esther Tailfeathers, is at the forefront of trying to find solutions for her community and provides a strong case for harm reduction, which is often controversial in the recovery space, but the best and most realistic option for many individuals.
Dr. Esther and a group of support workers from Standoff Kainai First Nation take a trip to Vancouver's Downtown Eastside to learn about various harm reduction models used at Insite, a supervised drug consumption site accessible to street drug users. They also meet with frontline groups like Spikes on Bikes, to see how grassroots community efforts are saving lives.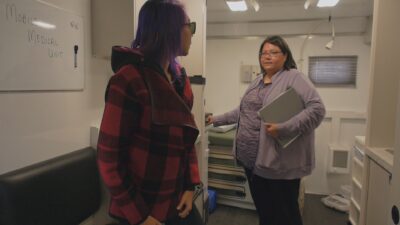 In Lethbridge, Alberta, the closest major city to Standoff, we see what the crisis looks like when people leave the reserve, and how racism and race-driven violence becomes another daily battle to contend with.
The doc introduces us to The Sage Clan, a community patrol that specializes in helping the homeless and those suffering from addiction. The group of volunteers monitors the streets of Lethbridge at night, checking in on individuals who are experiencing homelessness. Members of The Sage Clan, many of whom have dealt with addiction and homelessness in their own lives, are ready to administer naloxone when they witness someone who is overdosing. They also try to prevent people from freezing in the night, and offer a kind reassurance to let people know that they aren't alone. As they walk the streets and back alleys, they pick up dirty needles they find along the way.
These are all responses to the crisis right now, but Elle-Máijá takes us back in time to provide context, showing how the horrors of the Indian Act, the slaughtering of the buffalo, the construction of the CP Rail, and Canada's residential school systems all contributed to the intergenerational trauma that drives addiction today. She also touches on the harm that is being caused by the modern-day foster care systems, and their impacts on the community.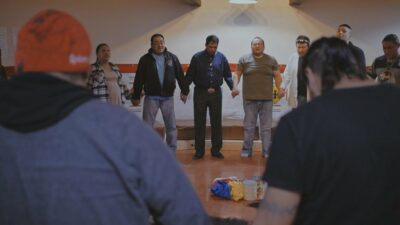 Throughout the film, we see various methods of recovery: AA meetings, methadone clinics, detox centres, cultural teachings, sharing circles, safe injection sites, and smudging ceremonies. What Elle-Máijá makes clear is that at the root of all recovery is empathy.
"Kimmapiiyipitssini is a Blackfoot teaching that reminds us that practising empathy and compassion is how we survive as a people. It is how our ancestors survived genocide and it is how we, as a community, will survive this crisis. Kimmapiiyipitssini is our harm reduction," she explains. "As a filmmaker and a community member, I felt an urgency and a responsibility to document these radical changes and also honour the lives of those lost to this crisis. I am immensely proud of Kainai and everyone who is contributing to this monumental effort to save lives. Kímmapiiyipitssini: The Meaning of Empathy is a tribute to my community, lovingly crafted with great care and respect for who we are and who we have always been."
Like her award-winning debut film, The Body Remembers When the World Broke Open, which she wrote, starred in, and co-directed with Kathleen Hepburn, Kímmapiiyipitssini: The Meaning of Empathy is another must-see film.
Kímmapiiyipitssini: The Meaning of Empathy is now available to stream on through Hot Docs At Home. We urge you to watch it.