2014 definitely had its moments, but I'm happy to say goodbye to it. This was "a learning year" for me, a challenging 12 months that I "grew from". But looking back, there was one thing that came out of this year that I found to be consistently inspiring and important for me: this cocktail column. I have to thank my brother Michael Morris who photographed and edited nearly every picture, donating his mornings when we lived together to shoot cocktails with me in our pyjamas, sipping on booze before we'd even had breakfast. This is the first post I photographed by myself and I think it shows how far this little column has come in one short year. This morning, when I showed Mike the pictures I took for this post he said, "You've got this". It was incredibly rewarding to hear and maybe even a highlight of my year.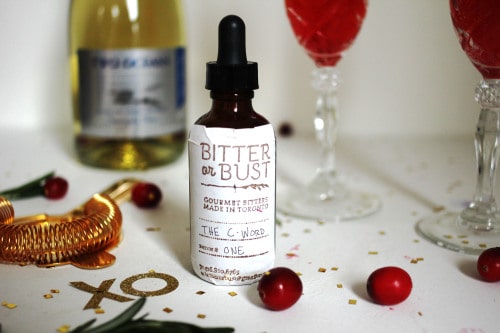 I thought it would be fun to reference and re-visit my first post ever by making another cocktail using homemade cranberry simple syrup. make it I thought I'd make it even more festive with a cranberry simple syrup, a few drops of bitters from Toronto's Bitter or Bust (I used "the C work" here, a blend of cranberry, clove, cinnamon and cardamom) and some delicious sparkling wine from Two Oceans to top it off.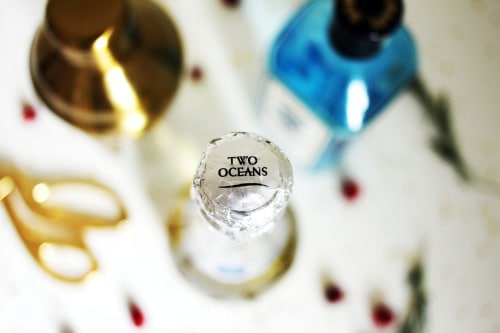 Recipe:
1 oz. gin
1 oz. cranberry simple syrup
3/4 oz. fresh lemon juice
3 oz. Champagne or other sparkling wine (I used Two Oceans sparkling Sauvignon Blanc)
Add a few drops of cranberry bitters (You can get Bitter or Bust from This End Up)
In a shaker filled with ice, add the gin, cranberry simple syrup and lemon juice and shake well. Strain into a champagne flute and top with sparkling wine. Extra points if you garnish with candied cranberries and a sprig of rosemary.
I think 2015 is going to be great. I'm excited for what's to come and I hope you all have the best year yet. Are you ready for it?