Powerful, mesmerizing, foreboding: for a first feature film, Kjersti Steinsbø's Hevn is brilliant and most impressive.
Travelling under a false identity, Rebekka sets out on a mission to confront Morten Holand, a man who assaulted her deceased sister. As Rebekka's plan falls apart, she is forced to face the devastating consequences of her actions and must decide how far she is willing to go to seek revenge. Set in the deep cavernous fjords of western Norway, Hevn proves that no one can escape the scars and secrets of their past life.
When director Kjersti Steinsbø was first approached to write a screenplay adaption of Ingvar Amgjornsen's novel, Doll on the Roof, she was nervous to say yes. "I thought it was too heavy. I was a bit afraid because it would be my first film and I pictured my first film being some kind of strange black comedy," says Kjersti, who is in Toronto for Hevn's premiere at TIFF Bell Lightbox. "It was a bit out of my comfort zone, but I really loved the themes."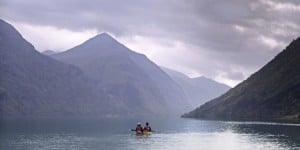 The subject matter of rape and revenge is dark and uncomfortable, but Kjersti has tackled it thoughtfully and intelligently. Her dialogue and characters present a strong voice for assault victims while honouring the complexity of human nature. Wowing, both visually and emotionally, Hevn will inevitably provoke conversations regarding life after trauma, problematic legal systems, and unhinged vigilantes. "I liked the idea of a complex character who would split the audience," says Kjersti. "Some will understand and root for her, and other people will think she's way out of line."
Perhaps even more uncomfortable than having mixed feelings about Rebekka is having mixed feelings about the assaulter. While his history is violent, Morten is presented as an almost likeable character. To feel empathy for a rapist is unsettling; Kjersi admits that this is an intentional creative choice: "I wanted to play around with where the sympathy would lie with the audience. Things are not black and white. People are people, doing good AND bad stuff, all the time."
While we are pulled into uncomfortable territory, there is an important overall message that resonates: actions should have consequences. Wealthy, handsome, smooth and charming: Morten represents a character that is common in our society. "He's never suffered any consequences his entire life. There are so many people who walk through life and don't have consequences. Look at Bill Cosby!" In Hevn, Kjersti flips the script.