Ladies Who Lead is an interview series that features young women who have carved their place into some of the most cutthroat industries out there. Their paths to the top may not be linear; they may have not always gotten it right the first time. But these driven, savvy women have succeeded thanks to their strong work ethic and will to design their lives according to their own high set of standards.

But we aren't just going to point and look at shiny things. Instead, we are going to decode how these women got here and how we—the unemployed, the underemployed, the misguided, the interested—can follow their lead. Shedoesthecity brings career mentors right to your screen every other week. Real women, real careers, real advice.
Brittany Hopkins is a jewellery designer and the shop owner of Anice Jewellery. Her store is a jewellery box of stunning pieces ranging from the reworked vintage to the modern day's most wanted. We dare you to walk in without buying a piece. With fun workshops, repairs and on-the-spot custom work, Britt's brand is unique in its resourceful and exquisite approach to jewellery. Based in Kensington Market in downtown Toronto, Brittany enjoys riding her bike, friendship bracelets and being the boss.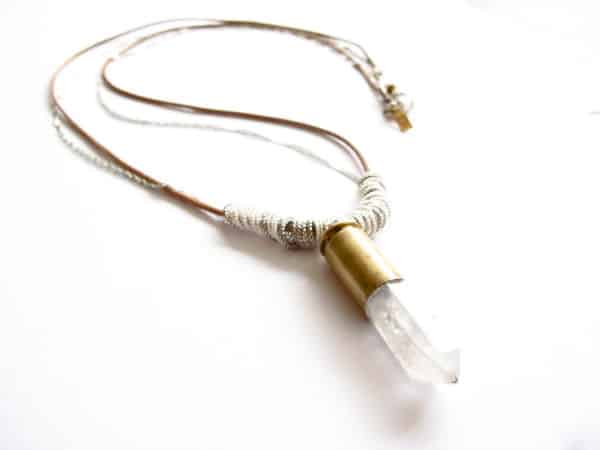 Shot Through the Heart Quartz Amulet, $120
SDTC: What is a typical workday for you?
BH: I usually get to the store quite early because it's nice to have your own space and get organized for the day. Then, I'm running around on my bike all morning for various supplies, engravings, different jobs and people that are involved with the custom projects we do. At the store, we open at 11 AM. From that point on, I have to be ready for whoever is going to walk through the door. We do a lot of custom work on the spot. If that happens, then anything that I would be working on normally gets put aside and the customer comes first. If it's a slower day, I'm usually working on jewellery for the store or projects that we have in the works. 
SDTC: Did you go to school for business and/or jewellery?
BH: I did, yes. I am originally from Edmonton and I did a two-year business diploma there, majoring in entrepreneurship and innovation. I had been working at a bead store and making jewelry, selling jewellery in Edmonton. But when I found out about the jewelry program at George Brown, I thought, "Oh my god, this is crazy that I can go to school for jewellery and really take things to the next level." So that brought me to Toronto and I took the jewellery arts program for two years. Essentially, you're a certified goldsmith by the time you graduate so that's where I learnt how to do metalwork, rings, repairs, setting, all kinds of stuff. It's so cool that you can go to jewellery school today and then take a step back, realizing that this trade is ancient.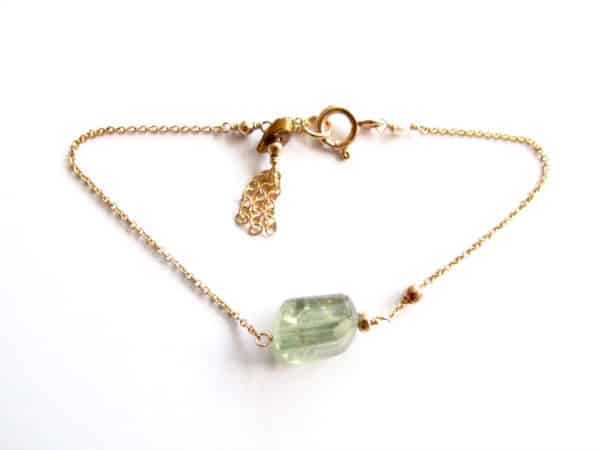 Water of the Sea Aquamarine Bracelet, $55
SDTC: What kind of services and workshops do you offer?
BH: In terms of services, it's quite vast. There are repairs that we are working on. There are consultations with people all the time. You can bring in your grandma's jewellery, heirlooms, whatever that you think is junk or that you think is beautiful but you can't wear. We'll turn it into something else. There's something different happening every day.
And yes, we do have workshops that we hold about four times a month where anyone can sign up. Or private workshops that you can book with your friends. We actually have one called the "Girls Night Out" where we provide some wine and snacks. You come with your girlfriends any night of the week- Friday, Saturday, whatever. Go out for drinks after, that sort of thing.
SDTC: Where did you first pick up your interest in jewelry?
BH: Just as a kid. I'm sure you can remember doing Jazzy Jewelry and making friendship bracelets. Most of us do, but for whatever reason I was obsessed with it. I used to make my friends beaded fishing line bracelets and would bring them to school everyday. I just wanted any excuse. Also, my grandma—who the brand is named after—she never made jewellery but she is just a totally fearless woman. She is a little peanut in size but has always worn really big and flashy accessories. She used to say that it was to stand out because she was always the little one in the crowd. I grew up admiring all of her accessories and I think that's why I got to be obsessed with the older jewellery too. It's so beautiful and different from what we have.

SDTC: How did you get the idea to open Anice?
BH: It's kind of crazy because I didn't always know what I wanted to do. My mom is an entrepreneur; I grew up with that so I've always worked my butt off. I knew I liked business but I didn't know what kind. Then I had a couple changes in my life and all the sudden; I had some room to sit down and say, "Ok, but seriously, what am I doing?" Custom jewellery was something that was really picking up for me when I didn't have a store. I actually was going to stores and having a night when people could bring in their jewellery and repair it. And suddenly, I thought—why am I doing this at somebody else's store? It smacked me in the face. Jewellery was there all along. I was doing it. But I guess I didn't have enough confidence in it at first, because who has a jewellery career? People just don't understand how you can do it. It was December 2011 and it was like a light bulb went off. I decided that I wanted to open the store before I was 26.
SDTC: What advice would you give yourself after you had just graduated from college?
BH: The advice that I would give myself would be to look at myself in the mirror more and realize my talents. When I was in and out of school, I compared myself to everyone else and to other people in jewellery. Should I be in fashion week? It becomes super overwhelming. So I would tell myself to give myself a little bit of breathing room. Especially when you've just graduated from school because you're coming out of a totally different routine. That's not real life. You're used to performing to achieve a goal and then you move on to the next goal. The thing that my store taught me was that I almost looked at it like a school project. And then all the sudden, I was open and it wasn't over. Now I had to actually live it. Oh wow, this is real life! So yes, even though so many people graduate and think, what am I going to do? You have to give yourself a bit of time and get to know yourself now. Figure out what your strengths are and build that confidence up.
SDTC: What advice would you give to someone who wanted to start their own business?
BH: Do a business plan. I went through a program called CYBF, Canadian Youth Business Foundation,  and they were a godsend to me. It took me a little while, but I knew I had a good idea and that's the first step. You need to spend some time chewing on your idea and make sure you ask friends, ask people: would you be into this? Sometimes you can think a good idea is a good idea but someone could have already done it or it's just not. But at CYBF, you apply and give your whole spiel. They give you a business plan template to work from and you have to answer so many of the hard questions. It's insane—from cash flow to a SWOT analysis in terms of your competitors. And as much as it was a painful process to do that business plan, it really strengthened my vision. And as much as it is a hard process, it was such an amazing feeling to finish and have CYBF say yes, you got it. Go.
SDTC: What is you go-to work attire?
BH: Leggings have become my new best friend. Winter. It's so tricky because I remember working at different jobs thinking, if I had my own place it would be so nice to just dress how I want every day! But I'm also the image of my brand and the store. If you come in to my store and I'm wearing sweatpants and a hoodie, you don't know if you want to buy jewellery from this person. That being said, I do need to be comfortable because I am sitting, working with hands and working with my body the whole day. They are usually 12-hour days on average so I am typically in leggings and a flowy top. More boho style. If I'm putting on a button up shirt, then I don't feel like I can wear my three necklaces that I like to wear all the time. I do like to wear things that complement my jewellery.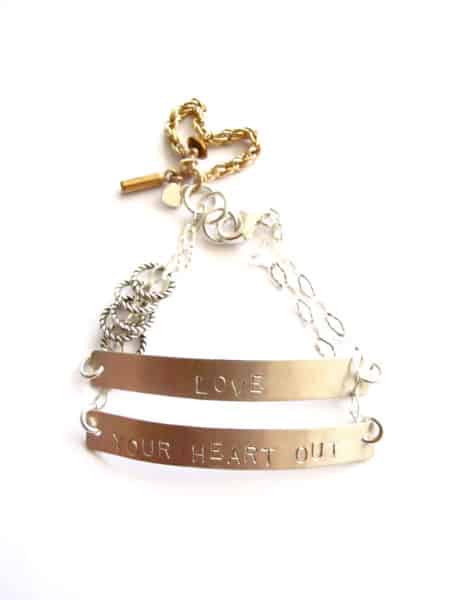 Love Your Heart Out Stamped Bracelet, $90
SDTC: What's you favourite part about your job?
BH: There are so many things I could say but, connecting with people. What I do is very, very special in terms of what custom jewellery is. People are bringing in their treasured things to have worked on. I just changed up a girl's mom's wedding band. Her mom passed away and she wants to wear her wedding band all the time. I reworked it for her and all the sudden it's this amazing, amazing thing in which she gets to carry her mom with her. And that's just one example of the many special stories that I get to work with people on. To know that people are walking into my store and I can make them feel comfortable about approaching me to do something that means so much like that… It's like a gift that I don't even feel like I deserve to have. Or a power that I don't feel like I deserve to have because honestly, I am inspired by whoever walks through my doors. I think that's is number one. And also, to call the shop my own, to know that it's mine.
Just in time for the holidays! Shop Anice online or visit the store at 167 Augusta Ave. in Kensington Market today!