This weekend, immerse yourself in Nicole Garcia's stunning and deeply sensual film From the Land of the Moon for a quintessential French cinema experience.
Set in rural France in the 1950s, the film stars Marion Cotillard as Gabrielle: a rebellious woman who defies societal norms and chooses to follow her carnal instincts over traditional customs. Concerned for their wayward daughter, Gabrielle's parents arrange a marriage with a Spanish farmer. He is a decent, soft-spoken (and quite attractive) man, but Gabrielle isn't one to comply with anything arranged.
A miscarriage that leads to the discovery of an ailment sends Gabrielle to a French spa in the Alps. Apart from the exquisite settings, this is also where an illicit romance blooms between Gabrielle and a recovering WWII veteran.
"Gabrielle lives at the crossroads of an old-fashioned world and a time of greater hopes and freedoms," says director Garcia. "I'm interested in female characters when they have that stirring, tremulous, poetic dimension to them." Film aficionados know there are few actors in the world who work this combination better than Cotillard. "She perfectly grasped Gabrielle's very animal yet possessed side, and her creative madness."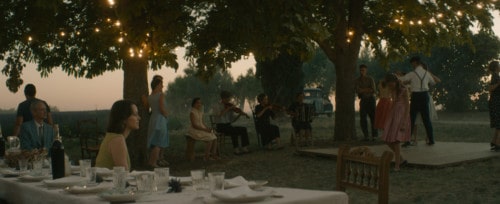 Beyond giving a powerful performance, Cotillard has a kind of sensuality whereby merely washing dishes at the kitchen sink seems erotic. From cool lake dips to the way she slowly pushes red across her lips, this film is full of slow Cotillard moments.
Between sounds of cicadas buzzing as a family drives through soft fields of lavender, to scenes of long-table vineyard dinners under the stars – this is a summertime film that will arouse the appetite, the desire to travel, and the yearning for lust. Sticky, sweet, salty: there's a lot to taste and savour.
If you're like us, and dreaming of French life is a blissful escapism, then get ready for your body and mind to tingle with excitement. May we suggest you skip the popcorn and sneak an éclair in your purse instead.