Fung Lee's foray into Landscape Architecture was a happy accident.
"I had actually applied for Architecture [at U of T], with Landscape Architecture as a second choice, not even having a clue what Landscape Architecture was (a lot of people didn't in 1992)," she says. She wasn't accepted into Architecture, so she went into Landscape Architecture and loved it off-the-bat. "It was more in tune with my interests in plants, helping the environment, thinking spatially, valuing human experiences and placemaking," she says, "So, as I was learning about it, I became interested in it."
Now, Lee is a principal with PMA Landscape Architects, a firm behind some of the smartest urban spaces in the city, from the revitalized wonderland that is Ramsden Park to the Colonel Sam Smith Skating Trail. Her most rewarding project to date (literally at her doorstep) was her first streetscape project on Dundas Street West. "We turned a bunch of orphaned spaces into a series of eight parkettes—complete with custom benches and paving, shade trees and plants—along Dundas West between Lansdowne and Rusholme in Toronto," she says. "I see my neighbours sitting in those parkettes and on the benches to this day, as well as young hipsters, Portuguese seniors, dog walkers, or children climbing on the benches," says Lee. "It's awesome."
We asked Lee what it's like to be in her line of work.
SDTC: What does a typical day look like for you?
FL: My day is probably a lot like other working moms': I wake up between 7 and 7:30 a.m., hit the snooze button more than I should, have a shower, make lunch for my kids while they have their breakfast, drop the kids off at school, bike to work along the Railpath (morning Zen moment) while listening to some tunes or CBC radio, get to work between 9:30 and 10 a.m. and make myself a microwaved omelette and some tea.
My workday varies, but essentially it's the same as most design consultants': checking e-mails, project managing, going to meetings, writing proposals, doing site visits, checking-in with staff, etc. Actual designing seems to be less than what I would like of recent years, but when it happens, it's a great day. I leave around 6 to 6:15 p.m., riding home on the Railpath again (evening Zen moment) and try to be home by 6:30 p.m. prompt to have dinner with my family, which my kind husband manages to make for us every evening. After dinner there is a bit of family time—either practicing music with my kids, a board game, or just chillaxing, and then I take my kids up for bath and bedtime. After my kids and husband are in bed, I have a bit of me time and usually another hour or two of work and I am in bed later than I want to admit.
What do you keep at top of mind when designing landscape architecture in urban design?
I try to make sure that what I am designing is comfortable, safe, of quality materials, beautiful, and responds respectfully and sensitively to the community and context. What landscape architects do is really about placemaking; even if the place is a transitional space where people are walking through and it's just a moment or series of moments, it's so important to make sure this experience is as humanly pleasant as can be. In my mind I think of Jan Gehl, who says that one litmus test of a successful city is whether women and children can feel safe and comfortable walking or biking through the city.
A perfect example of this is a project I'm currently working on in Etobicoke called Reina, which is spearheaded by an all-female team. It's the first of its kind in Canada, and I'm thrilled to be a part of it. Some of the key elements we always talk about (comfort, safety, responding to the community) are going to be very critical for this building. We're thinking of ways we can make the outdoor courtyard safe and enjoyable for women, children and families. It's been a fun process so far to collaborate with other women and think of ways we can improve experiences in condo living for the future residents and the community.
What is important for you to include?
For me, it's also not about creating a look-at-me landmark as much as it is about being thoughtful about the design of a space. It's important for me to include trees, plants, and natural materials, especially in this densifying city. Having exposure and access to nature is especially important for a city that supports families and children that live in it, like my own family.
I am also a huge supporter of public art that is accessible and legible to the general public—of art that is well integrated into the landscape—so when there is opportunity, our practice tries to include public art into our projects. I am so fortunate to be working with emerging and hugely talented public artists who are good friends or have become friends of mine.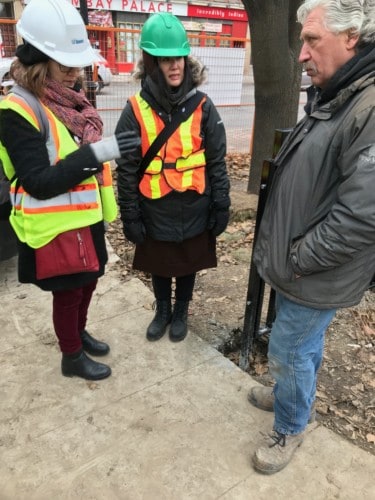 What was the biggest challenge you've faced in your career, and how did you overcome it?
This is a hard one, since there have been so many challenges, not all that I have overcome completely, but probably the biggest one is about having the confidence to contribute ideas, and not overthinking or stressing about whether it's a good idea or whether the client or project architect might love or hate it. It took time to overcome this, as this conviction came with the recognition of my own skills, in looking back at my portfolio of projects, working with a diversity of clients, and the support of my mentors (the original principals of PMA), who also encouraged and pushed me. I think there was a moment when I realized that if I contributed ideas that were in keeping with best practices and design integrity—and assumed that my clients or my collaborators were also interested in doing the very best and right thing for the project—I had nothing to lose by bringing these ideas to the table, ideas that are backed up by experience and technical skills.
I had the great privilege of receiving some friendly unsolicited advice nearly fifteen years ago from the landscape architect pioneer, Cornelia Oberlander, who told me that when she has dealt with primadonna architects (her words) who dismissed her ideas, she would gather her team, do a ton of research and round up all the material they can muster to support her idea and present it. I trust this worked well for her! She is 98 years old and still active in the field.
Fave piece of landscape architecture ever, and why?
I don't know if there is only one, since it really depends on the context to make it one's favourite, but I would say the most impactful and awe-inspiring one would be Katsura Imperial Villa in Kyoto. That is the epitome of breathtaking Japanese garden design, complete with water, rocks, topography, plants, pavilions, borrowed scenery, framed views, etc. Olmsted had long been credited with being the conceiver of manufacturing nature, but if you look at original Chinese or Japanese Gardens, this craft of manufacturing landscapes started way before Olmsted (yup, I said it). Kyoto is a must-visit for landscape architects or garden aficionados.
What advice would you give to young women wanting to enter this field?
I feel fortunate that my field in Toronto has a decent cross-section of women—and diverse women at that—compared to other peer disciplines such as engineering, or urban planning. My studio is also currently, by coincidence, predominantly women, and my remaining business partner is a woman. The few pieces of advice that I would give:
• Learn your technical skills to backup the conceptual design skills you learned in school. Know how things go in the ground, how much it costs, and how it will wear over time; learn the things that overlap with other disciplines such as site lighting design, stormwater management, structural engineering. Not only does this make you a well-rounded and unstoppable landscape designer, but this will give you the conviction to stick to your guns in meetings or on a construction site with contractors. I cannot emphasize this enough with new grads, and particularly with young women.
• Learn how to communicate well, especially in private practice, when you have to convey ideas to your clients, to the public, to your collaborators. Legibility of your design idea is as important as the design idea itself. Come prepared with great graphics or drawings. Rehearse your presentations and eliminate up-talking.
• Learn how to work with people and treat them as genuine collaborators. Especially in this field, your coworkers, your clients, other consultants are all part of the team, and it is a learned skill to figure out how to mediate differing priorities or technical hurdles while maintaining a high-level of design. Avoid acting defensively, which can be misinterpreted badly—just go back into your bag of knowledge a la Oberlander and hash it out respectfully, with the earnest approach that everyone is at the table to do the very best for the project.
What is it like seeing people engaging with what you've designed?
Freaking. Amazing. We just completed a very cool playground at St. James Park, and I brought my daughter with me on a beautiful Sunday afternoon. The playground was lively, jam-packed with happy kids and parents. It melts my heart every time.
But I also cannot help making observations as to whether people are using the spaces as it was intended/ anticipated and the answer is usually yes, but sometimes in part no, which is incredibly fascinating and a continual learning experience for me.