In Woodshock, Kirsten Dunst stars as Theresa, a marijuana chemist who is trying to survive the heavy waves of grief after helping to euthanize her ailing mother. It is the debut feature film for Laura and Kate Mulleavy, best known as the talented designers of Rodarte, whose ethereal collections have received high praise in the fashion world since the label first launched in 2005. Long-time film lovers, their expansion into film felt natural: "We had something we wanted to tell, and film was the way we decided to tell it," says Laura. And so they did, confidently and unabashedly.
Those who love art direction will be delighted by the film's sensual and aesthetic feel. While the plot of Woodshock may leave you questioning, the detail-oriented artistic choices will leave you feeling, be it a quiver between your legs or a hunger to touch or feel. "The texture of the film was a huge part of it," says Laura. "Part of the experience of creating a subjective story is to be aware of the smallest details, because it really makes you feel like you're there."
Lace curtains, wood panels, neon lights: this is a moody fashion film. I enjoyed watching Theresa shuffle slowly through a cabin, opening a fridge to find a half-eaten cake decorated in delicate flowers, or sitting at the kitchen table, staining her mouth with ripe blackberries. Laura admits there was no other actor they considered for this role. "Kirsten is such an emotional vessel. Her talent is so pure. She communicates so effortlessly about her emotions, without words." This characteristic is vital for a slow-moving cinematic experience with long pauses between dialogue.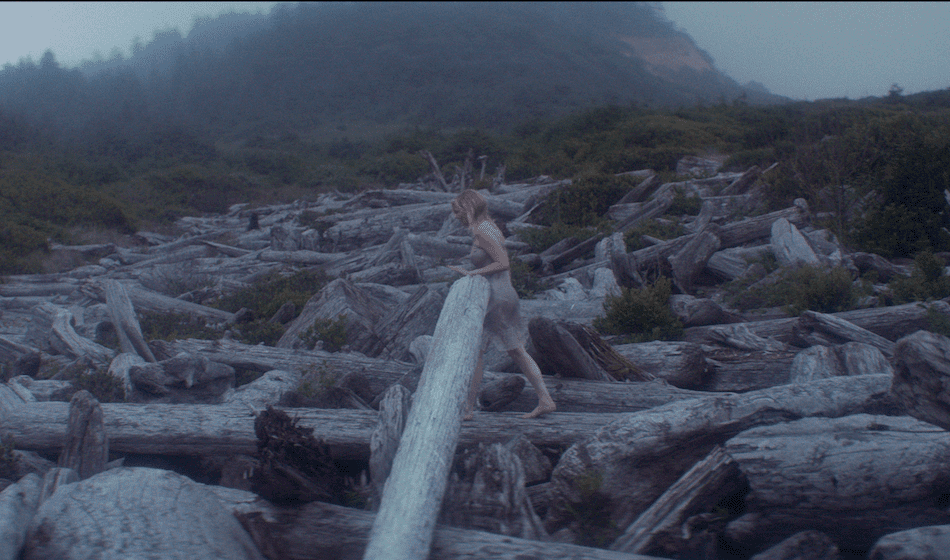 The sisters also credit nature as being a major influence in their fashion and film style. "I live in Pasadena. We have huge amounts of trees and greenery around our house. My daily exercise involves basking in the mushrooms that grow on our lawn; they sprout within a day," says Laura, who spends a lot of time photographing the fungi. "I look at hummingbirds that are always there, and right now we have a lot of praying mantises. It doesn't take a lot for me to be really aware of my surroundings."
This acute awareness to nature is why the redwood forests of Humboldt County, California, are not only a backdrop to this story but also what anchors it and what inspired it. The film moves from plots of logged land to the inside of a marijuana dispensary – from the tall, old trees, to the dimly lit and secluded cabin. "We wanted to shoot there, in the former world of destruction, where humanity cut down 95% of the old trees. Logging for redwood was a huge industry in California. So many people fought to protect the remaining redwoods, so it's an industry that slowed down and has morphed into marijuana growing."
Theresa drifts in and out of the forest and spends much of the film working with cannabis: rolling it, weighing it, smoking it. "We wanted to explore the idea of her existential crisis using this method. The idea of mind expansion is a huge part of the story," says Laura, who wanted to show a female character immersed in the drug world, without being an addict. The result is a dream-like piece of art that will perhaps leave you feeling stoned. Abandon your need for logic and fall deep into the woods with the Mulleavy sisters and Kirsten Dunst.
Woodshock opens at TIFF Bell Lightbox on September 29th.