It's no easy task getting out of the house with a baby in tow, especially in the winter. Strollers don't always hack it in 10 inches of snow, so babywearing would be ideal – if only you could find a coat that fit over both of you properly.
Melanie Gallant is a stay-at-home mom who started sewing to help support her young family. When winter came, she needed something to keep herself and her little one warm while she walked her dogs. "The coats I found were plain and unflattering, cumbersome, with extra flaps, panels, zippers and snaps. Some models looked like they were wearing garbage bags. Alternatively, I could lug around an extra panel to zip to my existing jacket, but it wouldn't match, would let cold in at the zippers, and couldn't be used for back carries. I still wanted to feel attractive, feminine, and stylish, even while wearing my 26-pound hitchhiker."
Melanie was looking for a coat that she would want to wear out, even when she left her babe at home. So she made one, and Layer Your Love was born.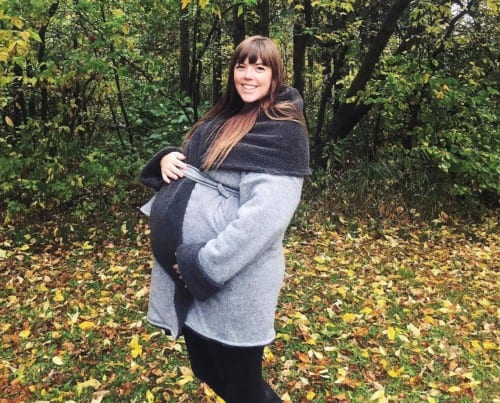 Layer Your Love can make you a custom babywearing coat, or you can choose from existing stock. Custom orders are sewn to customer's measurements (plus-sized friendly), offer a variety of fabric and colour choices (including Polartec, Sherpa, Fleece, Berber, Winter Knits), can be made reversible, and can include deep invisible side pockets and/or patch pockets, tapered or wide sleeves, top-stitching for a polished look, and a wide collar for use as a hood for Mom. All coats can be lengthened or shortened for more or less coverage.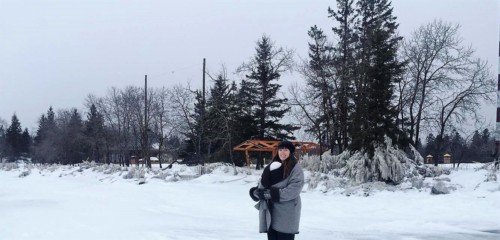 "This over-sized, belted, wrap coat is so cozy that both your little one and you will want to fall asleep inside it. The two full layers of winter knit are like a giant hug. And the best part – no extra panels to drag around or zippers and snaps to struggle with! The collar folds down to provide two additional layers of warmth around you both, and turns up to act as a scarf to protect from the harsh winter winds or sun. The belt cinches under your babe's bum to prevent wind from blowing up…and to show off the killer booty you earned wearing your babe. Roomy and deep invisible side pockets easily hold an extra diaper, phone, even a sippy cup!"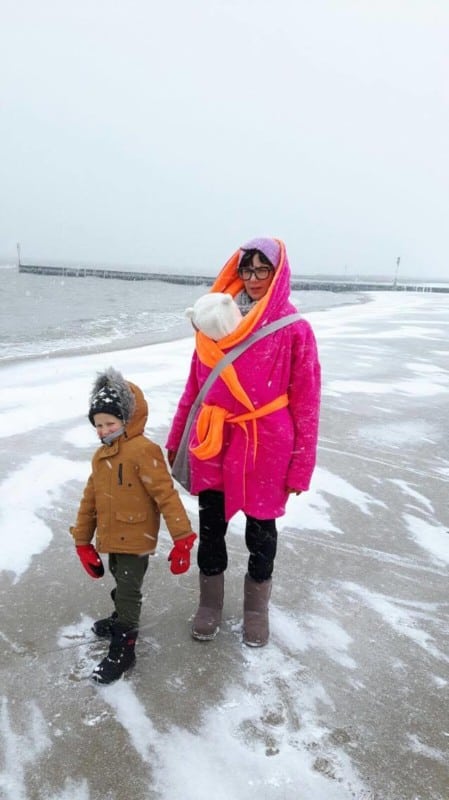 "This coat can be made fully reversible. Different colours and/or prints can be used for the exterior and lining to create contrast between the collar and body of the coat. Different fabrics can be used to give differing levels of warmth and weight. The collar can be made wider for a taller hood or shorter so that it doesn't reach down your arms when unfolded. The coat can be made longer or shorter. I can also make matching accessories like scarves, hats, leg warmers, booties and mittens."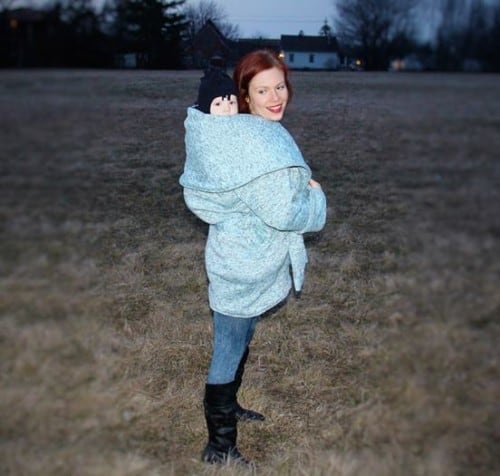 "For back carries, in this coat, higher is better. The great size and double-layered warmth requires a giant 6.5 meters of 60″ wide winter weight knit/stretch fabric (or whatever weight you prefer). It can also be done in a single layer for more mild weather or an interlining may be added for extra warmth."
Please note that none of the outerwear Melanie creates are baby carriers. Each coat takes two weeks to make. Rush orders are available. Find out more here.