Inspired by her childhood, Leah Cameron's quirky comedic web series, The Communist's Daughter, is set in Toronto in the late 1980s, and follows Dunyasha McDougald (Sofia Banzhaf) as she struggles between fitting in at high school and upholding her family's Marxist beliefs.
Beyond totally different than any other homegrown series we've seen, we loved Cameron's show for the pure nostalgic value of travelling back to an era we recognize well. The Communist Daughter's wardrobe and set design are especially noteworthy, making this series an extremely fun visit to 1989 Toronto.
We caught up with Cameron to find out more about her family's fascinating and somewhat bizarre story.
What compelled you to create the Communist's Daughter?
I believe each of us have stories to tell that are uniquely ours and sometimes we are so close to them that they don't seem special to us at first glance. As creators these stories are our gold because no one can tell them the way each of us can.
A few years ago I started asking myself what stories I had to tell that were unique. And I thought back to the communist phase my Dad went through when I was growing up. His communist leanings were odd given that a) they happened at the height of the consumerist Reagan 80s (the word socialist was considered a bad word at that time, unlike today) and b) we lived in a fairly conservative Toronto neighbourhood — Leaside. During that time we had copies of Soviet Life magazine delivered to the door and we drove Soviet cars to "support the economy."
The more I thought about it, the more hilarious I started to find it all. I thought it could make a great fish-out-of-water story about a family at odds with their neighbourhood like Black-ish or Fresh Off The Boat.
How did you go about creating sets that depict Toronto in the 1980s? Aside from the obvious, like phones, what other items or backgrounds were needed to recreate this era?
Our budget for this show was very tight and my EP Lauren Corber of Loco Motion Pictures and producer Natalie Novak of Natalie Novak Productions had the good sense to put the money we did have towards production design in the McDougald home, since that is where a lot of the action takes place. They also found some excellent 1980s locations. We really lucked out.
My production designer, Helen Kotsonis, and I talked about how I wanted the McDougald home to have this Freaks-and-Geeks-meets-Soviet-Russia feel. Helen built the look from there. My cinematographer Conor Fisher and I talked about giving the interior of the McDougald home a desaturated Soviet feeling, but keeping the colours outside, bright, poppy and 80s.
If you lived through the 80s you know that in reality they were not as flashy as American movies portrayed them at the time. And the McDougalds are a cheap Scottish-Canadian family so I wanted that Freaks and Geeks feeling in their home where the furniture feels like something the parents obtained in the 70s when they were married and there is a lot of pattern mixing and hand-me-down action going on. Helen peppered that with Soviet touches, a portrait of Karl Marx on the wall, matryoshka dolls Ian and Carol could have bought on a family trip to Leningrad. etc.
For exteriors and some interiors, we used a neighbourhood in North York which has a lot of period details. Again, hat tip to our production team for those finds.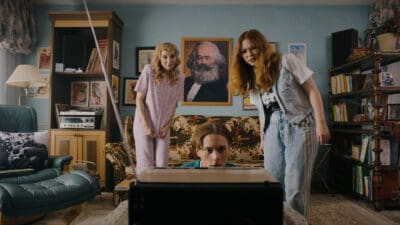 What parts of your childhood make it into the series?
Oh, my God so many. My Dad was a self-described Communist and we drove the exact car, a Lada Niva 4×4, you see in the show. They are crappy cars and I was very embarrassed by ours.
We protested a lot as a family and vacationed to Cuba to "support the economy." My Dad was continually trying to get my brother and I to attend Cuban Friendship Foundation Dances. We refused. More because we thought they would be full of adults. But I would march with him on Labour Day parades which he attended religiously every September.
In reality, my father did not run for the Communist party. He had the where-with-all to know he wouldn't win if he did. He wavered between calling himself a communist and a socialist and ran for the NDP twice instead. I grew up helping him silkscreen signs in our backyard for several election campaigns. That said, he did vote Communist on many occasions and his friend Liz Rowley is still the head of the Communist Party of Canada.
My Dad was a Communist of the idealistic, armchair variety who truly believed in equality and in making the world a better place. His bookshelf was full of books by Noam Chomsky and books with titles like, Fidel Castro: My Life, Class Warfare, Ernesto Che Guevara's The Motorcycle Diaries and books about Norman Bethune, a Canadian Communist who started mobile blood banks that helped people during the Chinese Revolution and the Spanish Civil War. He was a huge hero of his.
My Dad was an anti-colonialist as much as he was a communist. I still remember him handing me a thick book when I was eight about Columbus and saying "this is what Columbus really did to the Indigenous people. He was an asshole."
Other pieces that are true are my Mom changing her name back to her maiden name while staying married to my father (despite calling himself a feminist my dad was very uncomfortable with it). The family council meetings are also 100% true. I voted, on several occasions to get a TV, and was shot down. I think my motion passed once and we had TV for three months. My mom would borrow a beta player from the alternative school she worked at on the weekends. I distinctly remember renting Beverly Hills Cop and Lady Hawk on Beta Max from the Toronto Public Library and trying to get up to speed.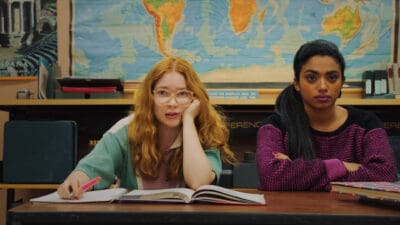 Tell us about the costume design…what were your favourite finds, and which vintage stores did you raid?
My costume designers Emma Doyle and Liza Kelly did an amazing job creating the feeling of the era. Since actors take up most of the frame, wardrobe is an easier way to sell an era than set dec.
For Dunyasha our references were Lindsay Weir in Freaks and Geeks and a mix of Molly Ringwald and Ally Sheedy in The Breakfast Club and a dash of Joan Cusak's scene-stealing look in 16 Candles.
I absolutely love the army jacket Dunyasha wears in episode one which is very Lindsay Weir. Emma found that and the bright blue speckled jacket Jasmine wears at now defunct Black Market. For Jessica Holmes, Dunyasha's mom Carol, Emma referenced the mom from the Goldbergs and other authentic Mom-ish looks from the day. I have so many favourite Carol looks but one of them is the parrot sweater she wears in Episode six which Emma and Liza found at one of the many vintage shops they frequent.
Other places they pulled from were Bermann's & Co., Print Vintage and, to be honest, their own wardrobes and wardrobes of stylish pals who were willing to lend.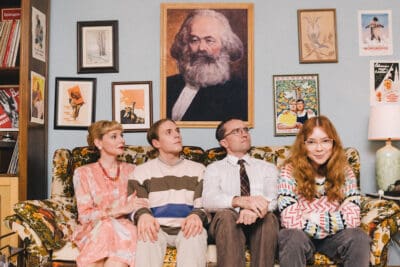 What were the three biggest lessons learned during the making of the Communist's Daughter?
Invest in your wardrobe department. Costumes are an excellent way to build characters and sell a vintage era.
Ladas are not reliable cars! The Lada Niva you see in the show kept breaking down. That's why Carol and Ian push it in one scene. It genuinely was not working. Luckily for us it weighed as much as a shopping cart. Flashbacks from my childhood.
As a director, communicating the story and vision to all departments, from PAs right through to your key creatives is key to marching in the same direction. If everyone knows what you are gunning for everyone can contribute an idea or a joke, from your cinematographer right through to background performers and hair and make-up.
The Communist's Daughter is now streaming on CBC Gem.