Colombian-Canadian Artist Lido Pimienta's performance of "Eso Que Tu Haces" at the 63rd Grammys was spectacular, stunning and unlike anything else. If she had graced the main stage, headlines would have been made across Canada, but because her performance was during the premiere ceremony, or ahead of the show, it missed getting the attention it deserved.
Curious to know how it felt to perform at the Grammy Awards—especially this year, with no live audience to sing to—we reached out to Lido to find out. "I felt safe and confident, this is what I do. It was another show for an audience that I wasn't going to be looking directly into their eyes, but would be sending my energy and love to," she says. "I am meant to be here, I am meant to take these music "institution" spaces and I mainly love that I never have to compromise my vision in order to get the kind of attention others struggle to receive, or compromise too much in order to get."
If you didn't catch it, you can watch on YouTube now. The video has already garnered 80,000+ views. Wowed by both her beautiful voice and exquisite artistic production, music lovers have quickly taken to the comments to express their feelings in a sea of praise.
"This performance should have been performed on the Main Award Show! The Scammy's always scared of POC excellence," writes one fan. Another shares how awestruck they are by Lido's unique and colourful presentation, "This is literally the most beautiful piece of art I've seen in the longest time." We'd have to agree.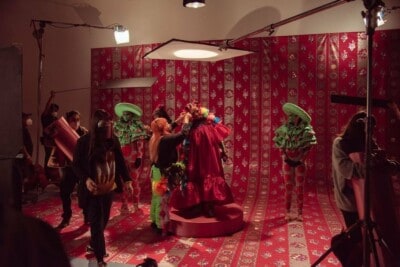 We have loved watching Lido's notoriety surge in recent years. In 2017, we were lucky to have Lido take over our Instagram feed shortly after winning the prestigious Polaris Prize; she shared honestly about what life was like as a musician quickly gaining popularity in Canada while juggling motherhood. Since that time, her fan base has grown global, and Barack Obama listed Lido's "Nada" as one of his favourite songs of 2020 (how cool is that?).
It's been awesome and incredibly inspiring to witness Lido's talents flourish and see her move from basement bars in Toronto to performing at the world's biggest music awards show. We hope that the next time she's invited, that she gets the spotlight she so deserves.