As big believers in the power of a good orgasm, and devoted fans to Womanizer's revolutionary Pleasure Air Technology, the announcement of Lily Allen as the face of the '#IMasturbate' campaign, and partner in design for the stylish 'Liberty by Lily Allen' Womanizer (which boasts six-intensity levels in a discreet small size) was music to our ears.
The international brand, with a big team located in Ottawa (not just for bureaucrats!), approached Lily after they noticed her glowing review of their products. "We were extremely excited to hear that Lily was writing and raving about our brand and the products. Especially, in the context of owning and defining one's personal sexuality, from our experience something that women, in particular, struggle with," says Johanna Rief, Head of Sexual Empowerment at Womanizer. "For us, Lily is the embodiment of our brand: brave, honest, authentic, and approachable."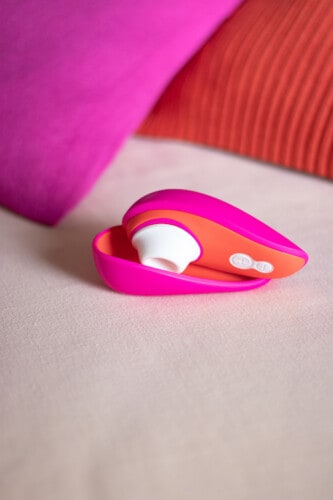 The Liberty by Lily Allen is feather-light, a simple two-button operation, and boasts a magnetic cap. We love the vivid design in bright pink and orange—it's something we'd be happy to display on our bedside table for an uplifting pop of colour, but also easy to toss in our purse, for out-of-home adventures.
Like us, Lily's first experience with Pleasure Air Technology left her in a state of sweet relief and blissful awe: "Completely different. And Womanizer can give you an orgasm within a short time and even multiple ones."
With the long COVID winter staring us down, we're in the process of preparing our homes with comforts—things that will bring warmth, cheer, feel-good fun, and relaxation. So while we order up some DIY cross-stitch kits and candle-making tools from Etsy, we'll also be placing an order for a Liberty by Lily Allen. Self care comes in many shapes and sizes, and mind-blowing orgasms are an essential in our routine.