Sometimes I feel sorry for celebrities. Between the lack of privacy and constant personal scrutiny, it must be a real rough ride at times.
And then I remember: A "REAL ROUGH RIDE" = BEING ESCORTED TO A MOVIE PREMIERE WHILE WEARING DESIGNER THREADS, SPORTING DIAMONDS, AND EATING FOREIGN AND UNPRONOUNCEABLE DELICACIES FROM VERY CLEAN (PROBABLY ONE TIME USE ONLY??) SILVERWARE.
But fine, I think, that's just how it is. Celebrities make a bunch of money and get to spend it on fabulous things and that's how it works.
AND THEN I REMEMBER, "SPEND IT ON FABULOUS THINGS" = "MORE OFTEN THAN NOT THEY GET THINGS FOR FREE!"
It's true. Every year during TIFF, the city's top PR companies host gift lounges; it's a way to associate products with the glamorous film festival and hopefully get their goods into the hands of celebrities. Getting to attend these gift lounges offers a peek into the A-list lifestyle for the rest of the normal P-(as-in-Plebeian)-list world. Last week I lost my job and Jen, in her infinite wisdom, asked if I'd like a little pick-me-up. I had no idea what I was getting into when I casually replied "YES!!! I'D LOVE TO!!!" but knew it would be awesome.
I was able to attend four different gift lounges on behalf of She Does The City. Turns out celebrities are offered A WHOLE BUNCH OF COOL STUFF ALL THE TIME. It also turns out I'm a material girl, living in a material world and material girls just wanna have fun and "fun" for me is walking around the TIFF gift lounges with my mouth hanging open. So what will they get this year? Everything from pasta to bright socks to tablets. Read on!
TASTEMAKERS LOUNGE
Set up in the InterContinental Toronto Centre, here's what visitors to Rock-it Promotions Tastemakers Lounge received: iPhone cover by Alto Collective; AWAKE Chocolate; bobble water bottle; books from Penguin Canada; popchips; apparel from The Real Collective; eco-conscious home products from Seventh Generation; uKloo; Dentyne gum; Jessica Jensen TIFF tote; coconut water by O.N.E. Coconut Water; Cake Beauty handcream; a selection of teas from Pluck Tea; and honey by Wendell Honey.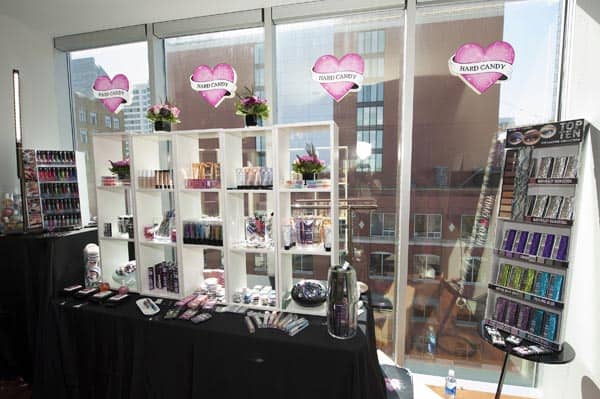 ESSENTIALS LOUNGE 2013 by Esther Garnick PR
The Essentials lounge was located at the Templar hotel and spanned three full floors with all its swag! Esther Garnick PR handed me a bag full of Aveda hair and body products, Be. Better lip chap, Calvin Klein Underwear, Centrum vitamins, Dial bodywash, Elizabeth Grant Skin Care, Elastoplast heel savers, Ethical Bean Coffee, glacéau vitaminwater® & glacéau smartwater, Hard Candy Cosmetics, an HP photoshoot, MICRO Pedi, Sensodyne toothpaste, Soap & Glory facial clothes, SOREL slippers, TUMS and faux lashes from WINKS Eyelash Boutique, HP7 slate and Nike
SWAROVSKI'S FASHION SUITE
When I think of Swarovski Crystal, I think of my grandma's miniature animal collection which is neat, if you're my grandma. BUT Swarovski's Fashion Suite opened my eyes to its extensive and elaborate jewelry collection. The company's Fall/Winter collection is called Secret Treasures, and I particularly enjoyed the designs RockCraters by Arik Levy and Shadow by Zaldy.
IT Lounge by NKPR
The IT Lounge's theme was "Modern Vintage," and they decked out the NKPR space to reflect it. IT Lounge passed out Avon beauty products, Tweezerman tools, a Roots Canada tote, Barilla pasta, Colgate toothpaste and brush, adolorable socks by YoSox, a sweet packet of David's Tea, gift cards to the up-and-coming Uber taxi service, candy and treats from LOLCandy, PS by Pretty Sweet, and Cold Stone Creamery, and refreshments from Bottle Green, Skyy Vodka, and Aqua Hydrate.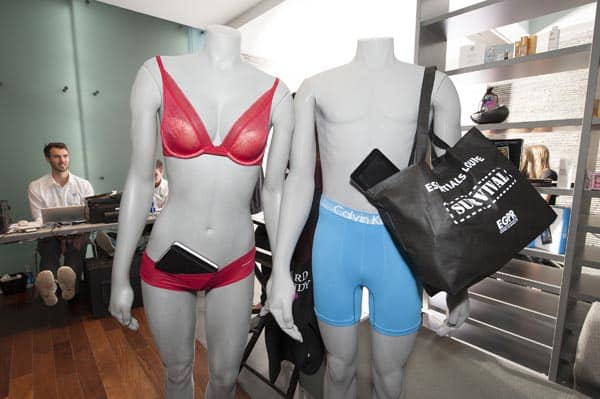 MY TOP FIVE FAVOURITE GIFTS:
HP Slate7: Small enough to fit in a purse, this light tablet is my new go-to, on-the-go-go-gadget!
Nike Fuel Band: I can wear this band all day long to keep track of my activity levels. It tracks calories burned, steps taken, and more—plus, it's a watch!
Calvin Klein Underwear's Icon Collection: Before I went to the Essentials Lounge, I had two bras and they were both ill-fitting. Now I have three bras and one of them fits juuuust right. (It's like Goldilocks and the Two Bare Breasts: a modern day fairy tale.)
Sorel Slippers: Perfect for lounging around basement apartments or, if you're not me, million-dollar mansions—so comfortable and warm!
Alto Collective's iPhone case: the case is made of elegant artisan wood and makes my phone the most stylish thing I own!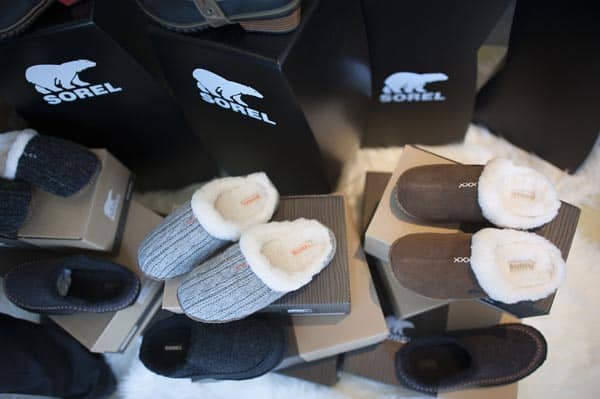 This week Jen was my magical fairy godmother, the TIFF Swag Lounges were my royal ball, and my prince charming is this new pile of swag I refuse to ever put away. We are going to get married and cuddle up on the couch and watch movies starring the real rich and famous and perpetuate the celebrity cycle and grow old together.