Laughing until it hurts is the most fun way to combat stress and anxiety (which we have lots of), especially when you can share the laughs with a close friend. Given that, we think you should seriously consider calling up an old pal, who you haven't seen in ages, to hit up BFF Variety Hour this Friday (Aug 6) at Comedy Bar.
Hosted by Susan Waycik, the show is also a celebration of the reopening of Comedy Bar, which has sadly (although understandably) sat silent for over a year.
For Waycik, the return to the stage brings waves of mixed emotions, most notably excitement and relief. "Over the last year & a half, I've seen so many beloved arts venues and bars shut down," says the comedian. "I feel so lucky to be able to return to the venue that I call home. Comedy Bar has always been a space that fosters & supports creativity, and I can't wait to return to that. Plus, I'm so ready to LAUGH — and I can't wait to laugh with all the Comedy Bar regulars."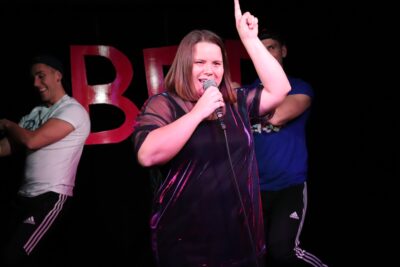 Different to most shows, BFF Variety Hour is a hilarious medley that combines sketch, stand-up, games, and drag. It's a winning combo and the Aug 6 show will feature beloved comedians Tom Hearn, Brendan D'Souza, Sashka DC, Al Val Viza Decline.
BFF Variety Hour is designed to be enjoyed with your BEST FRIEND FOREVER to. So call them up! Do this. We all need more laughter.