I grew up in the deep woods. My parents bought a heavily forested plot of land, then cut down some trees and built a house in the middle of the forest. As a child, I mostly lived outside; I spent my days running wild and building forts. I was dirty, feral, and would only return home when it was dark, and I was cold.
I moved to Toronto as an adult and slid into my new identity as a fast-moving urbanite with ease. My connection with nature was lost, as I became enamoured with shiny outfits, art openings, cocktail lounges, foreign film nights, and industry parties. But I was still out more than I was in.
When the pandemic arrived in March, it hit my life like a concrete slab. I was despondent.
I did what everyone did and tried to adjust. I attended Zoom meet-ups, watched documentaries, and signed up for virtual panel discussions, I Facetimed my girlfriends at night, enrolled in online workshops and turned my home office into a new mini-studio. I created a collage series to raise money for local food banks. I followed my favourite local DJ's on Twitch and danced on my balcony. One frenzied night, I painted a 30-foot mural in my stairwell while my partner watched and sighed with a mix of frustration and admiration.
But despite all this activity, I would find myself pacing around my apartment like a caged tiger in a zoo. I still had what seemed to be an overabundance of frenetic energy and nowhere to put it.
Not sure how to manage, I would often find myself curled deep in the corner of my couch scrolling social media mindlessly. That's when I started seeing people posting the hashtag #CovidWalks.
It was still cold and miserable outside but I forced myself to give it a try.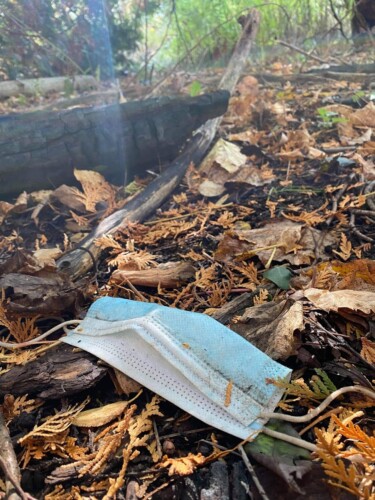 When I got outside I found myself frantically looking around my neighbourhood for some sign of the pandemic—the virus that had changed everything. Some sign that everything was upended.
The first visual clues were scores of PPE abandoned and littered on the ground. I imagine the masks were dropped unknowingly while someone was reaching for a phone, or maybe it slipped out of a hand that was busy adjusting grocery bags.
My mind filled with imagined stories and puzzling questions about the mask wearers. The tie-dyed, camouflage, checkered and polka-dotted masks left traces of human fear on the sidewalks and in the gutters.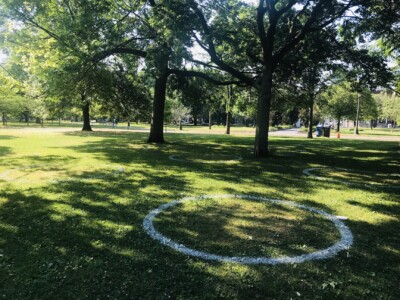 Some days, I made my way to Trinity Bellwoods, my local park, just to inhale some deep breaths. The ground was covered in dystopian chalk circles reminding people to "stay in their pods" and "keep apart".
Through my walks, I began reconnecting with that feral off-leash child in the woods, and started to notice nuances in nature. I noticed that my downtown wanders allowed me to return to my apartment feeling refreshed—my nervous energy abating.
Seeing people happily playing with their children, or enjoying elaborate socially distanced picnics with friends, filled me with a rush of optimism so strong, that it felt like a drug. My observations were a welcomed reminder that life goes on. I was a #CovidWalks convert.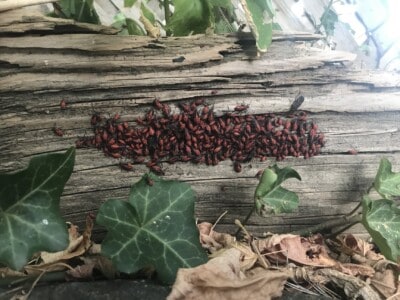 As I integrated my walks into my daily routine, I began to notice my environment in ways I didn't know was possible. The colour of the sunlight would be different depending on the time I left my apartment. As the summer days wore on, I honed in on the variety of greens in the grass. I saw astonishing flowers and insects that I had never really noticed before.
The pandemic had forced me to slow down and I started opening my eyes to the details of my surroundings that my pre-Covid hectic life had prevented me from seeing. I began obsessively documenting everything in awe, like I was a tourist visiting a foreign country.
I was impressed by how quickly the Toronto street-art scene had come up with inspired responses to the pandemic. I began seeing Urban Ninja's work everywhere, imploring us with stickers and paste ups urging us to "Wash Hands", "Stay Home" and "Stay Safe". It felt comforting to come across these carefully placed pieces. I began to imagine Urban Ninja, as a pandemic superhero pushing us all towards the collective good.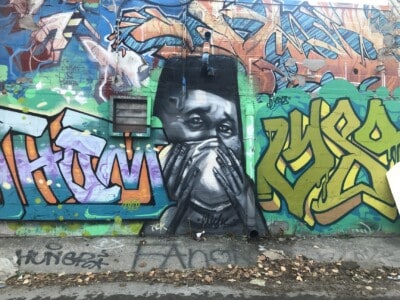 Starved of art exhibitions, I decided to take a walk up Graffiti Alley on Queen west. I was met with oversized masked characters living between beautifully stylized graffiti letters. Faces poking their way through murals as if to say "I feel your pain too: but cover up!". This powerful figure by beloved Toronto artist @elicerelliot stunned me. I personally connected to this character's confrontational gaze and furrowed brow of anxiety.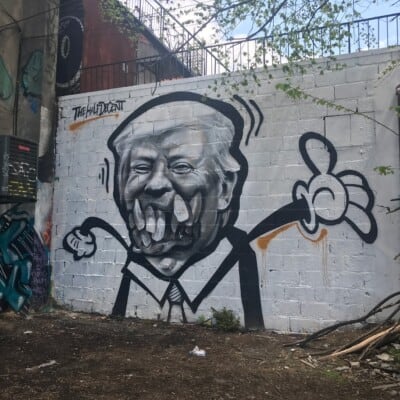 On one wall, Donald Trump emerged as a Disney-like character, but with vicious intentions, painted with a hybrid of skillful realism and graphic Mickey Mouse arms. @thehalfdecent had captured him well, the absurdity of his presidency, that is comical on the surface, but also deeply dangerous. Beneath the clown act are demon-like teeth that will attack and destroy at will.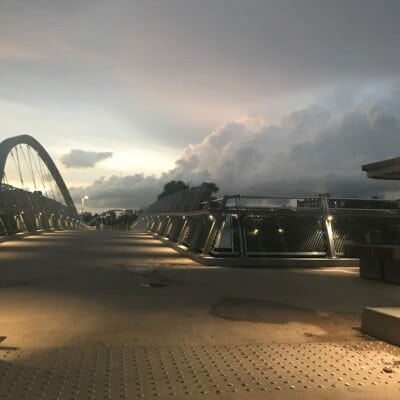 One quiet evening, I came across the new Garrison Crossing. The beautiful urban design elicited a buzz of excitement that I could feel throughout my body. It connected my community to Lake Ontario in a way that I hadn't considered possible before. Suddenly, from my front door, I could walk straight to the water's edge passing by Fort York, all the way to the newly animated Bentway. It brought a sense of freedom, and people flocked (safely) to also see where the bridge would lead them.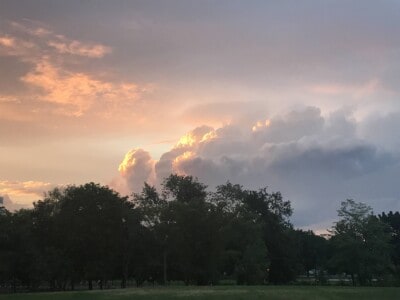 Who could blame them? The views from the bridge were breathtaking. The summer skies looked like grand romantic landscape paintings from the early 1800's. Pink clouds with gilded gold edges. The new crossing attracted all forms of activity; large workout classes, mom and baby discussion circles, and elaborate outdoor birthday parties took over the lawns. Community had moved outside.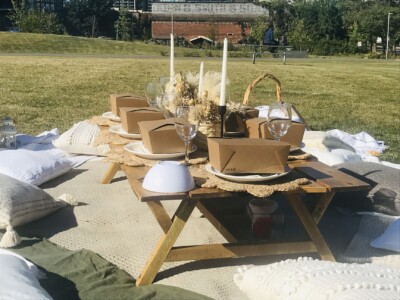 On one early morning #CovidWalk, along Garrison Common, I came across a Martha Stewart-esque picnic and I rubbed my eyes in disbelief. Was it real? Was I still in bed dreaming? I walked up closer and saw meals laid out in boxes on the table. Sharpie maker labeled the containers: Vegan – Jill, Gluten Free – David. My imagination ran wild with the stories of who did this, and why? I pictured a future world where company breakfast meetings would be held outside and people would start the day pampered and inspired by nature and design.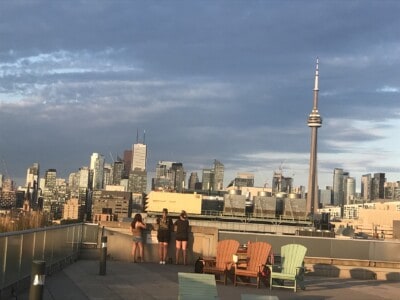 My walks also led me to witness another new social habit: clusters of women, on top of the city, socializing in their pandemic pods. Living in single dwelling tiny apartments, these women were finding ways to continue their intimate companionships. I listened to the click of the roof door opening and closing, and watched people greeting one another, and chattering in their tiny clusters, marvelling at the sunset, finding new ways to live and seek simple moments of happiness.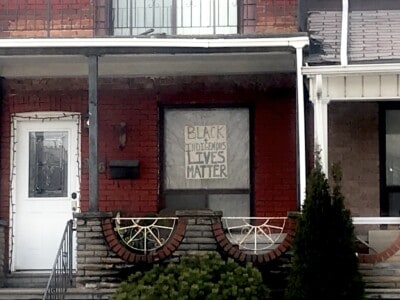 As spring turned into summer waves of civil unrest emerged after the horrific killing of George Floyd. The racist murders of Black People by police were taking over the consciousness of the masses. With extra time at home, people were paying attention, reading the news; processing systemic racism. In Toronto, Regis Korchinski-Paquet died during a police encounter amid a mental health crisis. Dafonte Miller's trial started, recounting how he lost an eye after a vicious beating by off-duty police officers. In July, Clive Mensah was killed by a taser in his own backyard by Toronto Police.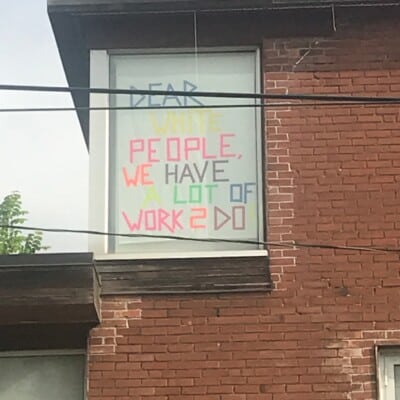 Enraged, the city bellowed with activists calling for defunding police and a divergence of funds to mental health supports. My #CovidWalks led me through neighbourhoods where I could see people in lockdown signalling their support with carefully homemade posters and urgent messages of solidarity pasted in their windows.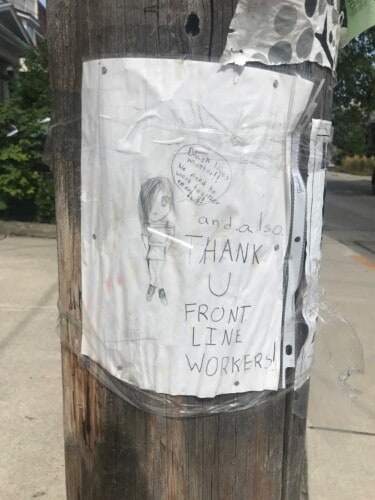 I was especially touched by this pencil-drawn poster on a hydro pole. Drawn by a child, and carefully protected by plastic, you can feel the frustration and urgency of a young mind wanting to see society change for the better. As if to signal that she is also worried about the pandemic, she adds an "also" thank you to front line workers. The urgency of anti-racism policies had replaced the pandemic as the most pressing crisis in our lives.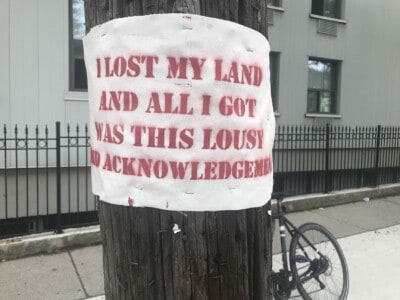 As I snaked through blocks and blocks of Victorian houses on my walks, I witnessed people using lawn signs, banners, stencils, and coloured tape to make homemade signs. People used their creativity to communicate their pleas for a more equitable future. I imagined locked-in families crafting these signs together at the kitchen table and posting them in the windows. Shut-in they worked to let the outside world know exactly where they stand.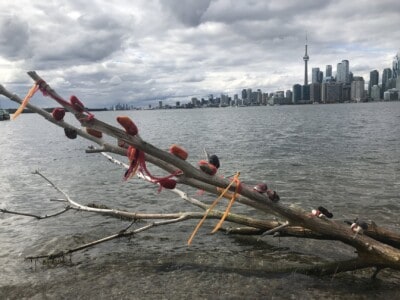 Late summer, I left my neighbourhood and went on a #CovidWalk to Toronto Island for the Tiny Galleries outdoor art exhibition. My friend and I scoured parts of the island terrain that I'd never seen before. We made our way across the beaches climbing up huge rocks to revel in the views. We darted in and out of the colourful tiny cottage clusters on Wards Island walking down hidden bushy paths in the forest. This installation captivated us, juxtaposing natural organic elements up against the imposing man-made grey concrete of the city. (Artist Unknown.)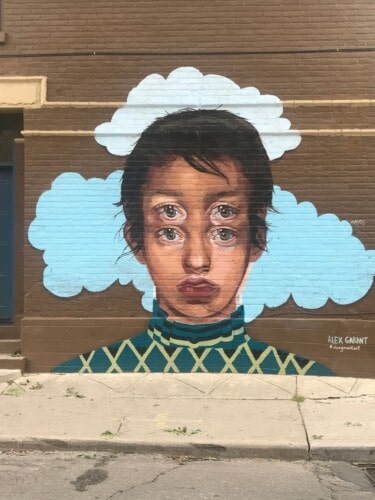 In October, I was stunned when I came across this phenomenal @alexgrantart portrait. Looking at it made my eyes water, and my feet suddenly felt unsteady on the ground. Trapped, floating in a surreal new world, sad and unable to see what the future may hold.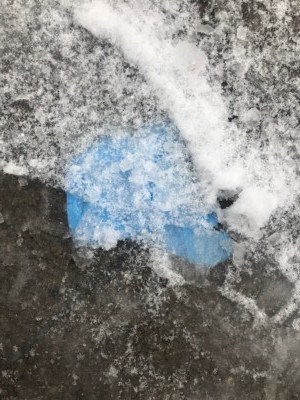 As fall transformed into the dreaded Covid Winter, I continued to see the PPE pile up throughout my neighbourhood. Now bright against the snow, vibrant shades of blue and green stuck under ice, like mini abstract paintings.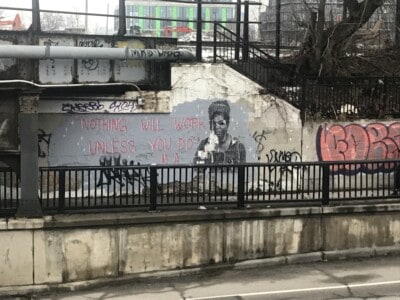 Recently, my phone pinged; my best friend wanted to take me on a special Covid Walk. We met outside my place, and she pulled me through the back neighbourhoods of Parkdale. I was on a tour of all the places her family had lived throughout the decades. She filled me with stories of eccentric great grandparents and aunts and uncles. Her oral history about being immigrants coming to Canada, racism upon arrival, and working-class struggles were gripping. As we moved from one house to the next, we came across this mural honouring the great Maya Angelou and one of her most poignant quotes "Nothing Will Work Unless You Do."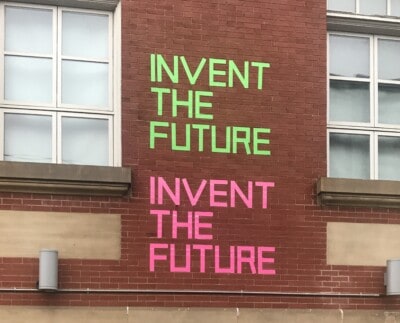 Down on Queen Street we stopped to look at a new text-art installation on the side of the Theatre Centre. It signals a new artist residency called Invent the Future 2020/21. The phrase in fluorescent futuristic colours against the backdrop of the old brick is jarring. It's true. The pandemic and all its destruction is allowing us to Invent the Future. Our lives have been forever transformed at an unprecedented speed. Will our future allow for time to take walks? Notice the changing sunlight? Stop and look at insects on the ground that we haven't seen before? Process and protest inequities? Make time for community and friends?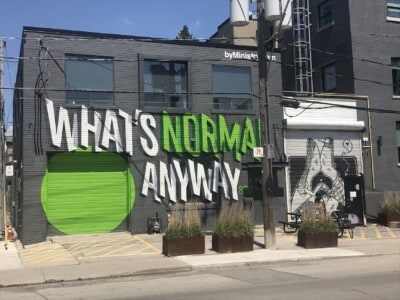 As I made my way through the back streets, my lungs filled with cold air, I realized I really liked the winter walk. It reminded me of the hours I spent outside as a child, digging around in the snow and tobogganing with my cousins, my toes and fingers on the brink of frostbite.
I wondered…when things get back to normal will I forget how much I enjoyed these simple things? Will the "new normal" be just like the "old normal"? As I rounded the corner, I was confronted with the answer painted on the side of a warehouse. I stopped, took a picture and made my way home, feeling refreshed and relaxed.
Ilene Sova is an artist, educator and the founder of Toronto's Feminist Art Conference. Follow her on Instagram at @ilenesovaartist